So, is your wedding day fast approaching? Congratulations!
As it looms ever closer it can all seem totally petrifying with so many details to think about… Is that first wedding dance going to be a flop? Is Uncle Dave going to behave himself? Please don't let the weather be hideous!…
The list goes on but no need to worry, we're here to help. Here's our wedding day top tips to help you take everything in your stride and fully embrace your big day.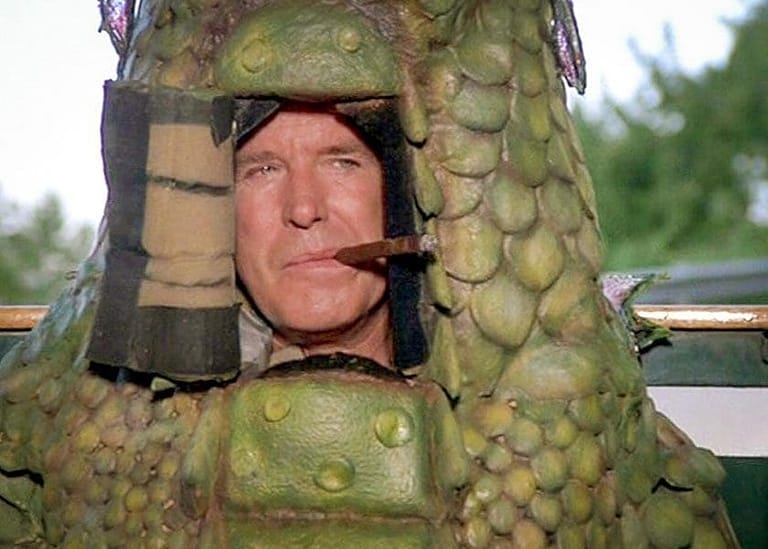 "I love it when a plan comes together"
Hannibal Smith
Have a master plan
It may seem obvious but the more you can organise in advance the smoother things will go on the day.
If you are still a good few months away, you can download our handy wedding planning timeline countdown check list here…
Don't be a hero
There is no need to try and tackle everything yourself. Most of the time your loved ones will be eager to feel a part of the organisation of your special day, so set them small tasks and take some of the burden off your shoulders.
Alternatively, another good option is to hire the service of a wedding planner to help on the day. Most wedding planners offer an "on the day" coordination service, which will start about 1 month before your wedding day: they will get a clear picture of your wedding plan, schedule, suppliers, decoration etc…and make sure is all happens as planned on your wedding day.
Planning on the wedding day
On the morning of the wedding day, the bride doesn't lift a finger. She just needs to focus on relaxing and enjoying this special moment with her bridesmaids. Bridesmaids' responsibilities are to pamper the bride and make her feel a million dollars.
The groom and the best man are there to coordinate the ushers and the final small details.
Ushers aren't there just to stitch up the groom and leave him tied up naked to a lamp post. On the wedding day, get the ushers organised and give them dedicated tasks. Think who will be useful for what and pick out the most important tasks for the ones you can rely on (rather than crazy Jim, your hedonistic drinking buddy).
Get it running like clockwork
Have a wedding day check list – Bouquets, wedding rings, Uncle Daves straight jacket etc.
Also, have a running schedule for the day with times, venue locations and jobs to do. Print many copies and distribute to all involved – ushers, bridesmaids, father of the bride etc.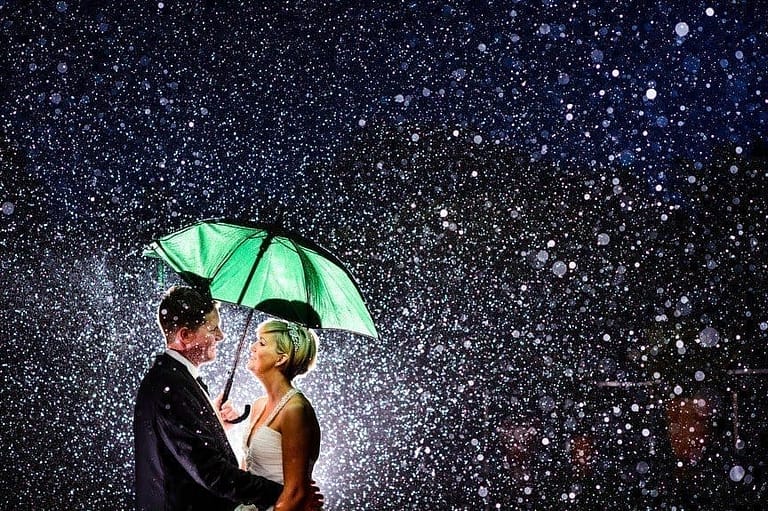 "don't worry, it's really good luck!"
A really annoying guest
Photo: Nick Despres
Weather wedding blues
I guarantee that if it rains on your wedding day, people will say "don't worry, it's really good luck!" Of course this is absolute nonsense, winds you up and makes you want to shove an umbrella down their throat!
The bottom line is you can't control the weather, so there's no point worrying about it. Everyone is still there to celebrate with you and it will still be a fantastic day no matter what.
Have a plan B
What you can do is make sure you plan for weather worst case scenario…
Make sure there's an indoor space for all your wedding guests, no matter which part of the proceedings the heavens decide to open up.
Umbrellas make for fab wedding photos, even if it doesn't rain, so buy a few. Or buy a lot for your guests if you can afford it and tie it in to your colour scheme of your wedding theme.
A good wedding photographer can turn bad weather into something spectacular. Check out our blog post here for inspiration… 
Remember if you plan for every weather scenario, it won't be a problem and could be an opportunity to make your wedding unique.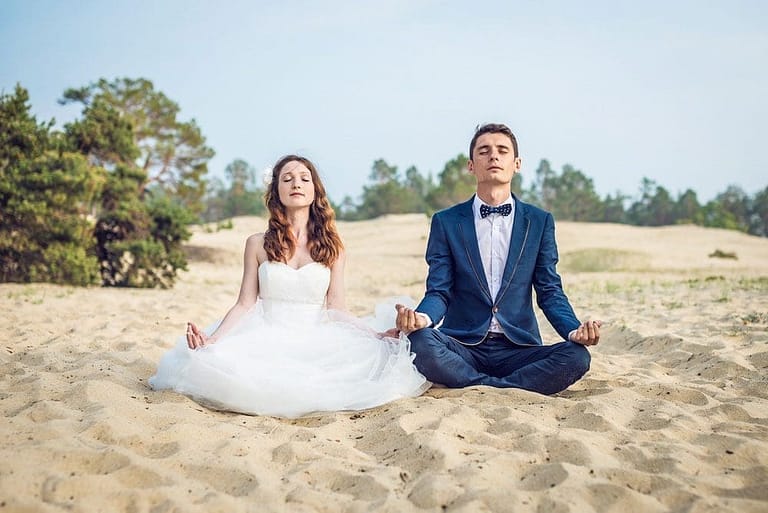 Keep calm and carry on
This whole wedding malarky can get quite overwhelming as you juggle a million and one things all at once. It's easy to not realise what an amazing spectacle is unfolding in front of your eyes, just for you. Here are some techniques to help you relax in the morning before it all kicks off.
Meditation
Without sounding all too hippy, it can really help. It takes a bit of practice but it helps calm the mind and keep in the moment. If you're new to meditation there are many guidance videos on youtube.com or there's a fantastic app called headspace.
Breathe
If meditation sounds a bit too much, some slow deep inhalations and exhalations for a couple of minutes can help you chillax, before or during the wedding. Try to focus on the long, slow breaths and push any thoughts away that come into your head.
If you want to go more in depth try some pranayama breathing techniques… We love Adriane on youtube and she can guide you with this here… 
Get a move on
If all this sounds like hippy mumbo jumbo, then going out for a gentle jog, swim or bike ride can help you relax and iron out those pre-wedding nerves. Be kind to yourself though and do not overdo it… we don't want you limping down the aisle or you looking as weak as an asthmatic kitten in the wedding photos!
Don't worry too much
…especially about the things you can't control. If it rains or you completely balls up your wedding speech, its not the end of the world. Every guest is rooting for you and is up celebrating your special day no matter what.

Eat, drink and be merry… not totally sozzled
There's no denying, there's a fine line to tread with this one. Celebrations can start 2 or 3 days before the wedding day, as guests, who you haven't seen for years, turn up for your big occasion. Remember it's a marathon, not a sprint and there won't be much time to rest and recharge those batteries.
Especially the night before, get a good night's sleep. Other guest could lead you astray but that could end in trouble. (I've been to two weddings where the grooms broke their arms the night before… not a great look!) Hey, at the very least, think about your beauty sleep.
And on the big day, if you need any incentive, just think of those wedding photos… you don't want to look all pasty and google eyed whilst walking down the aisle. Or being too banjaxed to string a sentence together whilst doing your wedding speech!
My advice is to keep the bubbly to a minimum (yawn I know) until after the speeches. This way you'll have a long and memorable day and night, with less chance of drunken embarrassment… leave that to your guests!
Nutrition
I'm afraid to say that at best, you're going to be a heady cocktail of emotions, overindulgence and sleep deprivation, all drenched in champagne. This can play havoc with your belly, so it's super important to get your pre-wedding grazing spot on.
Essentially, we want you focused on looking stunning, strutting down the aisle rather than being focused on where the closest toilet is to the altar!
Supplement it…
A week before the wedding, start taking Probiotics, which help balance your "gut microflora". As you'll be on the move, capsules are much more convenient than carrying around tubs of yogurt. We're a big fan of Healthspan's Super 20 pro…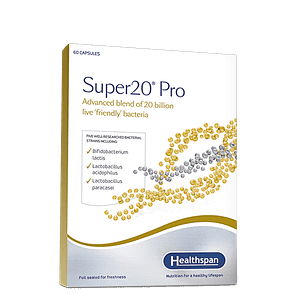 Make a meal of it…
Start out with a good balanced meal the night before… lay off the chillies or anything else you know can upset your gut microsystem.
Be sure to have a good hearty, healthy breakfast too. Muesli, bananas etc. are great for slow burn energy… a deep fried full English may slow you down!
After that moment, eating is going to be sporadic so plan a good sized, healthy lunch when you can. Then, you'll be enthralled in wedding shenanigans and you probably won't get a chance to eat that much.
Post ceremony it will be a whirlwind of chatting and wedding photos, so there's slim opportunity to sample any of those tasty reception nibbles. In fact you probably won't get a chance to eat till you sit down for the wedding meal.
If you're completely flaking though, ask an usher or a wedding guest to grab you something. Don't grin and bare it.
Win with water
Keep hydrated too, try and squeeze in some water in-between those flutes of bubbly. It'll help you stay alert and you'll be grateful of that later in the day.
WEDDING DAY TOP TIPS: Super supplements…
For emergency situations there are some great products out there to combat fatigue, indigestion and give you that edge on your wedding day…
Your 5-a-day:
For an emergency nutritional boost we love Healthspan's Performance Greens. If its good enough for Team Sky cycling, its perfect for you to charge through your wedding day.

Energy boost:
Energex plus, with guarana, ginseng and other energising ingredients, for a natural sugar free pick me up.

Tummy savers:
Artichoke and peppermint… great to aid your digestion
Love your liver:
Milk thistle, great to help your liver through these boozey days.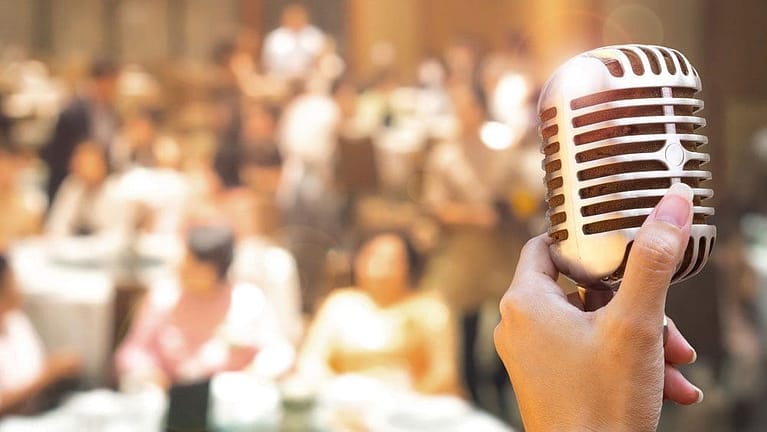 The wedding speech
Are you one of those people who say "well I'll just wing it on the day"? Then this section isn't for you. In fact I don't believe those people really exist.
My advice is to plan, think ahead, do lots of practice and keep it short and sweet. If you can practice to a stage where your not really reading your notes it will sound natural when you're saying it. If its too long people will switch off.
"Ride the tiger of fear"
I am terrified of speaking in public but this phrase has helped me so much in conquering my fears, especially for wedding speeches.
In other words, you're going to get nervous but you have to harness those nerves and use them positively rather than them controlling you and freaking out. Get on that tiger and tame the beast!
Remember all your wedding guests will be on your side and willing you to do well, no matter what happens.
These days wedding speeches are not just the realm of the men. As a bride, you can also take up this unique opportunity you have to speak to all your beloved ones, even if it's just to say thank you or how much you love them. Wedding speeches don't have to be a stand up routine, and can just be a moment of sincerity.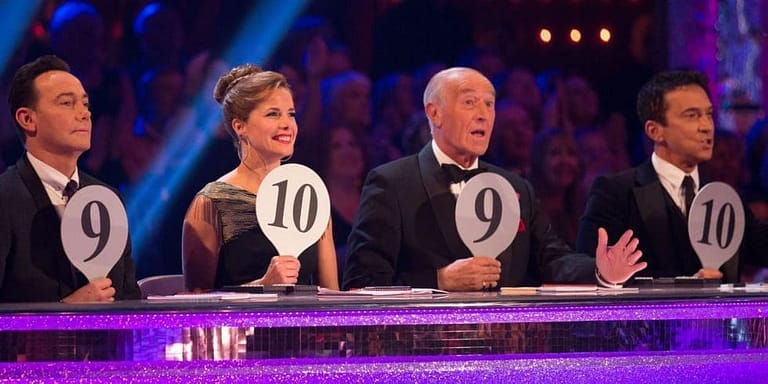 That wedding dance
After the speech, it's another one of those nerve wracking moments in the wedding day. In fact it's probably the last moment where you're "on show" so go out there and enjoy it. Plan in advance what you are going to do and what music to play.
Even if you're going to just sway together, practice a few turns in there beforehand to get the crowd whooping. There's nothing worse for a grand finale than a uncomfortable, conjoined wobble to Celine Dion.
If you plan to do a wedding dance spectacular, make sure you've planned ahead and get some lessons (unless you're Bruno Tonioli). A planned wedding dance is a great idea, if you have put the time in and can really make the wedding party finish with a bang, ready for everyone to dance the night away.
WEDDING DAY TOP TIPS: The dance
So your not left awkwardly hanging, pre-warn your ushers and best man to grab some fair maidens to take onto the dance floor at a predetermined moment.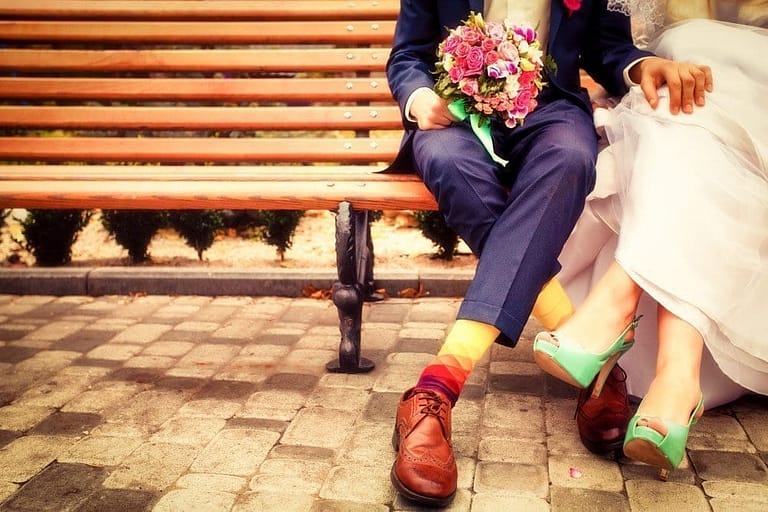 Take a time out…
This is so important… make a pause in the day together to savour this magical day.
All your hard work, design and devotion has come to this point to celebrate you as a couple. It'll probably be the only time in your life where you'll have friends and family coming from all pockets of your life to enjoy your momentous occasion.
Enjoy!
Hope our wedding day top tips have been useful, best of luck with it all and may you have a fulfilling life together. Don't worry too much about crazy Uncle Dave and have a fab wedding always keeping in mind the most important part: you're getting married to the person you love the most!
Written by James Colmer, Chateau Hunter and Co-Founder of the Chateau Bee Selection