Top affordable chateau wedding venues in France
Ever fantasised about tying the knot in a romantic French wedding venue, à la "Escape to the Chateau?" The main obstacle is the hard to escape price tag. However, it is possible to find an affordable chateau wedding venue if you know where to look. And luckily, we do! Therefore, we've curated the following guide to help you.
How affordable can a French wedding venue be?
The chateau wedding venues below are individual, romantic, and best of all, eminently affordable, starting from €3,000 for the venue over a whole weekend, accommodation included! In fact, an intimate wedding of less than 50 people at these chateaux could cost you no more than €20,000 – a relative snip when you consider that this includes on-site accommodation, catering, flowers, and all the other main costs of your big day. Is your interest piqued? Then take your pick from this exclusive collection…
Affordable chateau wedding venues in Brittany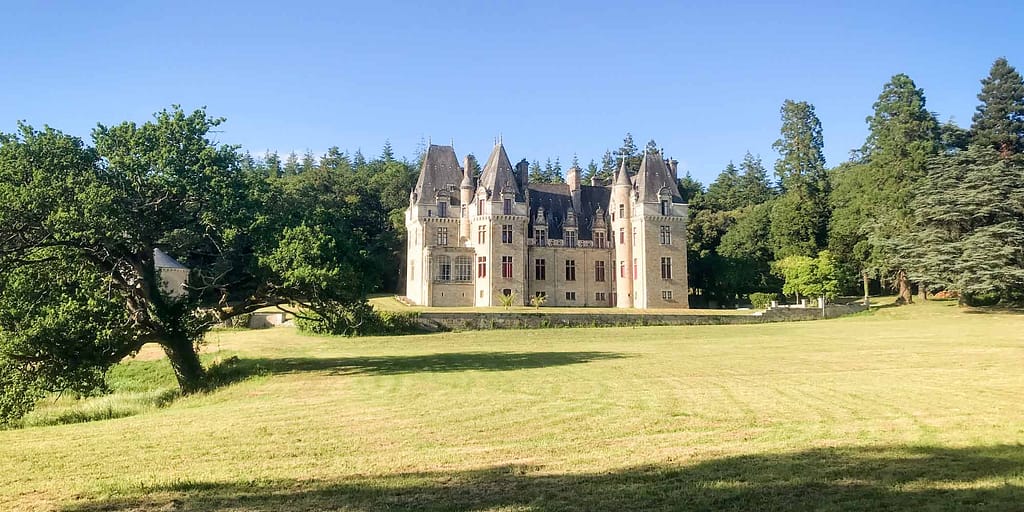 Chateau Le Brossay
We'll start with popular Brittany, which is known for its attractive architecture, rugged coastlines, and fabulous food. You'll find plenty of charming chateaux too, including the enchanting Chateau Le Brossay, pictured above.
This is an incredible fairy-tale chateau wedding venue at the heart of a beautiful park bordered by a forest. You'll fall in love with its high ceilings, spiralled staircase, elegant décor and sense of history – this chateau is actually classified as a historical monument.
Service is also top-drawer at this family-owned venue. The weddings feast takes place in a refined dining room with waxed wood panelling, and there's plenty of space for champagne and canapés with two lounges and a stylish veranda.
Find out more about Chateau Le Brossay here…
Up next is Domaine du Pordor, which is one of most romantic affortable chateau wedding venues in our collection. This impressive location sits at the heart of a 30 hectare estate alongside a beautiful lake – a charming and tranquil spot to hold your wedding ceremony.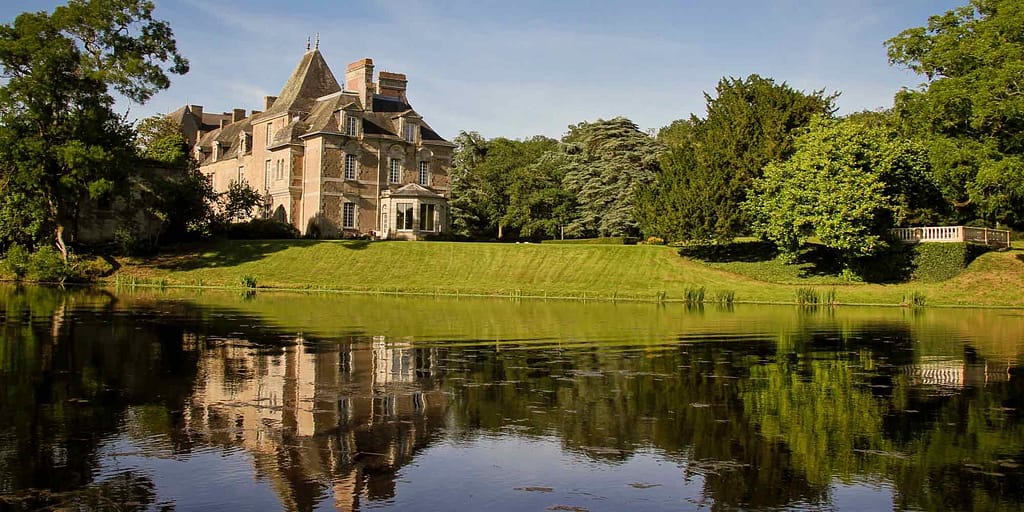 Everything is done tastefully at this picture-perfect boho-chic location. Whether you're eating in the memorable dining hall with its exposed stones and wooden beams, or drinking champagne on the idyllic terrace overlooking the lake, you'll be well looked after by a team that's been hosting weddings for over 20 years.
Find out more about Domaine du Pordor here…
Another of our Brittany favourites is the pretty Chateau du Grand Val – a picturesque venue consisting of a 15th century chateau and three archetypal Brittany style cottages. You and your guests will enjoy wonderfully kept gardens, smart traditional interiors, and the wedding feast will be served in an intimate 18th century cider house. Surrounded by splendid countryside with breath-taking views, this French chateau wedding venue, close to St Malo and Mont st Michel, is a world away from the hustle and bustle.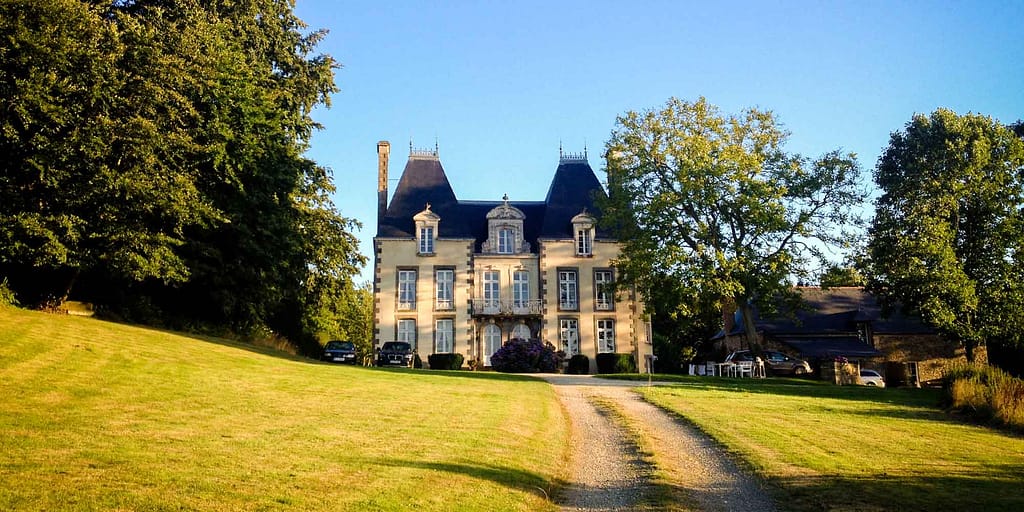 The last spot on our Brittany shortlist goes to Chateau de Josse. The great thing about this chateau, other than it's gorgeous elevations and heavenly countryside setting, is that you can customise your wedding with ease. The English owner is very flexible and understanding, so you can use its splendid gardens, elegant internal spaces, delightful chandeliered dining room, and accompanying lodge however you want. C'est magnifique!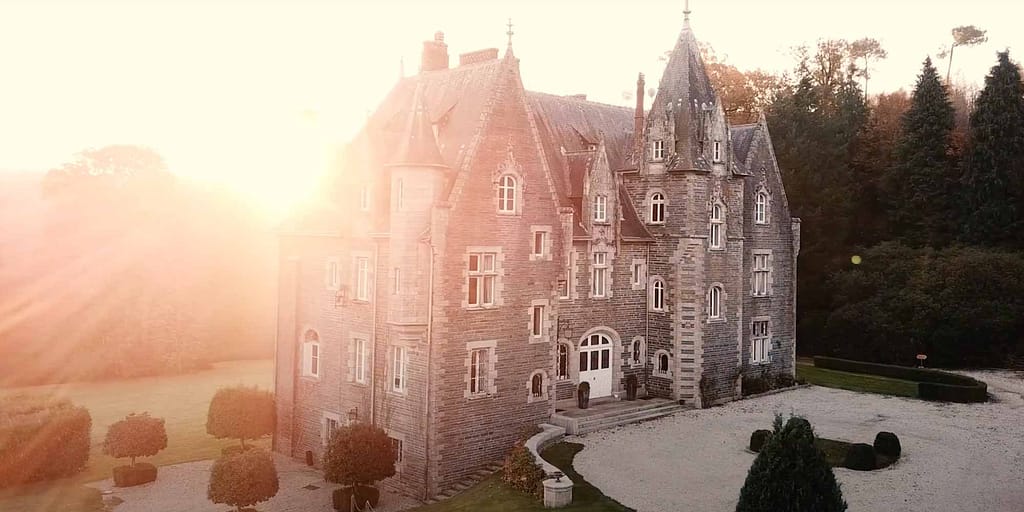 Find out more about Chateau du Josse here…
Good value wedding venues in Normandy
Brittany is fantastic but don't rule out Normandy if you're looking at Northern France. It's an area rich in history – think of the Bayeux tapestry and the D-Day landings – but it's also known for its timbered houses, green fields and, you guessed it, impressive chateaux.
One such location is the grand Chateau Mathilde, which will instantly make you feel like French royalty. It boasts grand décor, lavish bedrooms, period ornaments, and a stunning four-poster bed in the main wedding bedroom. There's also a pretty farmhouse courtyard, wonderful 22 hectare gardens, and an attractive chapel to enjoy.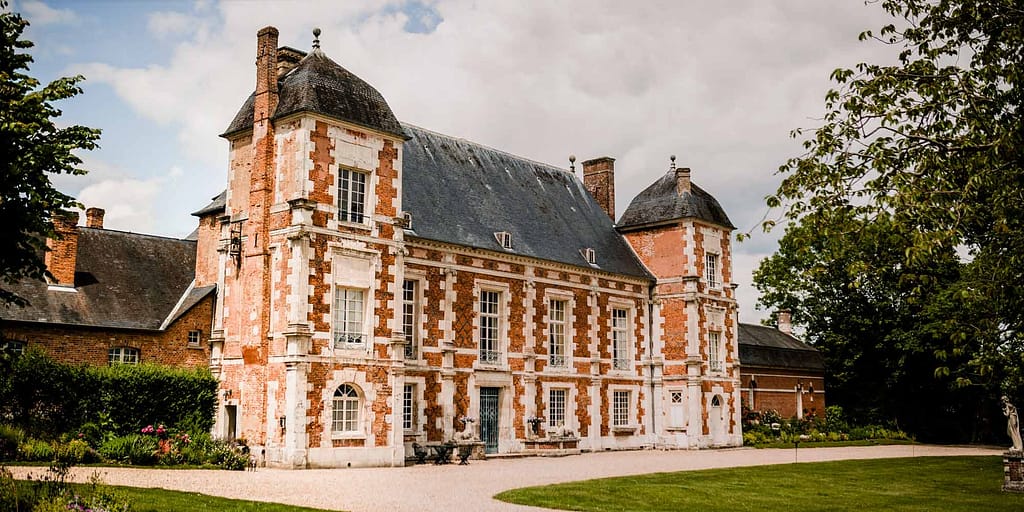 Find out more about Chateau Mathilde here…
Discover Vendée
Just a stone's throw away from the grand chateaux of the Loire Valley, discover the region of Vendée.
The "département" of Vendée of France is a popular destination for couples looking to experience the beauty of the French countryside. The region is located on the Atlantic coast of France, and is known for its long stretches of sandy beaches and charming towns. It also has for assets the Marais Poitevin, the largest marshland in Europe, known as the "green Venice".
In Vendée, fall under the spell of Chateau de la Citardière, a dreamy wedding venue which is like its own little island, surrounded by water and a majestic forest. The Chateau sits at the heart of the largest forest in Western France, among 5,500 hectares of nature. After crossing the Roman bridge, come through the Chatelet gate and discover a preserved environment where ancient trees are nourished by the surrounding lake and moats. This U shape Citadel provides a feeling of intimacy like no other.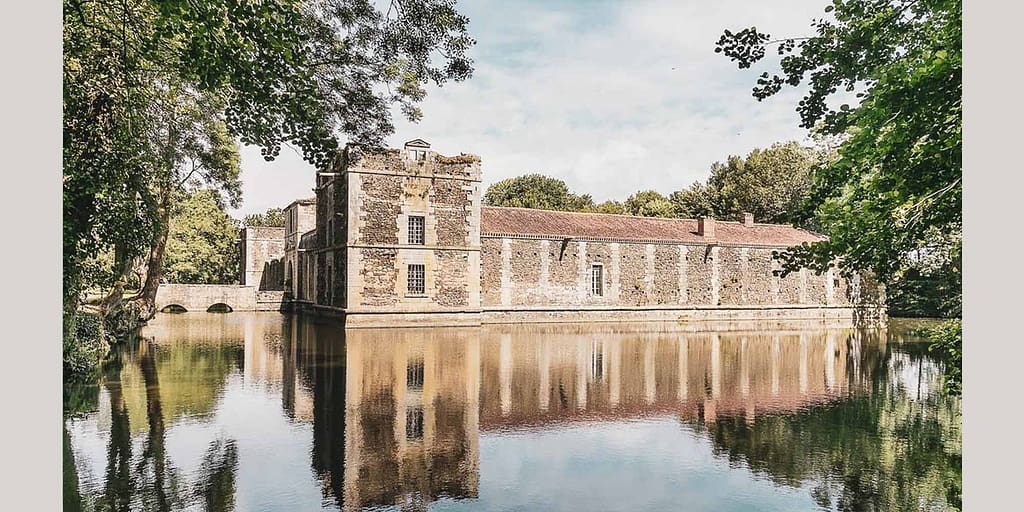 Nearby, we could also recommend Château Fleur du Ciel, a family chateau that presents a stunning mix of medieval, gothic and Renaissance influences.
We love this venue for its versatility and its many different spaces, such as the Chapel for an intimate blessing, the various nooks and corners of the gardens, the pool area and the outbuildings.
Plus you can sleep there about 140 people in 5 B&B bedrooms, a self catering gite, a dungeon and a dormitory for 100 people. We are big fans of the dungeon, its circular bedrooms and large kitchen!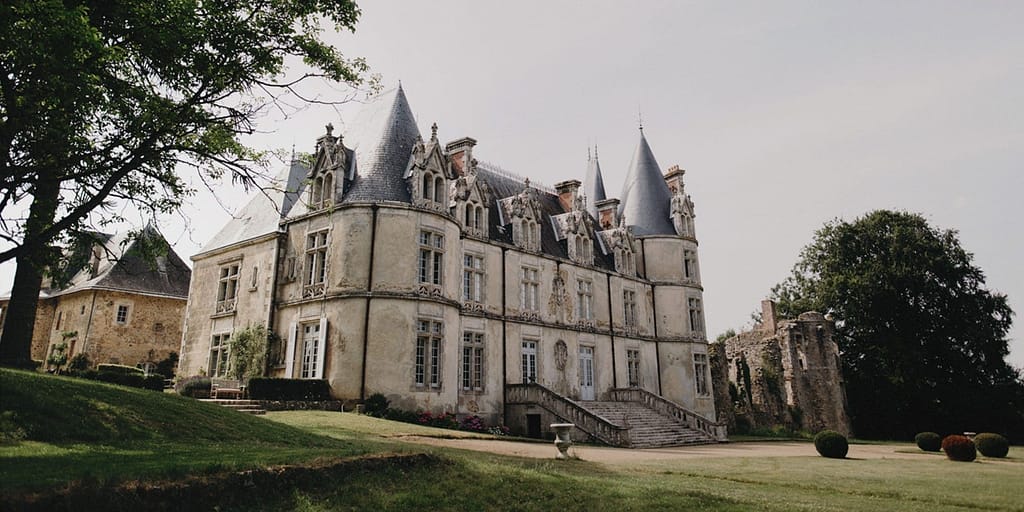 Find out more about Château Fleur du Ciel here…
Paradise in Paris
Paris is one of the most romantic cities in the world so it's the ideal place to plan your nuptials. However, the best affordable chateau wedding venues are found on the outskirts of the city.
Take the glorious Domaine de Verderonne, for example. This breath-taking venue looks and feels like a true castle: it has a surrounding moat, dovecote, and even a Louis XVI theatre!
One of the most scenic and Gallic chateau wedding venues in our collection, couples adore its manicured flower gardens, spectacular Dutch greenhouse, and magnificent traditional barn with aged wooden beams and rustic walls.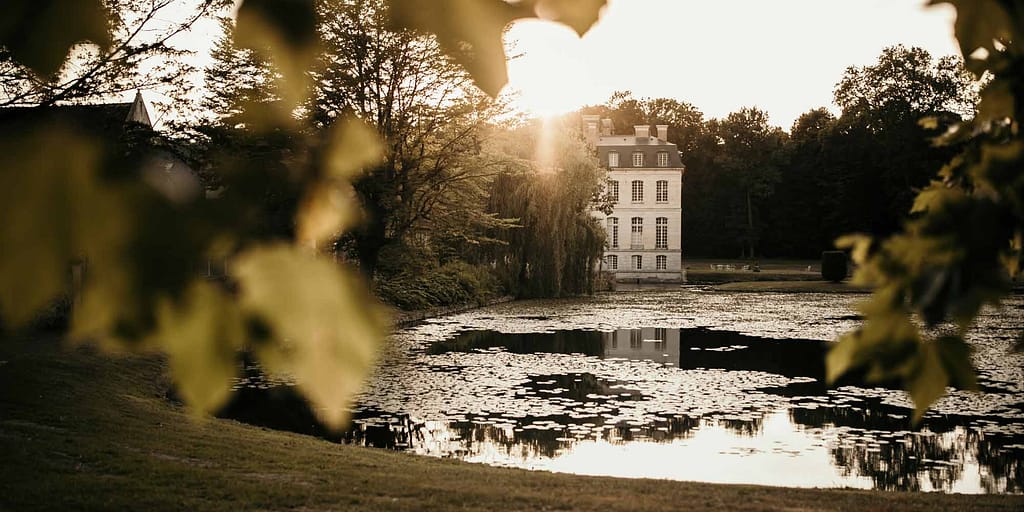 Find out more about Domaine de Verderonne here…
Affordable french wedding packages in Auvergne, Central France
Travel south of Paris and you'll find the truly magical Chateau de Maulmont. This venue in Auvergne is like something from a Disney movie – a dream chateau wedding venue for brides to live out their fairy tale fantasy.
Couples love strolling in manicured gardens, eating in a sumptuous wood-panelled banqueting room, sleeping in luxurious rooms fit for a princess, and gawping at incredible views over the Allier Valley. This is a special affordable chateau wedding venue with all the charm and mod cons you could possible need. Why not arrive by horse and carriage like Cinderella?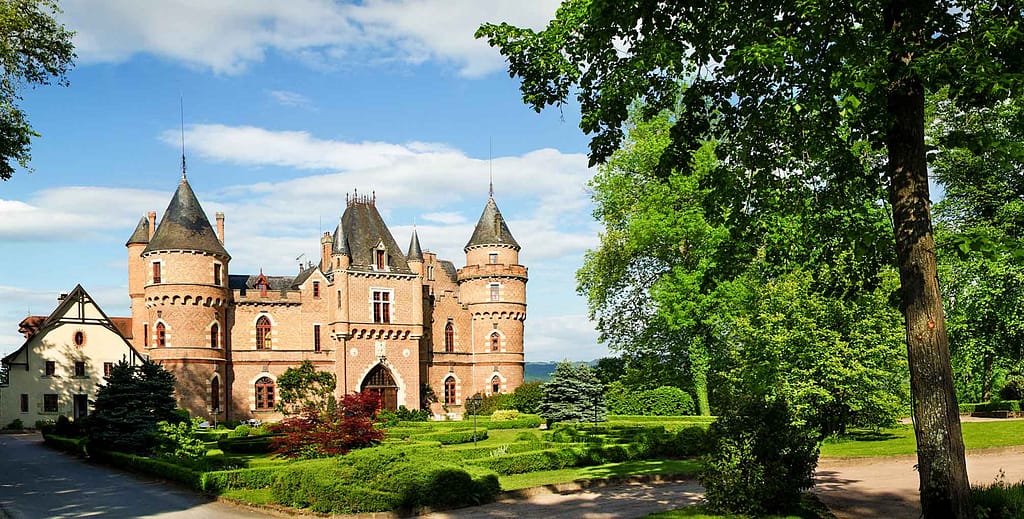 Find out more about Chateau de Maulmont here…
Best value chateau wedding venues in the South of France
As you venture further south, there are several incredible chateau wedding venues to consider.
The first is the historic Chateau LeFort, a unique venue that's off the beaten track in the totally unspoilt l'Escandorgue region of France. It's an authentic restored medieval castle complete with fortified walls.
If you're looking for romantic seclusion with incredible hilltop views then this is the location of you. Wedding ceremonies are usually held in the 17th century "cour d'honneur" with its gemel windows. Wedding feasts, meanwhile, take place in the impressive "Ecuries" – historic stables with an impressive vaulted ceiling.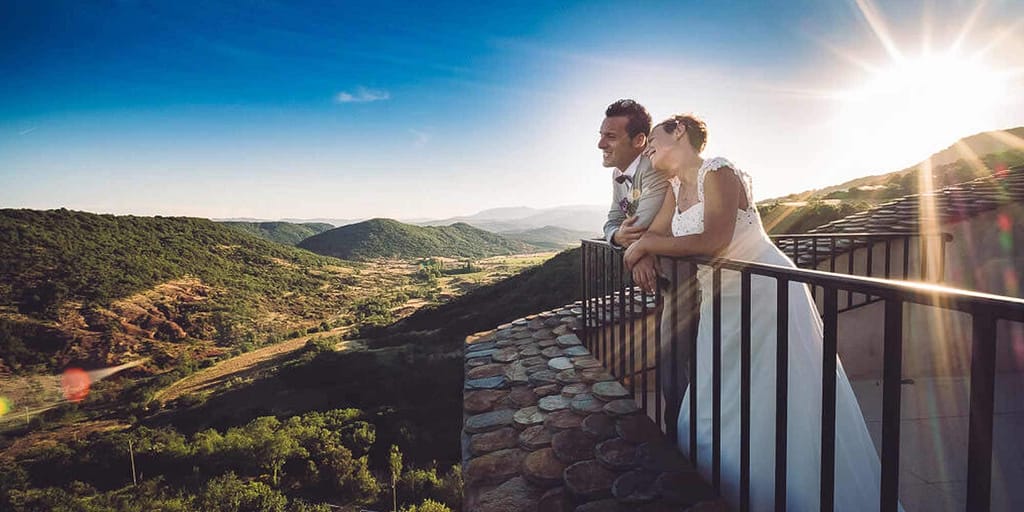 Find out more about Chateau LeFort here…
Alternatively, if you'd prefer something romantic but laidback, why not consider Chateau du Puits es Pratx? This wonderful affordable chateau wedding venue once belonged to a local wine producer; therefore you can exchange vows amongst glorious vineyards and serve drinks in a press wine bar.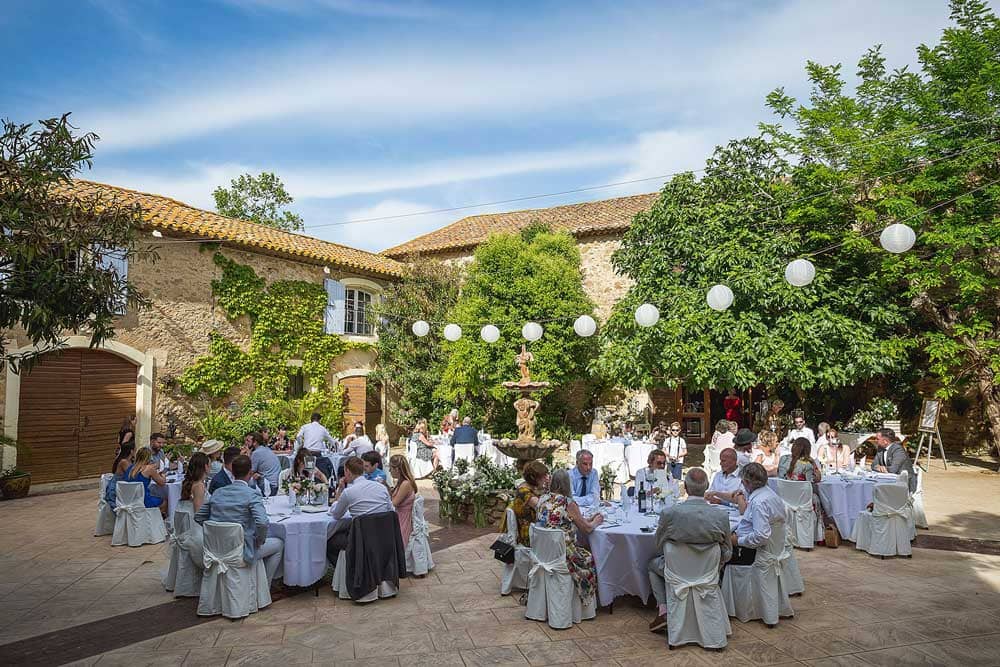 The natural spot for the wedding feast here is its pretty courtyard decorated with fairy lights and candles. If this destination looks familiar, it's because it featured on Escape to the Chateau DIY. Fortunately, however, you won't need to do it (or anything) yourself on your big day: this chateau supplies its own caterer and offers a free bespoke wedding planner service.
Find out more about Chateau du Puits es Pratx here…
Next on our exclusive list is the quaint Chateau Barayre, a charming venue set in a beautiful area of the Dordogne known as 'the Tuscany of France'. We love this location's casual boho chic vibe and its sustainable approach. What else sets it apart? The opportunity to tie the knot underneath a 300 year old cedar tree. You can then hold the wedding breakfast outside on the chateau's luscious lawns or inside their ancient barn with its long banquet tables and vintage French crockery.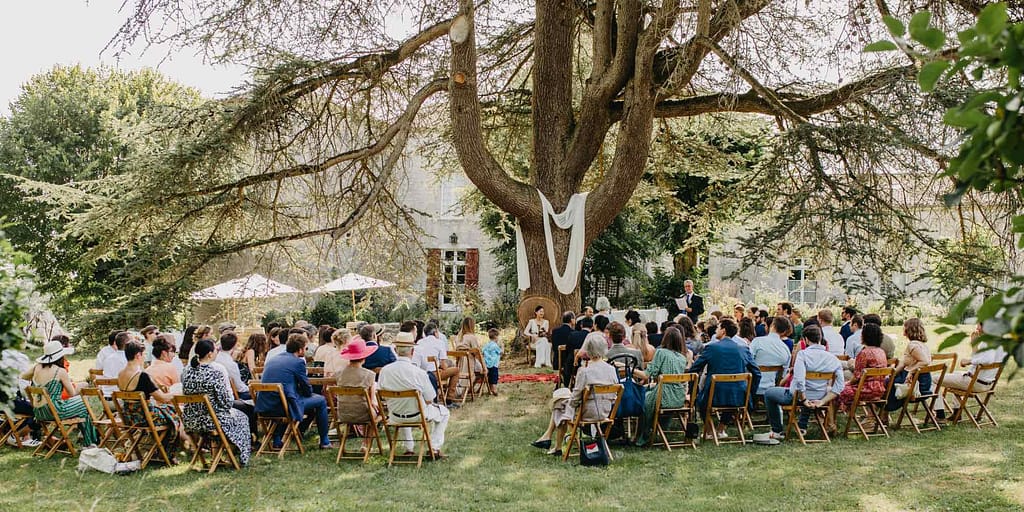 Find out more about Chateau Barayre here…
Next up is the unpretentious and welcoming Beau-Moulin – an intimate affordable chateau wedding venue that oozes traditional Gallic flair. You can enjoy its 11 acres of parkland, a sun-kissed terrace overlooking surrounding Cognac fields and, of course, the blue shuttered Moulin (a traditional French watermill). The piece de resistance, however, is the unique setting for the wedding ceremony: a secret riverside garden with a headland circled by rippling water. It's absolutely enchanting.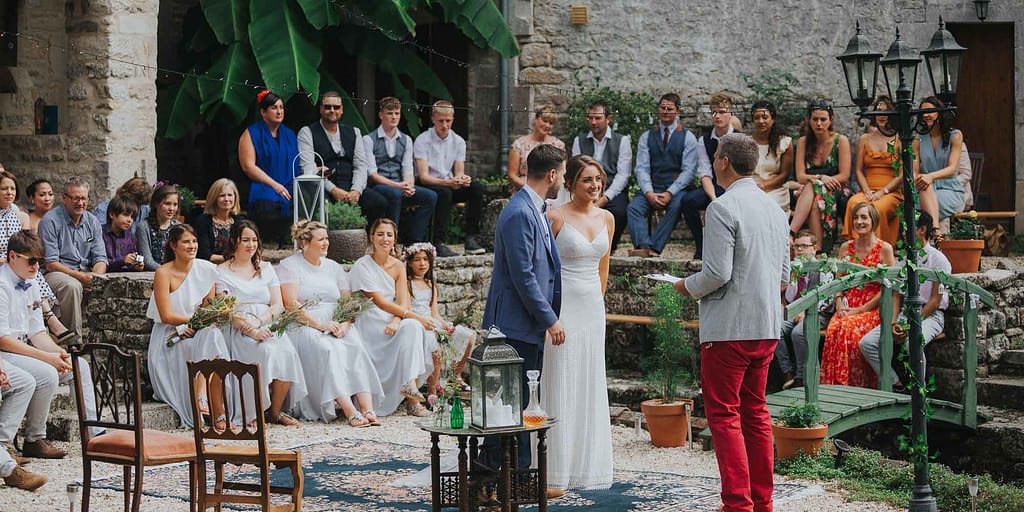 Find out more about Beau-Moulin here…
Last, but certainly not least, is Chateau Leroy – a magnificent venue with coral walls, blue shutters, and elegant traditional French turrets. The chateau, which has been in the same family for 18 generations, is absolutely exquisite with wood panelling, lavish furniture, antique ornaments, and impressive tapestries. Pick a spot in the large 6 hectares gardens for your celebrations or dine in the shadow of the chateau itself. You'll feel just like a local aristocrat.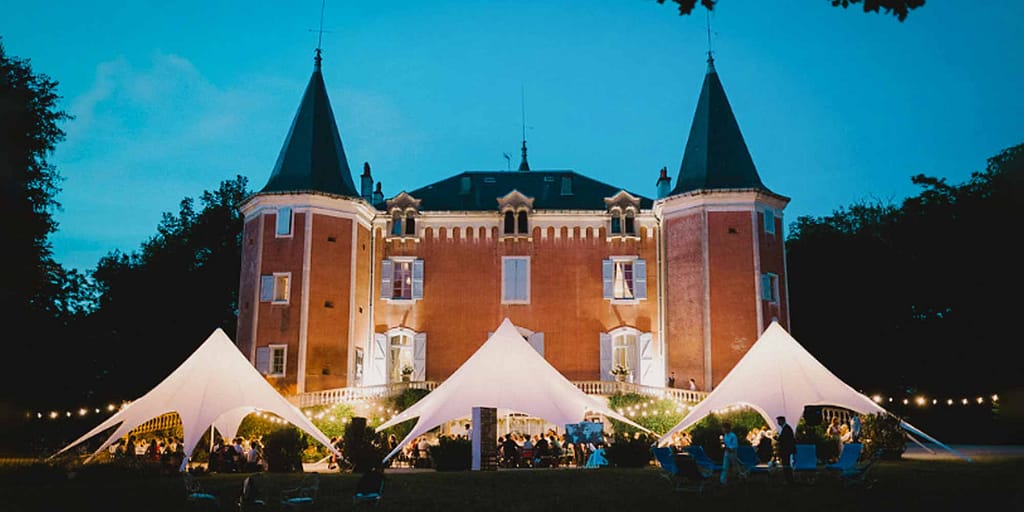 Found out more about Chateau Leroy here…
Why not a wedding in the Alps?
Finally, if you want an affordable chateau wedding venue that reaches new heights, head to The Alps and Beau-Ciel. This stylish 5-start chalet was originally a barn so it boasts wonderful wooden beams plus all the modern conveniences to make you feel cosy and pampered. There's even a sauna and Jacuzzi.
In the summer months you can hold the ceremony in flower-filled meadows. And in winter you can serve your guest warming mulled wine and even head to the slopes for a quick ski. Either way, the scenery is always stunning. Just imagine getting married with stunning 360 degree Alpine vistas all around. Wow.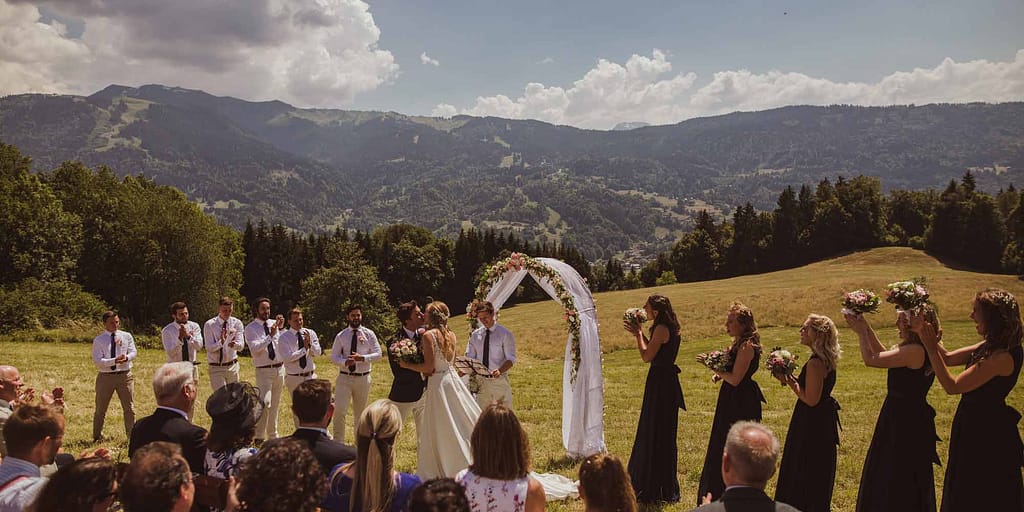 Find out more about Beau-Ciel here…
Want to know more about affordable French chateau wedding venues? Don't hesitate to contact us on 00 44 (0)1481 234 442, email hello@thechateaubee.com or use our contact form. We visit chateaux and other wedding venues throughout France and know all the best values destinations.