Welcome to the enchanting world of Bordeaux, where rolling vineyards meet fairytale chateaux to create the perfect backdrop for your dream wedding. Bordeaux, renowned for its world-class wine and timeless beauty, has long been a sought-after destination for couples looking to tie the knot in a setting that exudes romance and elegance.
And when it comes to curating a list of the crème de la crème, Chateau Bee is your ultimate guide. We're the busy bees buzzing around France, diligently selecting only the most exquisite wedding venues, ensuring that your celebration is nothing short of extraordinary.
Ready to be inspired?
Why Bordeaux?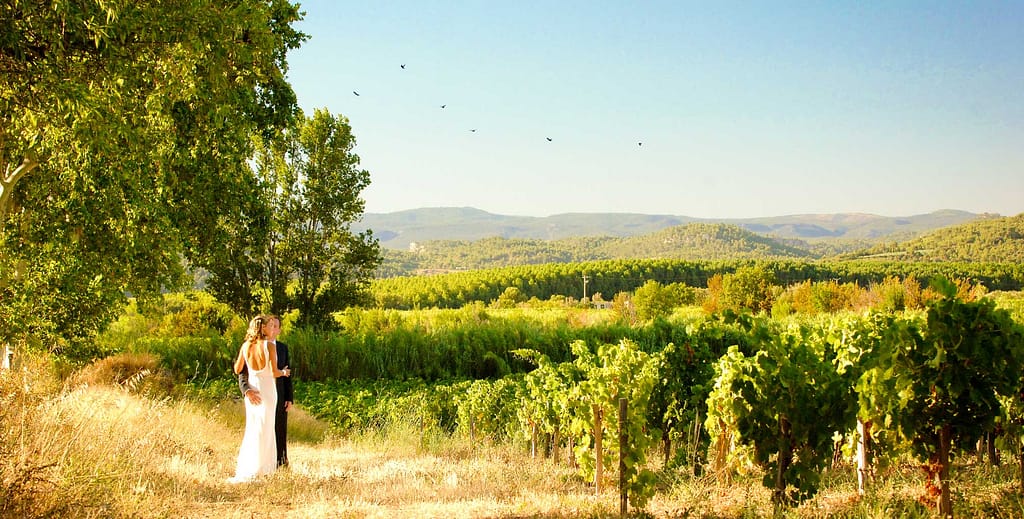 Getting married in Bordeaux promises a wedding experience like no other. This charming city, nestled in the heart of France's renowned wine country, offers natural beauty, cultural richness, and culinary delights. Bordeaux's vineyard-draped landscapes, historic chateaux, and the romantic ambiance of the Garonne River create a backdrop that's nothing short of enchanting.
Whether you envision a grand celebration at a fairytale chateau or an intimate gathering in a rustic vineyard setting, Chateau Bee provides an array of captivating venues to suit every couple's dream. And let's not forget the wine; Bordeaux is synonymous with world-class vintages, adding a touch of sophistication to any celebration. With its mild climate, delectable cuisine, and a wealth of activities to enjoy, Bordeaux invites you to not only exchange vows but to create lasting memories in a place where romance and elegance are woven into the very fabric of the region.
The Top 10 Bordeaux Fairytale Chateau Wedding Venues with Vineyards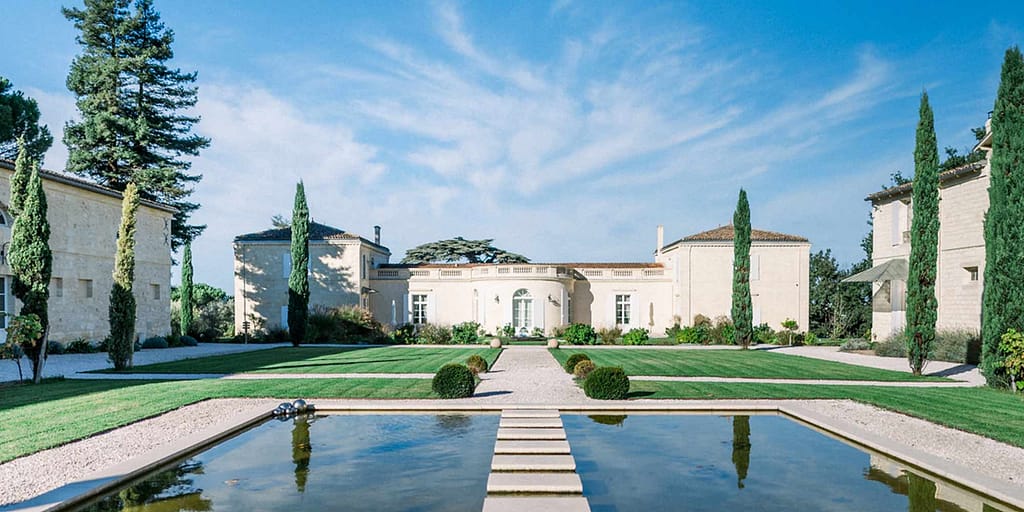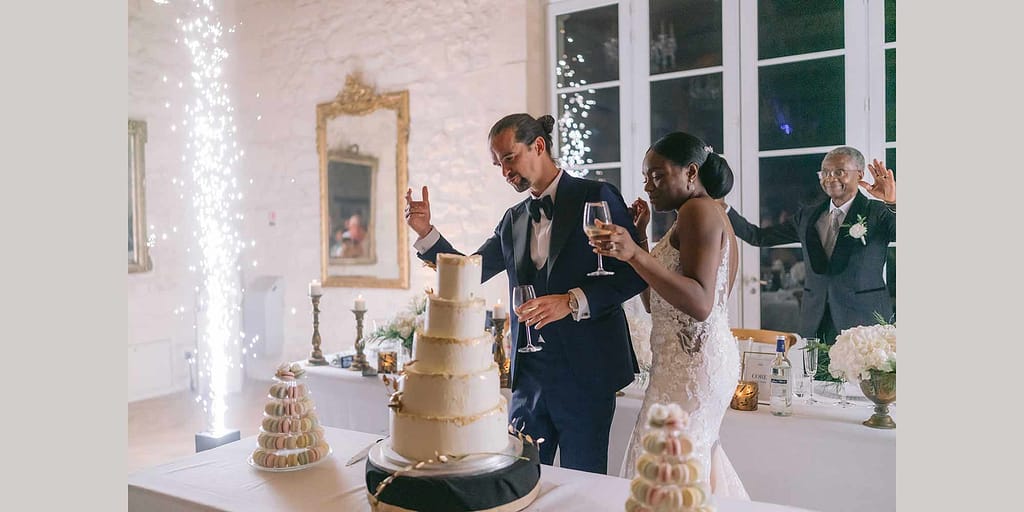 Nestled just 10 minutes from Bordeaux, Chateau Gassies is the epitome of a dreamy fairytale chateau wedding venue. This enchanting estate sits on 14 hectares of picturesque parkland, offering breathtaking views of Bordeaux and the Garonne River.
As you step onto the grounds, you'll be captivated by the chateau's classic beauty, with a central pond adorned with charming stepping stones. Imagine your ceremony in the Oak Grove clearing or the elegant courtyards, followed by cocktails on the West Terrace, where you can soak in the sunset. Then, the "Charles X" reception room with its stone walls, crystal chandeliers, and antique mirrors provides the perfect ambiance for your wedding dinner. With accommodations for up to 43 guests and a spa on-site, Chateau Gassies ensures an unforgettable wedding experience in Bordeaux.
Chateau Gassies also offers a range of wedding packages to make your special day even more memorable. From intimate gatherings to grand celebrations, their packages cater to your unique preferences, ensuring a seamless and enchanting experience for you and your guests. Your Bordeaux fairytale wedding awaits at Chateau Gassies.
Capacity: Up to 150 guests
Sleeps: 43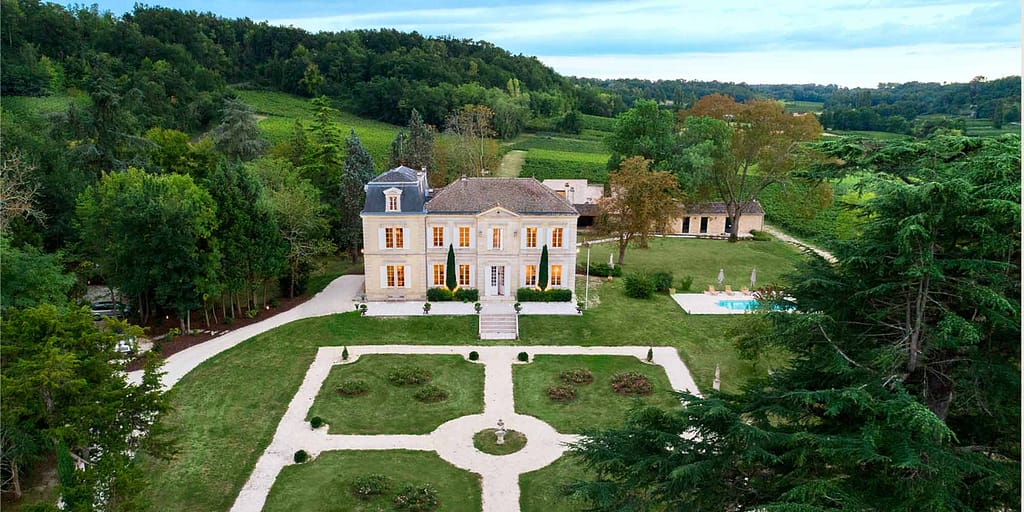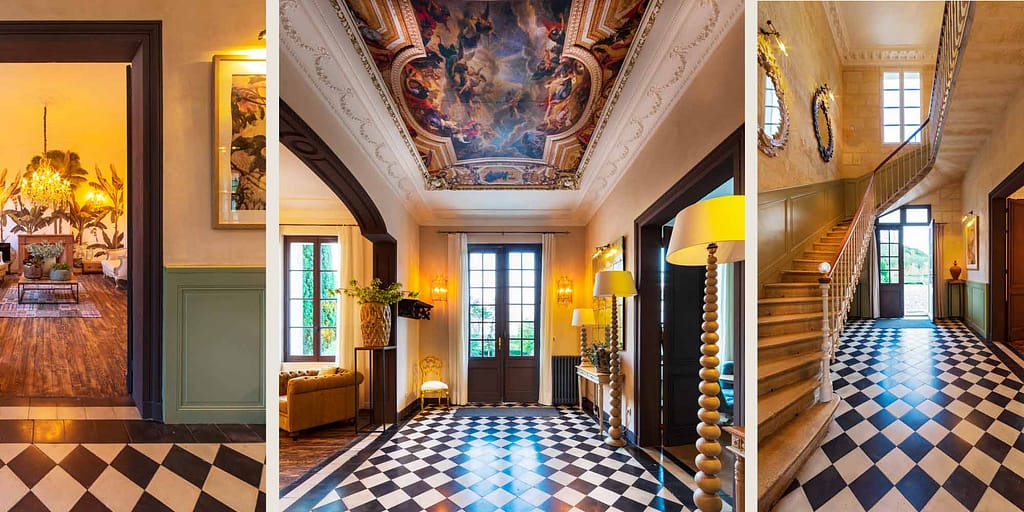 Chateau de Garde is just a stone's throw away from Bordeaux in the picturesque town of Saint-Emilion and is the pinnacle of a fairytale wedding venue. As you step onto the grounds, you'll be transported to an 18th-century chateau that exudes style and luxury. Furthermore, owners Céline and Dimitri, decorators extraordinaire, have created a perfect blend of opulence and comfort, making you feel like royalty while ensuring you feel right at home.
With a picturesque backdrop of vine-covered landscapes plus a UNESCO World Heritage Site nearby, your wedding at Chateau de Garde will be like stepping into one of Cézanne's landscapes. The main terrace, basking in the Bordelais sun, sets the stage for your reception cocktail. For your wedding dinner, choose between an alfresco setting or the elegant, light-filled reception room accommodating up to 120 guests. And when it's time to let loose and dance the night away, there's no need to hold back; the celebration can continue until the early hours of the morning!
Chateau de Garde offers a captivating escape for your Bordeaux fairytale wedding, where bliss, beauty, and memories await.
Capacity: Up to 120 guests
Sleeps: 50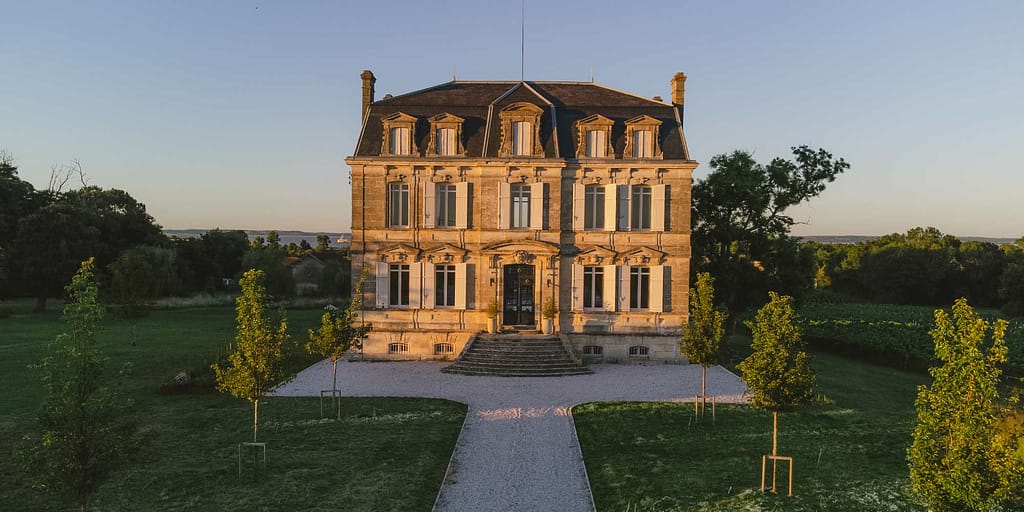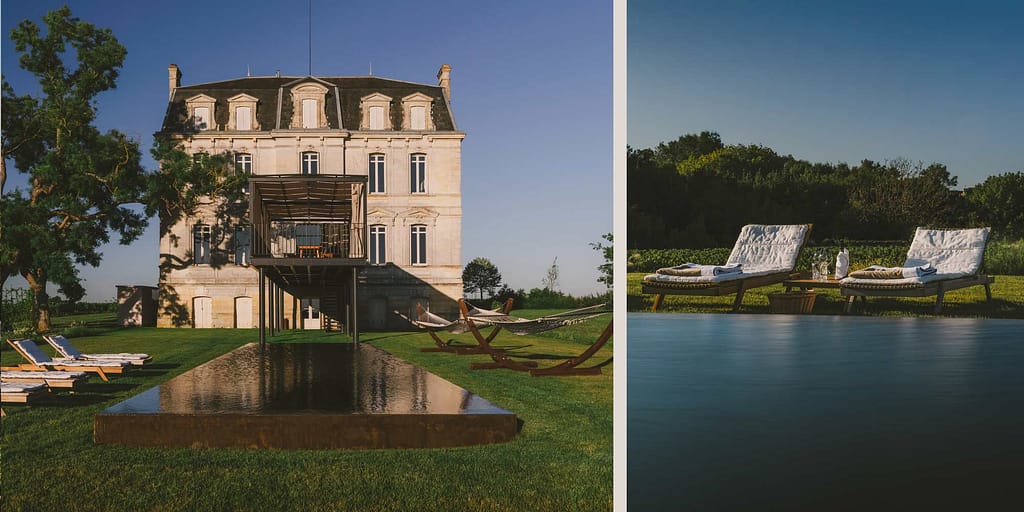 Standing amongst prestigious Medoc vineyards near Bordeaux, Chateau Bonheur-Médoc draws you into a exquisite fairytale wedding setting. This 19th-century chateau effortlessly marries timeless charm with visionary design, creating a harmonious blend of past and present. Enjoy the contemporary floating deck overlooking the 15-meter treatment-free infinity pool, surrounded by sprawling vineyards and breathtaking vistas of the Gironde estuary.
Step inside, and you'll be greeted by superb interiors that are both stylish and welcoming. The owners have poured their hearts into the meticulous renovation over the past three years, transforming the chateau into a true work of art. They've used eco-responsible materials and cleaning products wherever possible and will also share their secret book of the finest suppliers and local activities, ensuring that your stay at Chateau Bonheur-Médoc is truly exceptional from beginning to end.
With three spacious bedrooms, personalised touches, and sustainability at its core, Chateau Bonheur-Médoc ensures a romantic and eco-conscious stay amidst the vineyards.
Capacity: Up to 100 guests
Sleeps: 6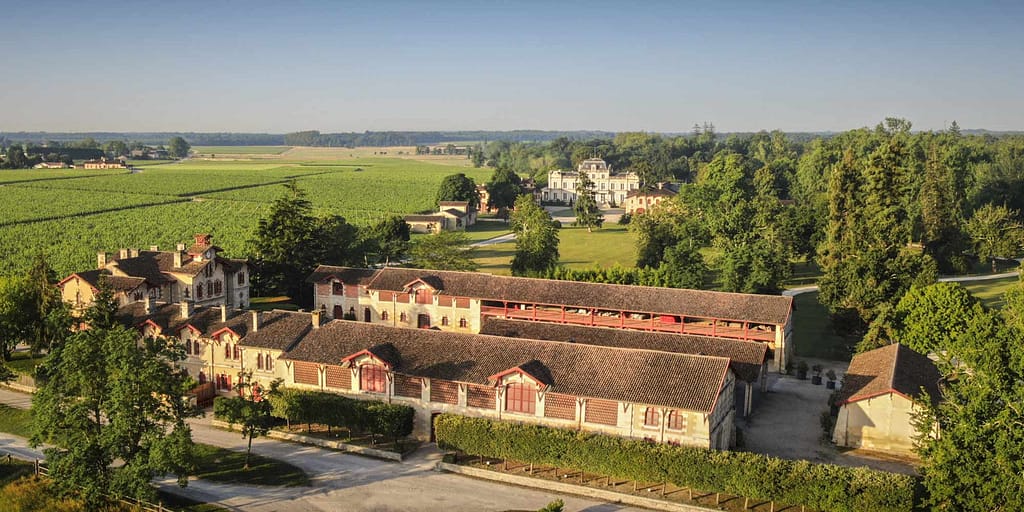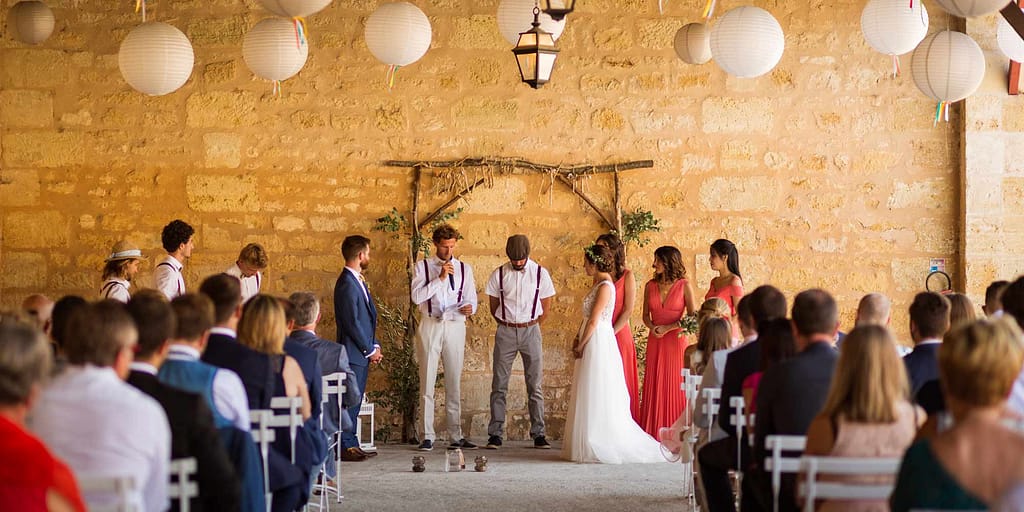 Discover Chateau Grand Pin, an idyllic vineyard venue along Bordeaux's legendary "Route des Châteaux." Located just 25 minutes from Bordeaux, it's a dream for wine enthusiasts with its prestigious "Margaux appellation" and a history of producing "Grand Cru Classé" wines since 1855.
Picture your wedding day starting with a blessing in the serene inner courtyard of the Suzanne farm followed by a sun-soaked cocktail hour in the chateau's main courtyard with house rosé. The grand wedding dinner takes place outdoors or in the Suzanne farm's 432m² hall, surrounded by rustic stonewalls, wooden beams, and fairy lights to awe your guests.
We love this venue not only for its impressive size but also for its unwavering commitment to sustainability. Here, a thriving farm, vineyards, a bountiful vegetable garden, and over a hundred animals contribute to a rich terroir and a harmonised ecosystem.
Capacity: Up to 350 guests
Sleeps: 7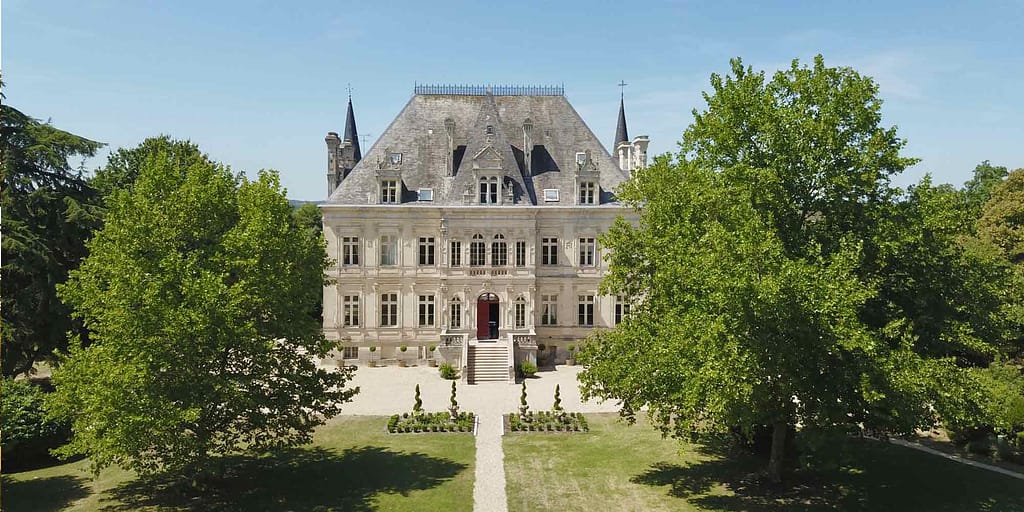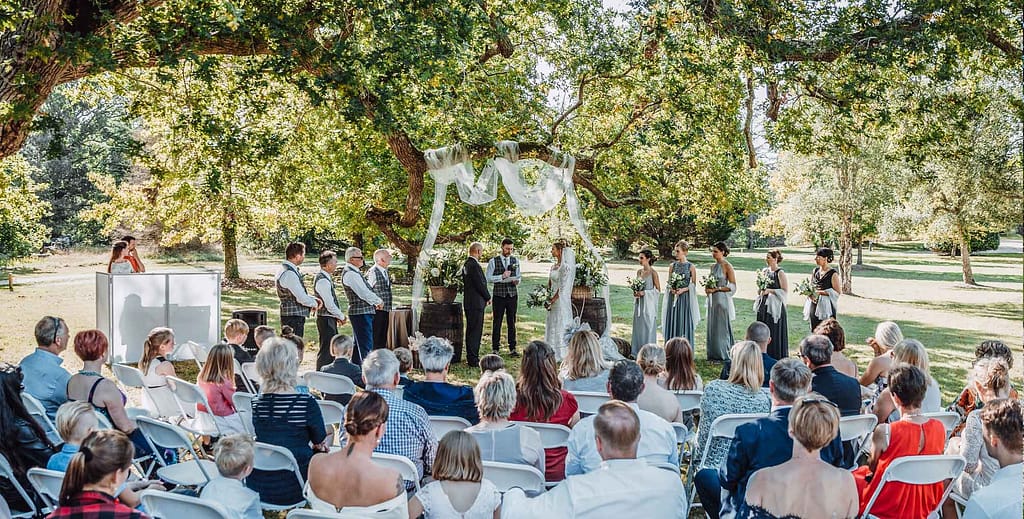 Sat in the heart of Dordogne, Chateau de la Valouze near Bordeaux is an exceptional fairytale wedding venue, perfect for couples seeking elegance and versatility. Accommodating a remarkable 96 guests on-site, this chateau sits amidst 34 hectares of parkland. Not only is this beautiful expanse graced with three serene lakes but also the oldest oak tree in France!
Choose from a variety of outdoor ceremony locations, perhaps with a deer as your unexpected guest. Reception drinks can be enjoyed in the charming gardens or a winter garden marquee. The spacious barn with high ceilings is ideal for dining and dancing. Moreover, with accommodations, tennis courts, and a retro jazz bar, Chateau de la Valouze has it all for a magical wedding.
Capacity: Up to 150
Sleeps: 96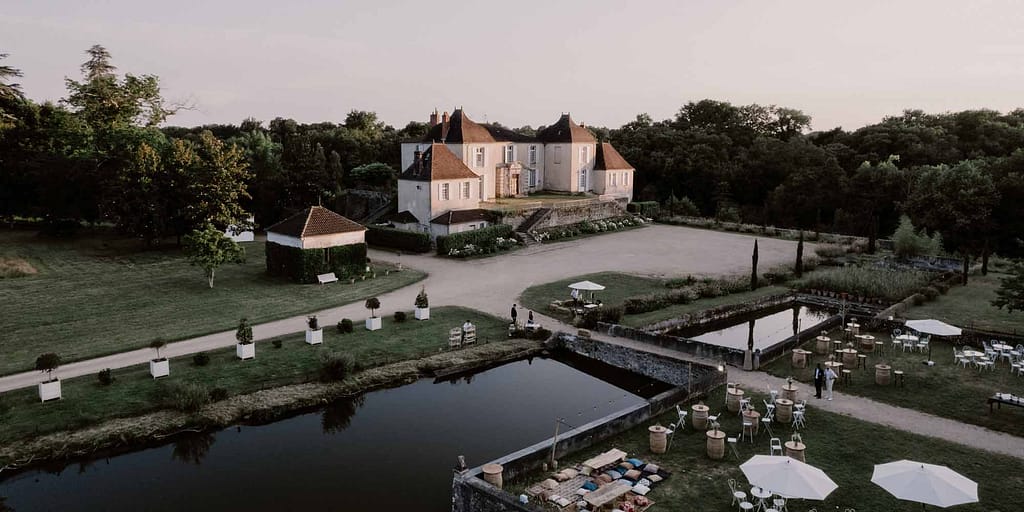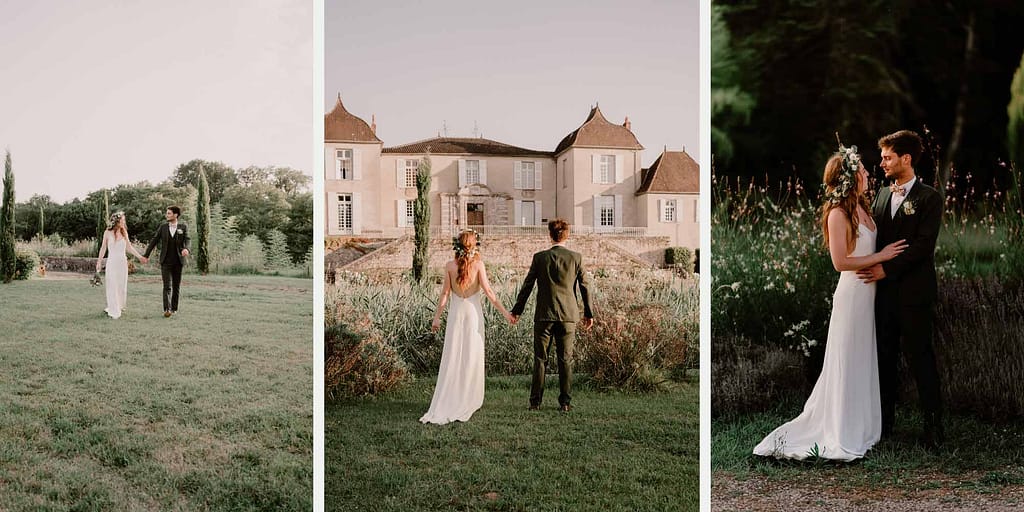 Chateau de Campet, in South West France, is a masterpiece of grace dating back to the 17th century. Its picturesque turrets frame a radiant golden stone building. A short drive from Mont-de-Marsan and 90 minutes from Bordeaux, the chateau rests within 15 hectares of tranquil grounds, thus offering diverse spaces to suit your wedding style and size.
Numerous enchanting spots await for your ceremony, from the majestic Allée d'Honneur, shaded by towering trees, to the charming flower beds by the ponds, where the estate's elegant peacocks may join the celebration. The wedding dinner can unfold beneath fairy lights or in the spacious 200m² Orangerie, flooded with natural light.
There's no curfew so the festivities can continue late into the night. Accommodations on-site can host up to 45 guests, with timeless charm and modern amenities. Berenice and Gonzague, the family's new stewards, are committed to making your wedding dreams come true, providing local supplier suggestions thus ensuring a truly unique experience.
Capacity: Up to 200 guests
Sleeps: 45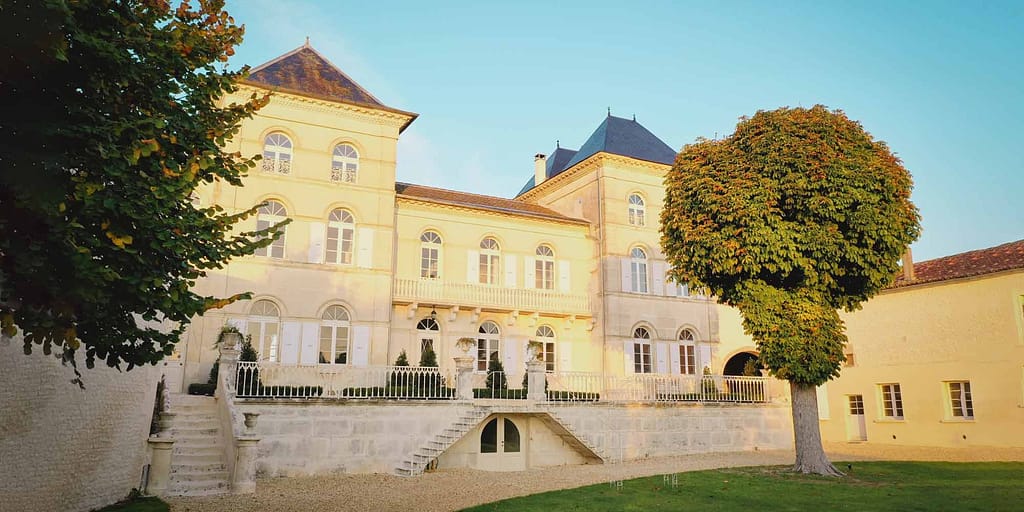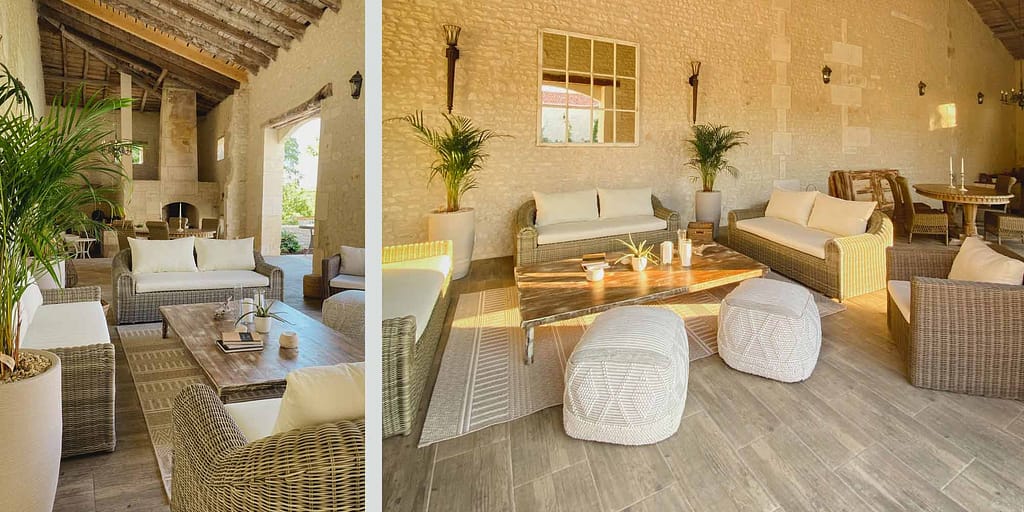 No3 The Chateau, situated in sunny Charente among Champagne Cognac vineyards, is a show-stopping wedding venue filled with light. Purchased in 2015 and stylishly restored, this luxurious venue offers various event spaces.
Picture your blessing on the circular green by the Pigeonnier, followed by a sparkling glass of bubbly along the lavender path. Then, for the wedding dinner, indulge in a feast on the "sunset estrade," overlooking endless vineyards. Alternatively, the grand Chai barn, with chandeliers and fairy lights, provides an indoor option that wows.
On-site accommodations include 6 ethereal suites that can house up to 12 people. They boast high ceilings, comfortable beds, soft linens, bateau baths as well as ample natural light. Additional accommodations are readily available nearby.
Capacity: Up to 150
Sleeps: 12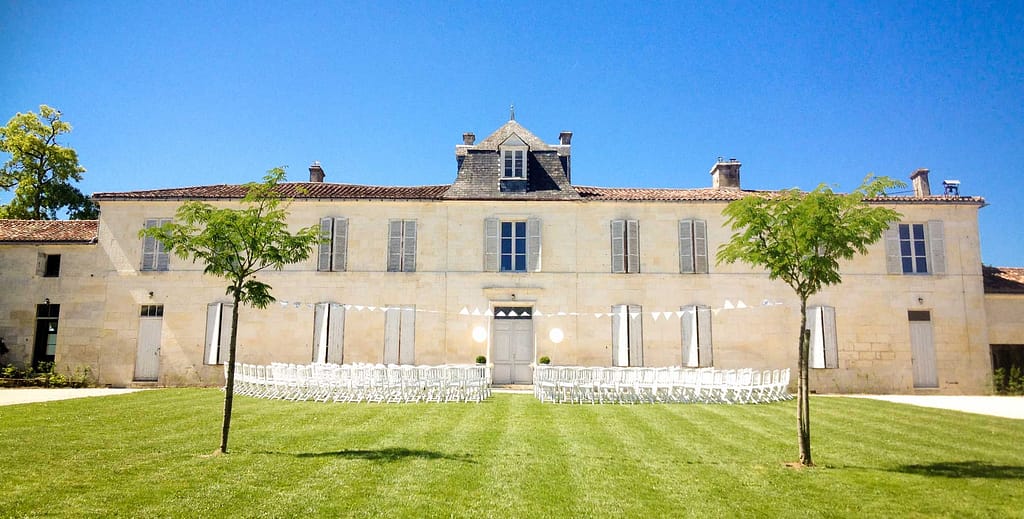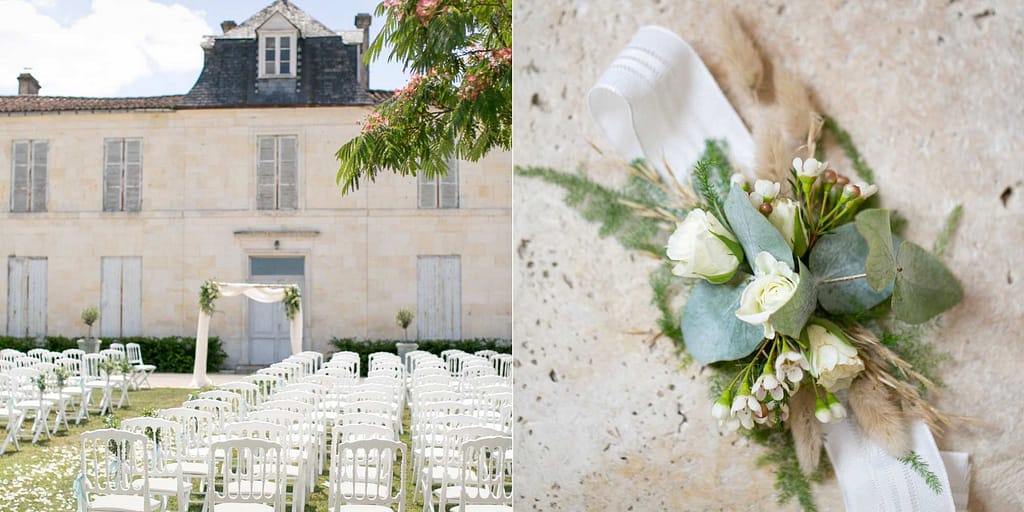 Domaine Du Trèfle, a former Cognac estate dating back to the 17th century, is an enchanting wedding venue in Charente Maritime, not far from La Rochelle and Bordeaux's vineyards. The white stone building comprises seven renovated cottages surrounding a picturesque courtyard.
For your ceremony, choose the charming courtyard, and enjoy a sunny al fresco dinner. Or perhaps you'd prefer the loggia sheltered by its stone arches. The venue also boasts a party barn with a timbered ceiling and twinkle lights. With accommodations for 36 on-site and welcoming English owners, Domaine Du Trèfle is perfect for couples seeking an elegant, relaxed wedding amidst Bordeaux's vineyard beauty.
Capacity: 100
Sleeps: 36
9. Chateau de Brives: A Boutique Wedding Venue Featured in Escape to the Chateau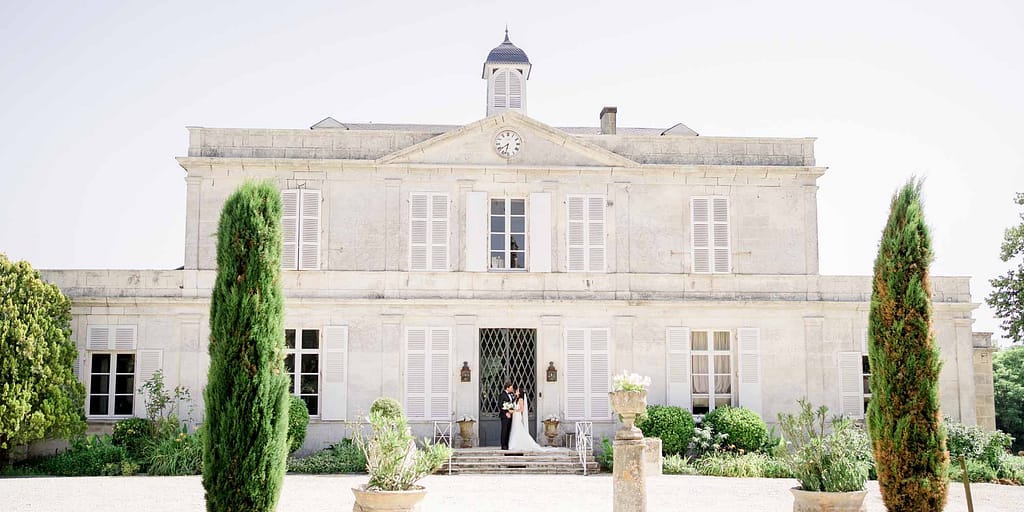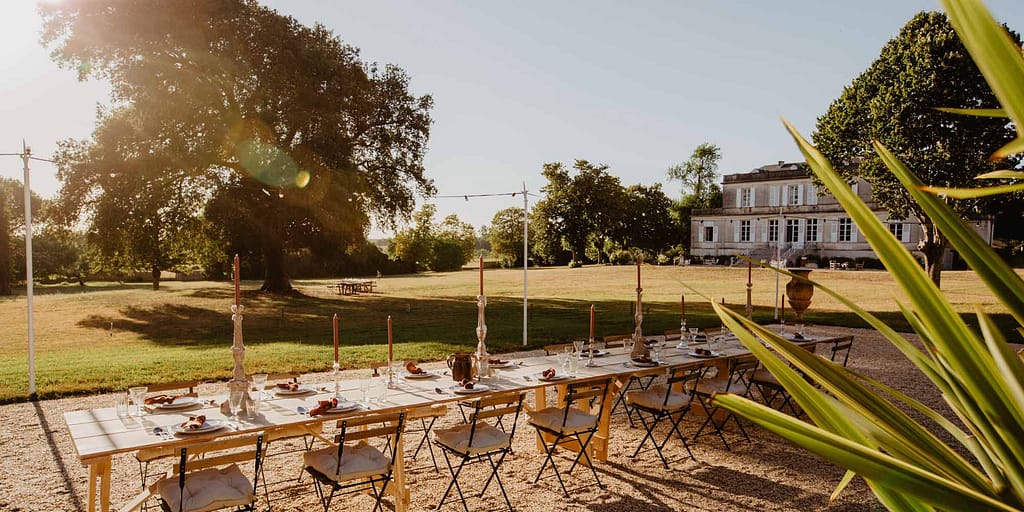 Chateau de Brives, nestled amid Cognac vines, marries French traditional charm with contemporary elegance, making it an exceptional wedding venue. The chateau's warm allure will captivate you, with each room a treasure trove of French antiques and carefully selected artworks. Notable features include a floating spiral staircase, soft hues from Little Greene, plus expansive windows that bathe the space in natural light.
Chateau de Brives offers a plethora of choices for your wedding. Exchange vows in the village church or within the estate's picturesque park. Enjoy pre-dinner cocktails on the sunlit terrace with the chateau as your backdrop. For the wedding dinner, you can opt for the stunning stone barn or an al fresco setting adorned with twinkling fairy lights.
The morning after, treat your guests to a poolside brunch by the large pool, enclosed by charming stone buildings that once housed Cognac. With on-site accommodations for up to 18 guests and a nearby gite complex for 35, this venue offers flexibility.
Owners Sarah and George, along with a trusted wedding planner, are dedicated to turning your wedding dreams into reality. Chateau de Brives is perfect for couples seeking an inviting chateau full of charm and personal touches. Follow Sarah and George's journey to hosting weddings at their chateau. View on All4 here.
Capacity: Up to 100 guests
Sleeps: 18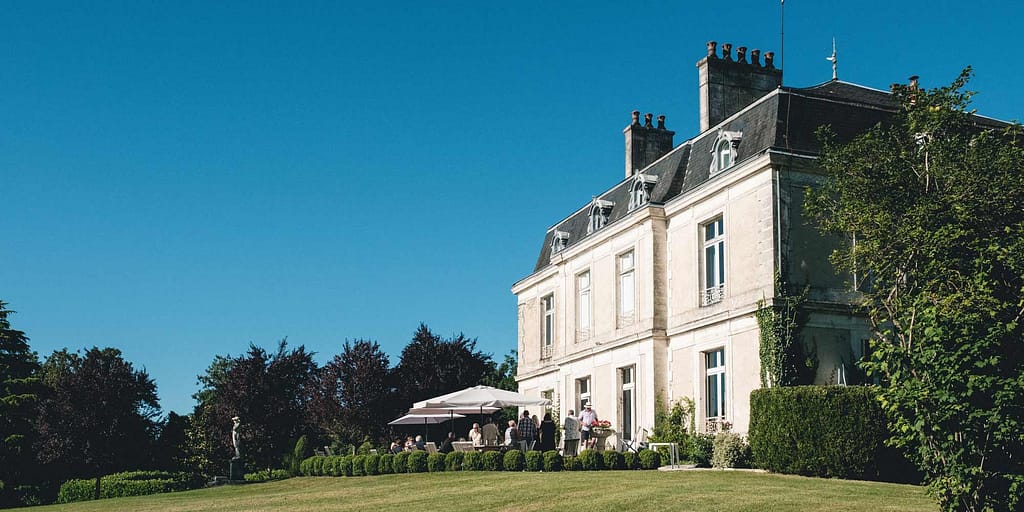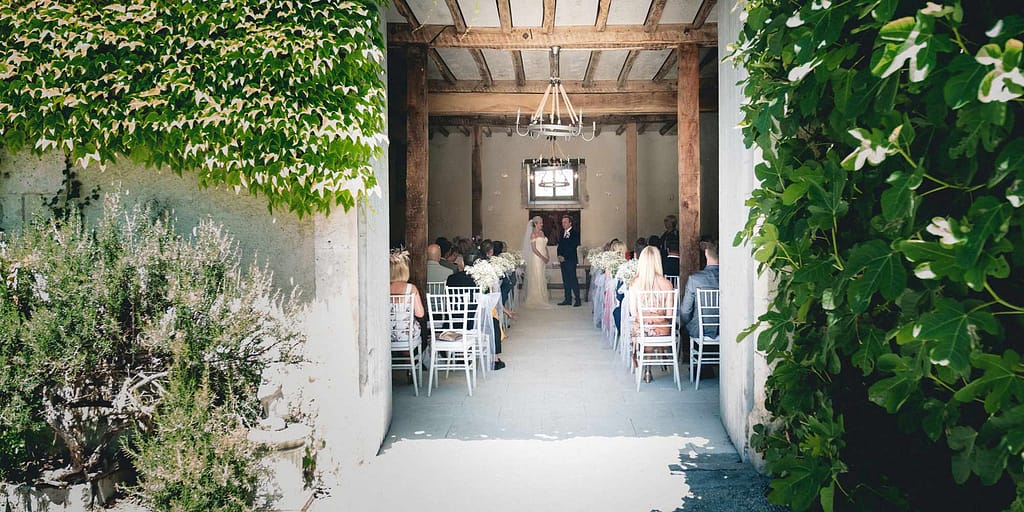 Chateau Severin, nestled in the picturesque Dordogne region, offers an idyllic backdrop for a relaxed and romantic wedding. This venue exudes a warm, homely ambiance, with charming French country-style decor that adds to its appeal.
The English owners, Sarah and Rupert, who themselves celebrated their nuptials in a Dordogne chateau, were inspired to find their own French chateau, tailored for couples worldwide. This 19th-century French castle has been meticulously restored, preserving its original features.
Notable features include a unique bamboo forest beyond the grand gates and a spacious "Chapel" room with large beams, accommodating up to 100 guests for wedding blessings. For those preferring an outdoor ceremony, the chateau's expansive 10-acre park provides ample options.
Chateau Severin is well-suited for small to medium-sized weddings. For intimate gatherings of fewer than 30 guests, the salons inside are ideal for the wedding dinner. For larger parties of 30-100 guests, a marquee provided by the venue is set up in the park, allowing guests to dine and celebrate outdoors. A brunch, featuring local Dordogne cuisine, awaits the day after your wedding, followed by relaxation by the spacious, secluded pool. Chateau Severin is the perfect relaxed, fairytale setting for couples seeking an intimate romantic chateau wedding.
Capacity: Up to 100 guests
Sleeps: 27
What are the Top Things to do in Bordeaux?
Wine Tasting
Bordeaux is a paradise for wine lovers. The region is home to some of the world's most famous vineyards with the fairytale Chateaux mentioned above standing at their heart. From Chateau Bonheur-Medoc's prestigious wine-growing Margaux appellation to the delightful wine regions surrounding Chateau de la Valouze and No3 The Chateau, you'll have the perfect backdrop for your wine-tasting adventures. Our chateaux provide not only a fairytale wedding experience but also a wine enthusiast's dream come true.
Historic Centre
The heart of Bordeaux is a UNESCO World Heritage site filled with stunning architecture and historic charm. Stroll through the picturesque cobbled streets, admire the 18th-century buildings, and visit landmarks like the Bordeaux Cathedral (Saint-André) and the Grosse Cloche. The Place de la Bourse and its famous "Miroir d'eau" water mirror provide a beautiful backdrop for photos.
Culinary Delights
Indulge in a culinary paradise provided by the chateau's themselves, with personal chefs creating the finest French cuisine using locally sourced produce. From delectable duck confit to irresistible canelé pastries, these venues offer a taste of authentic regional specialties. For those seeking culinary adventures beyond the chateau grounds, you can explore the nearby delights of Bordeaux. Stroll through the historic city's traditional bistros and contemporary restaurants to savor the diverse flavors of the region. A visit to the bustling Capucins Market reveals the true essence of Bordeaux's culinary diversity, where you can relish fresh produce, artisanal cheese, and the freshest seafood. Whether within the chateaus or beyond, Bordeaux promises a gastronomic journey like no other.
Day Trips
Bordeaux serves as an excellent base for exploring the surrounding region. Whilst at Chateau de Garde, why not explore the UNESCO-listed town of Saint-Emilion (just 30 minutes away) filled with cobbled streets and countless smelliers beckoning you into their underground wine shops. Or discover the historic town of Cognac whilst at No3 The Chateau, famous for its brandy production. If you fancy a coastal escape, Domaine du Trefle is about an hour from the stunning beaches of the Côte Sauvage, La Palmyre, and Royan. A day trip to the enchanting islands of L'Ile de Ré and the Ile d'Oléron is easily achievable.
Explore this link here for the top 15 things to do in Bordeaux according to TripAdvisor.
What Should I Wear for a Bordeaux Wedding?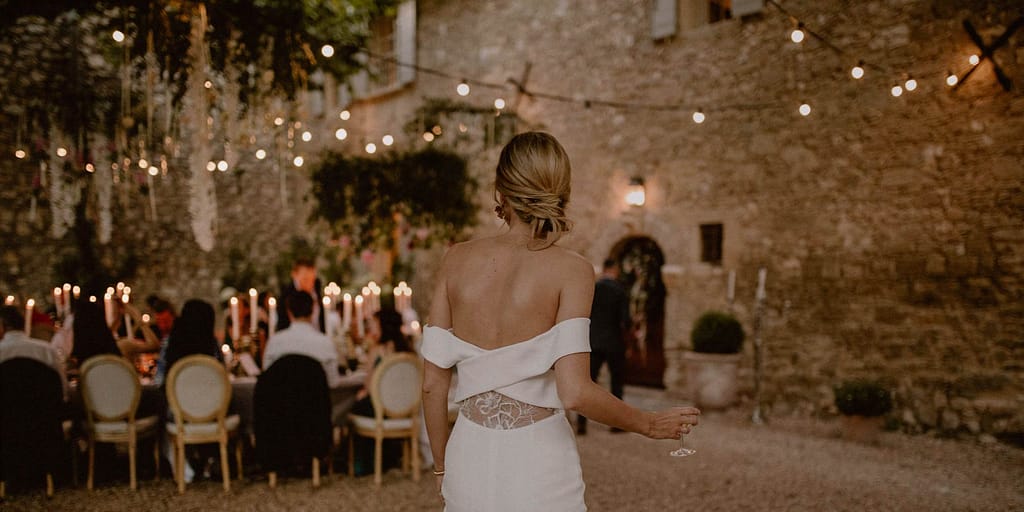 My advice would be to embrace the timeless French style, known for its effortless elegance. Consider opting for a long, flowing gown or a well-fitted tuxedo to exude sophistication. French weddings often emphasise classic and refined fashion, so select attire that reflects this sense of enduring charm.
If you're a guest, always consider the season and venue. Lighter fabrics and pastel colours work well for summer, while darker hues and richer textures are ideal for autumn and winter weddings. Don't forget comfortable footwear for strolling through all the vineyards and the scenic chateau gardens.
And, of course, bring a touch of your personal style to make your attire uniquely yours!
For more tailored information and pricing, feel free to contact us on 00 44 (0) 1481 234 442, email hello@thechateaubee.com or use our contact form. Contact Chateau Bee today and let your fairytale wedding Bordeaux begin!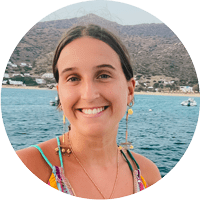 The Top 10 Bordeaux Fairytale Chateau Wedding Venues with Vineyards by Bella Dean
Foodie, yogi and travel lover!