France, the land of love and romance, is a dream wedding destination for many. Nestled within the sprawling, scenic countryside and lush vineyards of France are opulent and magnificent chateaux, serving as perfect venues for an unforgettable wedding experience. Each chateau, with its unique charm, promises an intimate and romantic setting that's straight out of a fairy tale. In this blog, we unfold the beauty and elegance of the top 20 French chateau wedding venues that guarantee a romantic and refined celebration.
Here at Chateau Bee, we've buzzed around the most enchanting corners of France, scouting out the crème de la crème of chateaux to host your dream wedding! Each chateau we've discovered has its unique allure, promising an ambiance that's intimate, romantic, and oh-so-French! So, buckle up as we take you on a romantic journey through the top 20 French chateau wedding venues that are the epitome of love and elegance!
Ready to Be Swept Off Your Feet?
The Top 20 French Chateau Wedding Venues for your Dream Romantic Wedding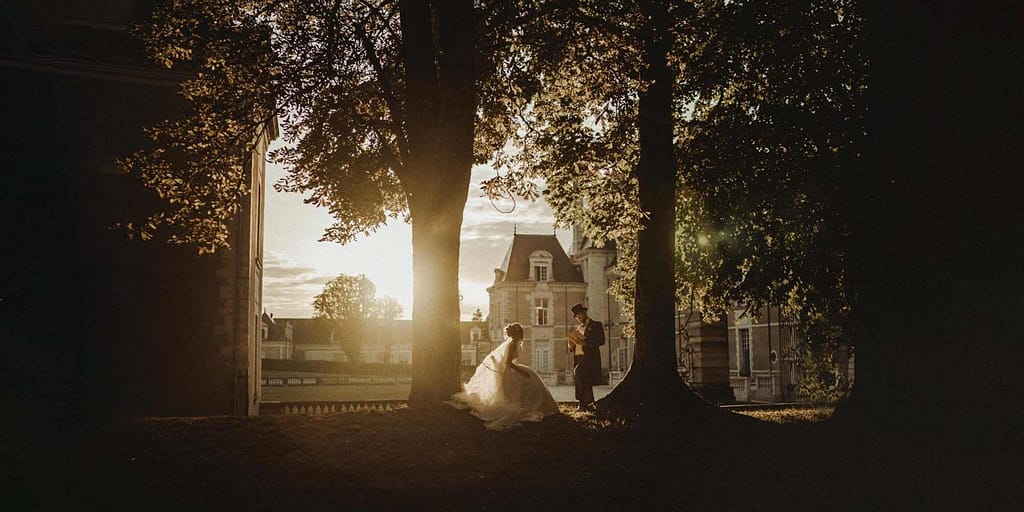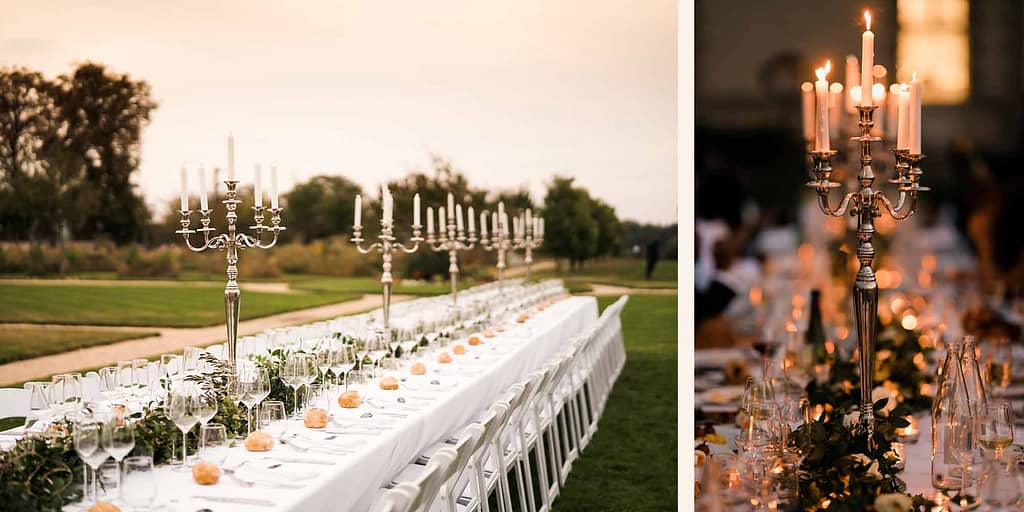 Immerse yourself in the timeless elegance of Chateau Beloire, an enchanting wedding venue in the Loire Valley where dreams of a royal, romantic wedding come true. Renowned for its 17th-century façade and featured in "Escape to the Chateau DIY," this chateau is a seamless blend of historic charm and contemporary grace. Whether it's a blessing in the chapel adorned with stunning stained glass or a feast in the majestic banquet hall, every moment at Chateau Beloire is a dance of luxury and romance. With elegant accommodation and a renowned in-house chef, this authentic French chateau promises an unforgettable journey into marital bliss.
Location: Loire Valley
Accommodates: Up to 150 guests
Sleeps: 60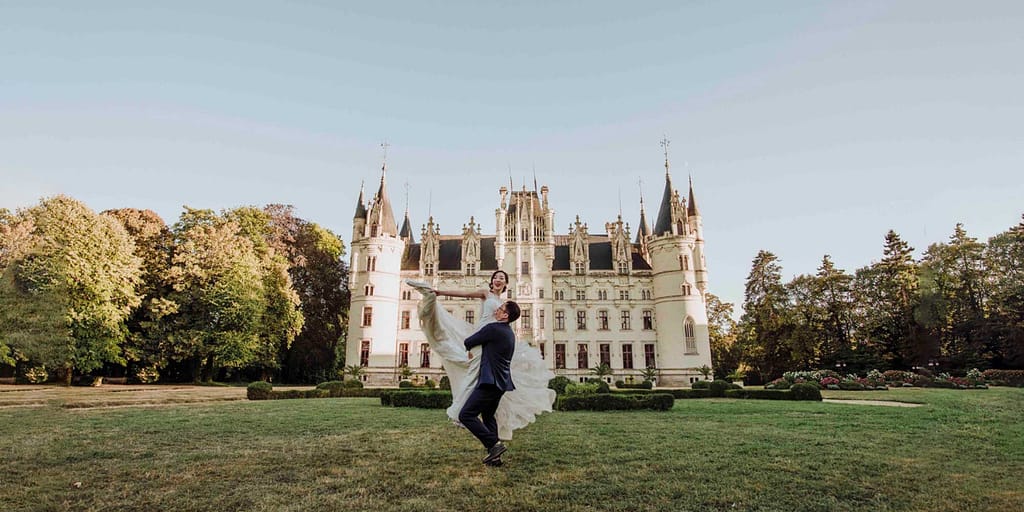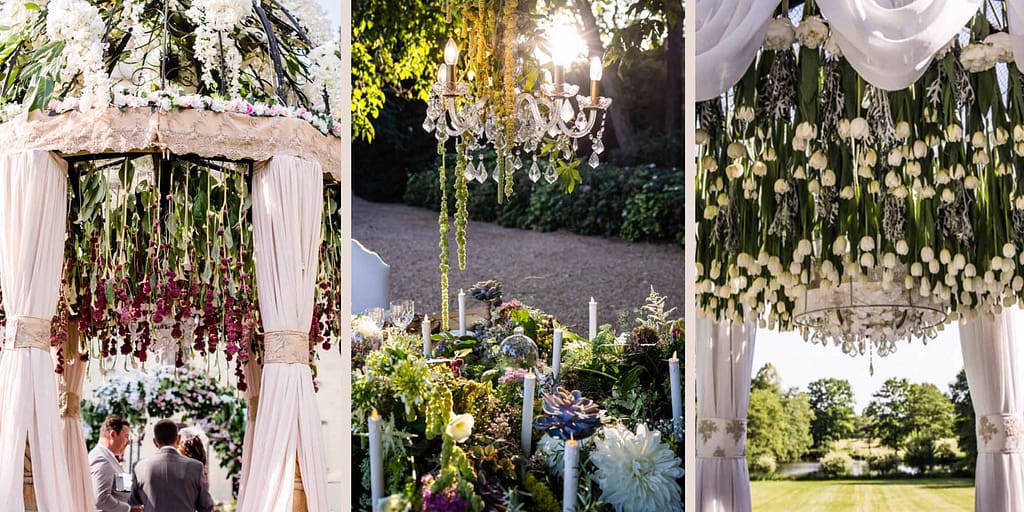 Welcome to the enchanting Château Challain, nestled in the Loire Valley and voted one of the top 10 places to get married in France! Here, every detail, from spiral staircases to intricate wood carvings, whispers tales of fairy tales and romance. It's like stepping into Beauty and the Beast's castle, with each room a treasure trove of romance and enchantment! And let's not forget Cynthia, the lovely owner, who's like a fairy godmother, turning every wish into reality. With its plethora of windows, fireplaces, and turrets, Château Challain is a realm of magic and romance waiting to unfold your love story! Intrigued? Explore the available French wedding packages and let the magic begin!
Location: Loire Valley
Accommodates: Up to 150 guests
Sleeps: 50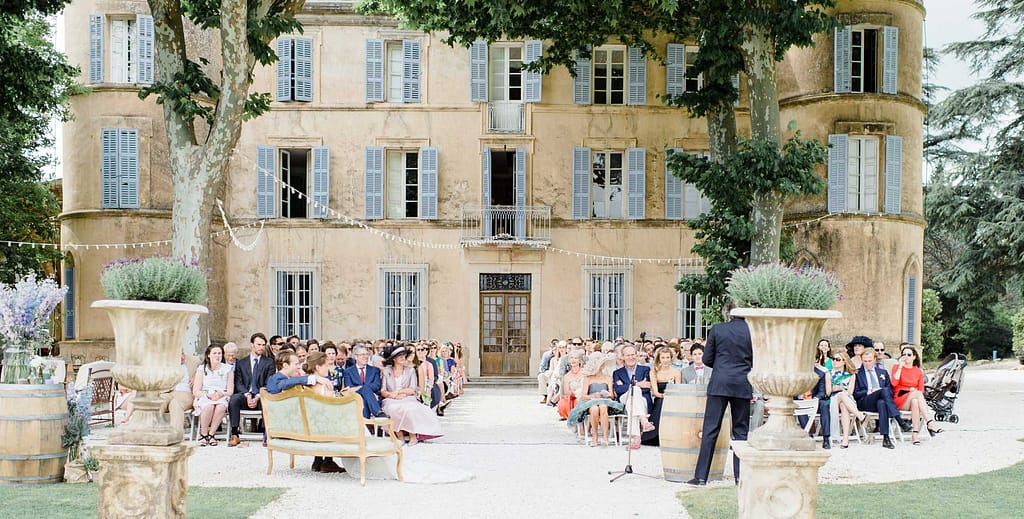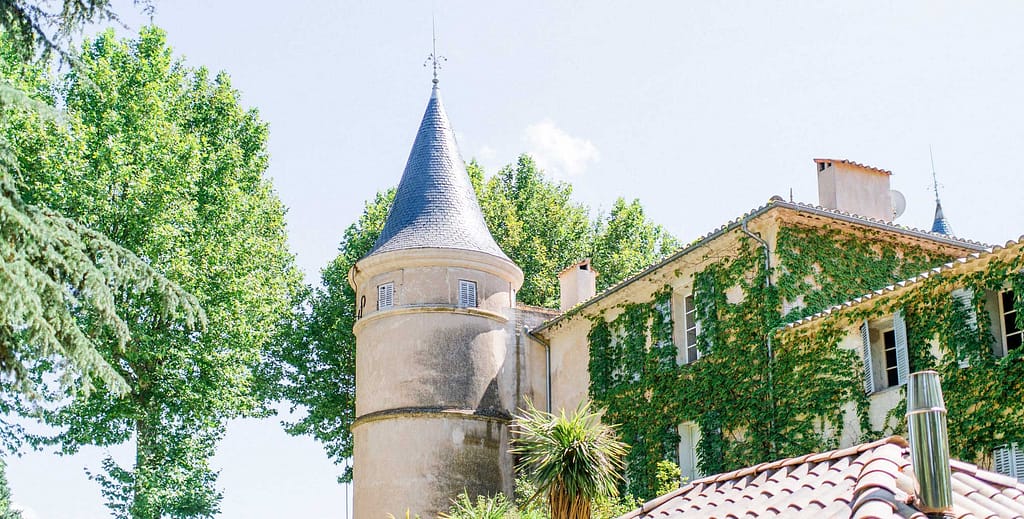 Meet the majestic Chateau d'Argent, a true fairy tale setting nestled amidst the vineyards of serene Provence, just a breath away from the vibrant French Riviera! This chateau is more than just a venue; it's a secluded escape where long alleys of palm trees and imposing towers paint a picture of timeless elegance and tranquility. Perfect for wine lovers, its enchanting location offers stunning vineyard views and the warm, Provencal charm, with its lavender shutters and honey-colored facades, infuses every corner with romance. Imagine exchanging vows in the lush gardens or hosting a grand dinner under the stars. With opulent rooms and luxurious amenities including a tennis court and a helipad, Chateau d'Argent is indeed a dream for those yearning for luxury and charm in equal measure! Whether it's a Provencal touch or a Riviera vibe you're after, this chateau promises an unforgettable, romantic celebration!
Location: Provence
Accommodates: Up to 300 guests
Sleeps: 26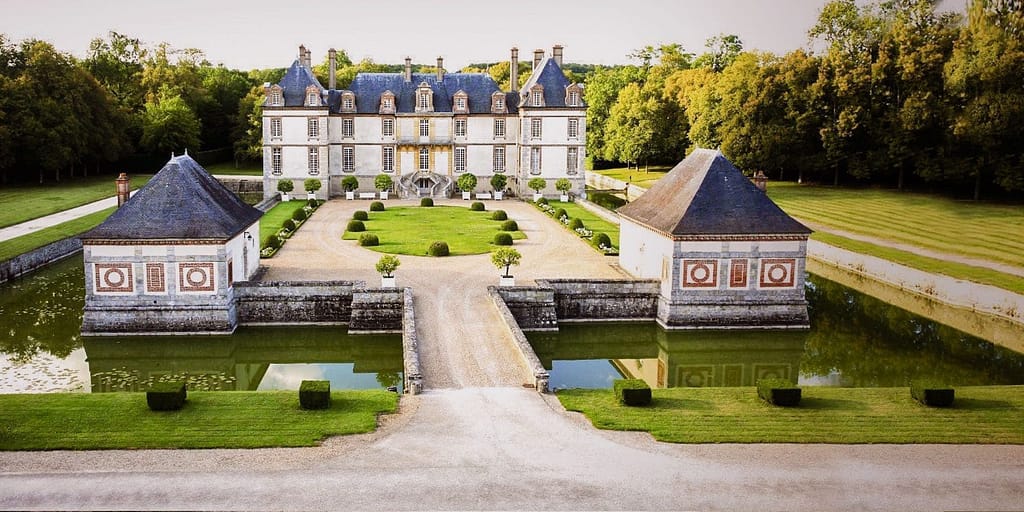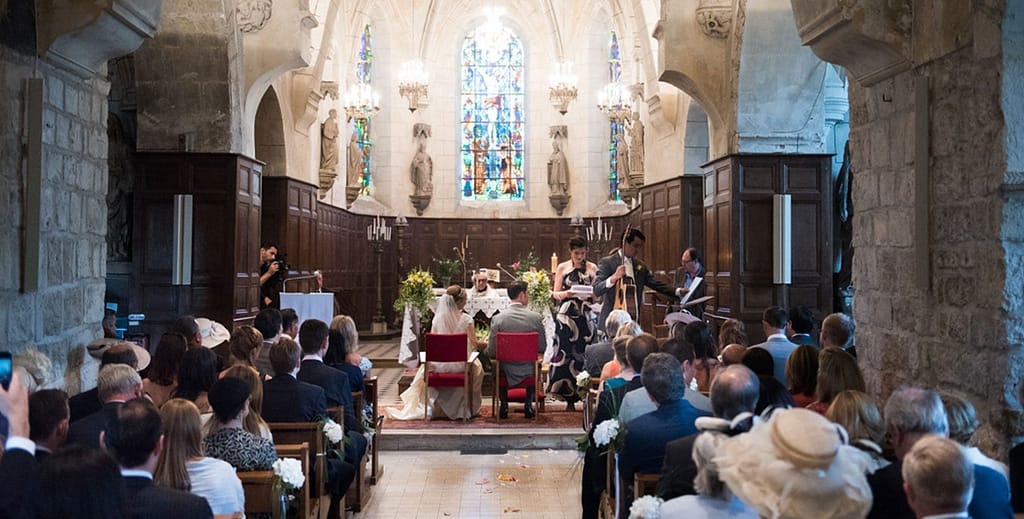 Chateau de Bourron is a beacon of 16th-century Renaissance luxury just an hour away from Paris, near Fontainebleau. Embrace the grandeur of its moats, expansive gardens, and opulent rooms adorned with rich features. The accommodation is abundant, sleeping up to 37 guests in 15 uniquely storied and lavishly colored bedrooms, with 10 in the chateau and 5 in the charming "d'Artagnan" cottage. The choice for ceremony locations within the 42 hectares of ground is boundless, and the exquisite lounges provide a magnificent setting for romantic dinners, accommodating up to 140 people.
Location: Paris
Accommodates: Up to 130
Sleeps: 37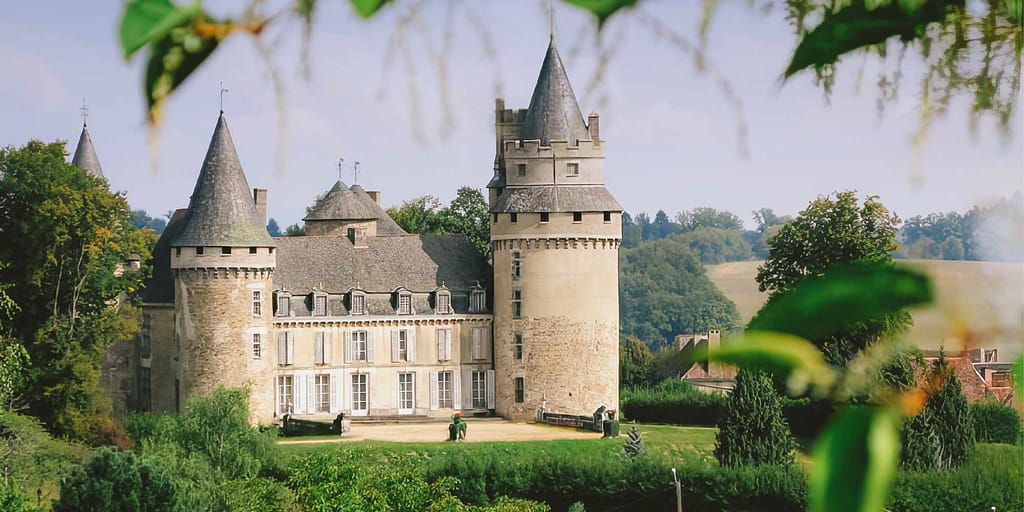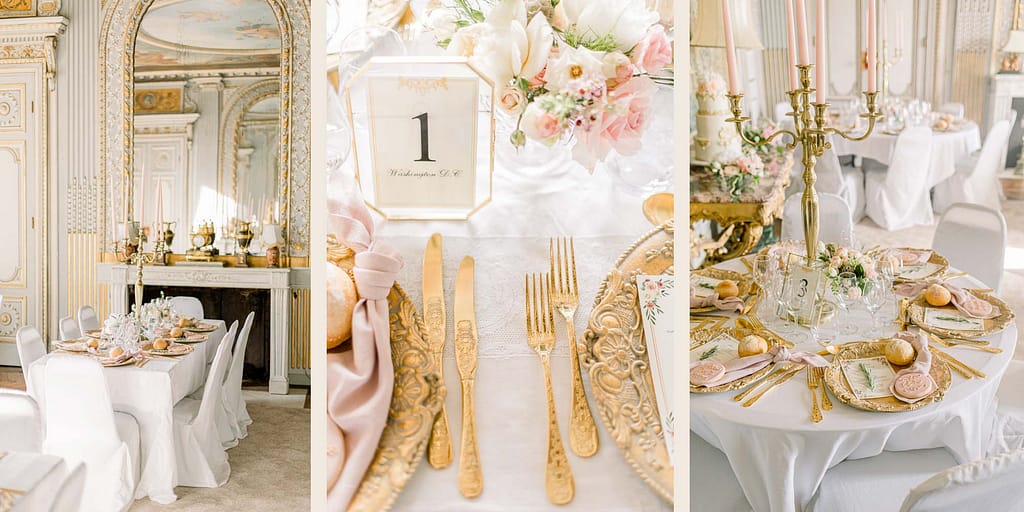 Located just 40 minutes from Limoges, Chateau de Bonneval captivates with its fairy tale aura, featuring round towers, a moat, and a drawbridge. This South West France gem is steeped in nearly a millennium of family history, showcased in its luxurious interiors. Whether you're envisioning an intimate ceremony in the consecrated chapel or an outdoor affair by the scenic 'wishing well', this venue has you covered. Dine in the opulent Salons or under fairy lights in the Italian Renaissance-inspired courtyard. For larger events, a marquee can be set up in the expansive grounds. Luxury accommodation incorporates a wedding suite in the chateau and additional space in a nearby guest house. With a dedicated team on hand to ensure every detail is perfect, Chateau de Bonneval promises an unforgettable, romantic wedding experience.
Location: Limoges
Accommodates: Up to 150 guests
Sleeps: 10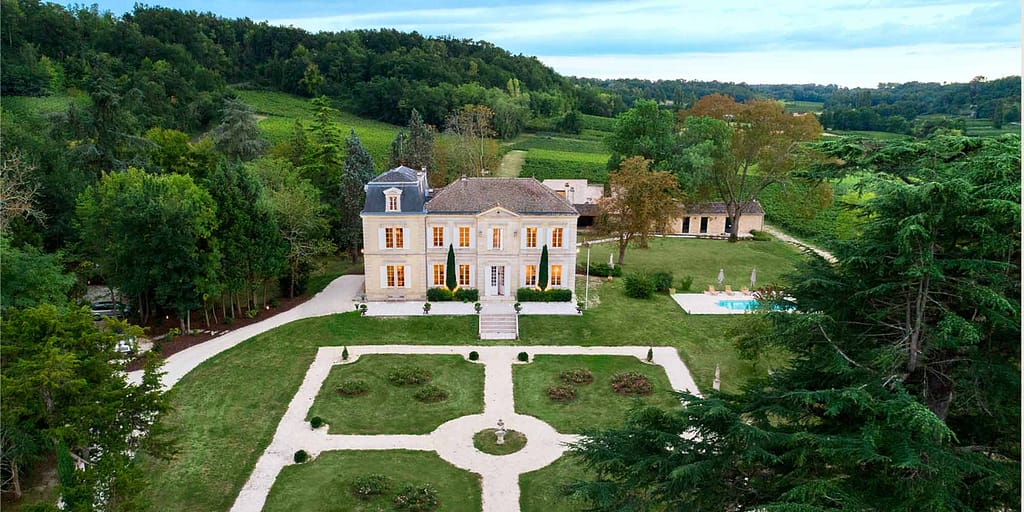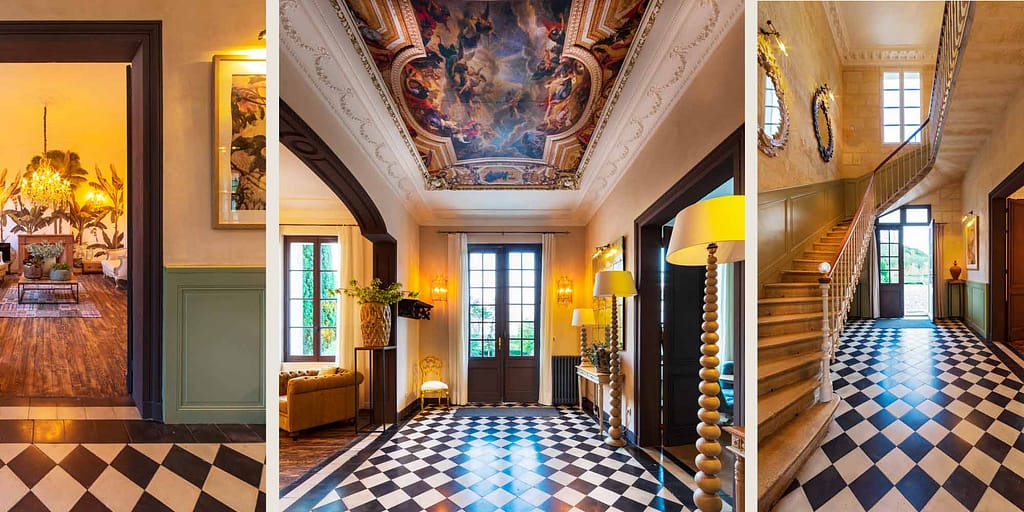 Imagine hosting your wedding at the exquisite Chateau de Garde, located amid lush vineyards near the renowned city of Bordeaux and close to the UNESCO Heritage Site of Saint-Émilion. The boutique interiors, meticulously designed by owners Céline and Dimitri, strike a balance between luxurious grandeur and homely comfort. The extensive park provides a picturesque backdrop for ceremonies, complemented by vineyard views. The reception room is all about elegance, with room for 120 guests to dine in style before dancing the night away! Plus, with a minimum three-day rental, you and 50 guests can immerse in the French ambiance, relax by the pool, and continue on your celebration!
Location: Bordeaux
Accommodates: Up to 120
Sleeps: 50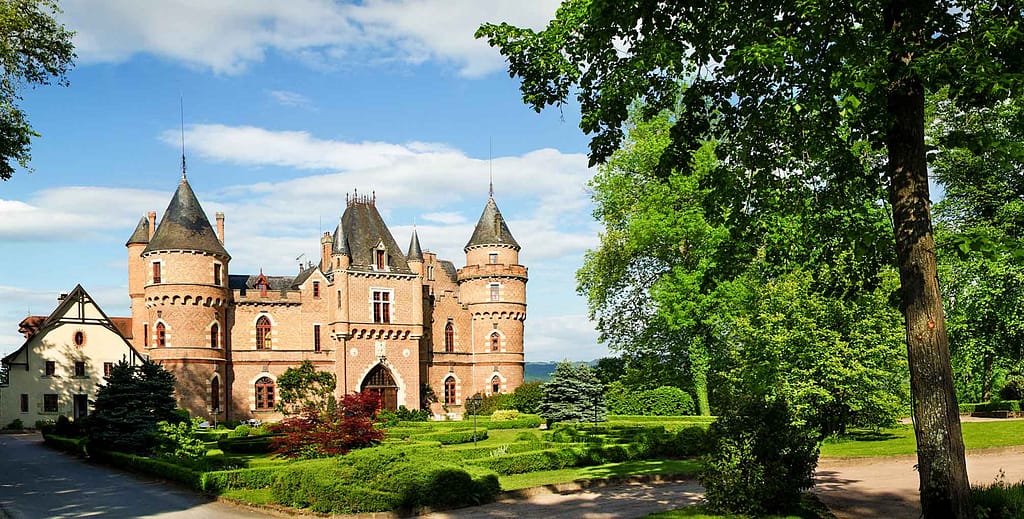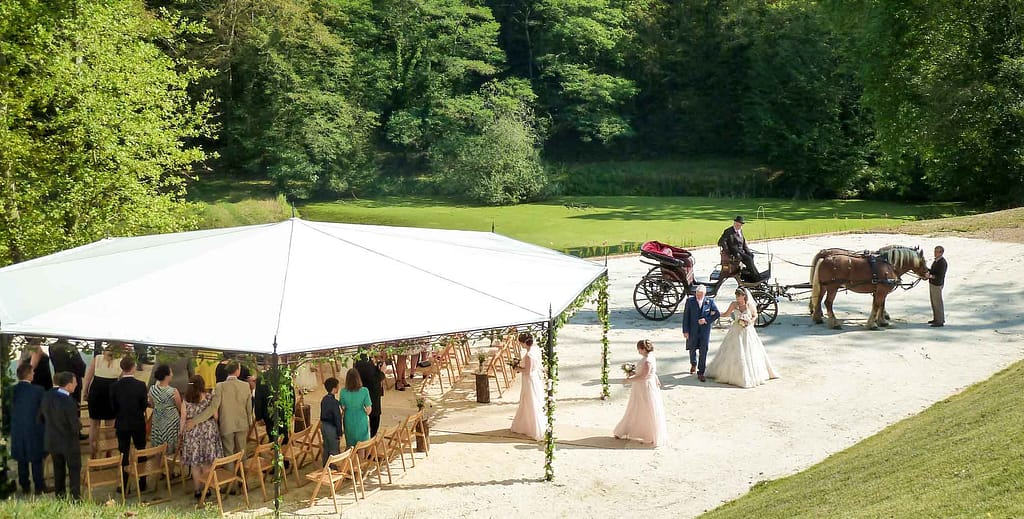 Nestled in the volcano-rich Auvergne region, Chateau de Maulmont is a treasure trove of romantic elegance, surrounded by 22 hectares of parkland and offering panoramic views over the Allier Valley. This venue is a seamless blend of romance and intimacy, allowing surprises at every turn of your event—be it an outdoor ceremony overlooking the lakes or a lively reception in the wood-panelled banqueting room. A dedicated nursery room caters to the little ones, making it family-friendly. The devoted and experienced owners, accommodation for 64 guests, and amenities like an indoor pool and a golf driving range, it stands out as a premium, cosy wedding venue. For those on the hunt for romantic venues in France, Maulmont is a find, marrying casual elegance with French romantic charm seamlessly.
Location: Auvergne
Accommodates: Up to 100 guests
Sleeps: 64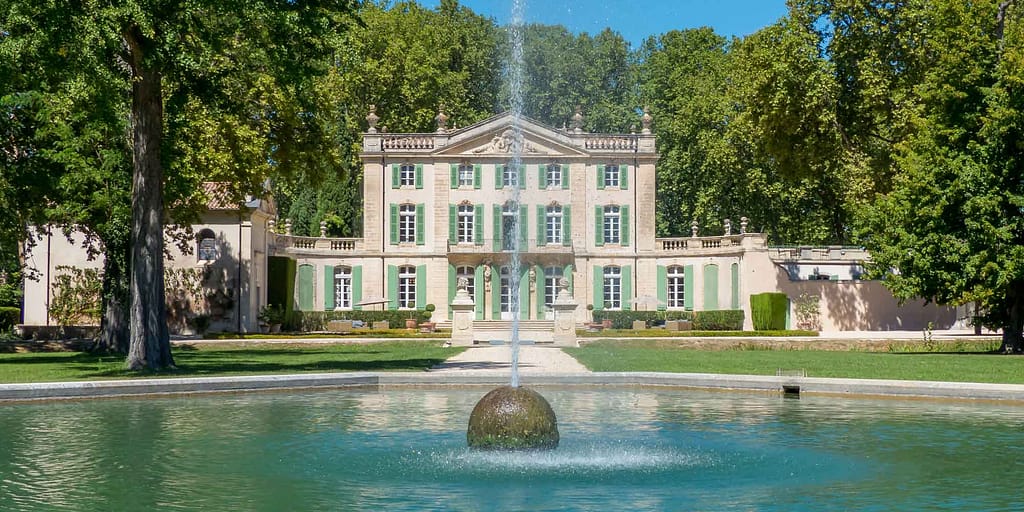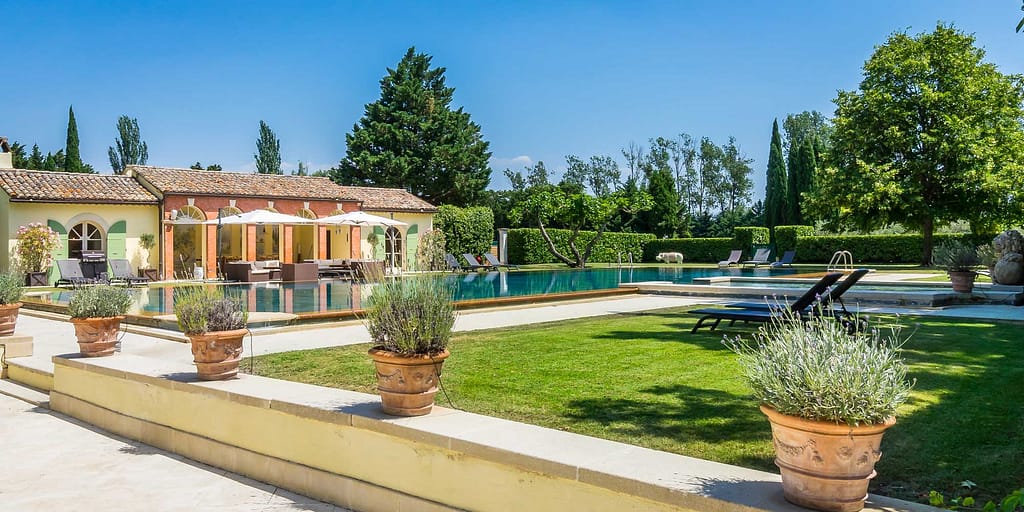 Tucked away in the heart of lovely Provence, Chateau de Tourreau stands out as a sparkling gem, promising an utterly elegant and charming wedding experience! As guests walk through an alley of timeless plane trees and lay eyes on the stunning 18th-century facade, bathed in warm, inviting pastel tones, it's clear that this place oozes romance.
The chateau's sprawling eight hectares of parkland offer a myriad of enchanting nooks for ceremonies and receptions, not to mention the unique consecrated chapel that just adds another layer of charm. Whether opting for an alfresco gourmet French meal or a snug marquee dinner, the celebratory vibes can extend into a relaxing next-day brunch or BBQ by the pool. And, talk about a brush with stardom—this was the chosen venue for Sophie Turner and Joe Jonas's glamorous wedding in 2019!
Location: Provence
Accommodates: Up to 150 guests
Sleeps: 29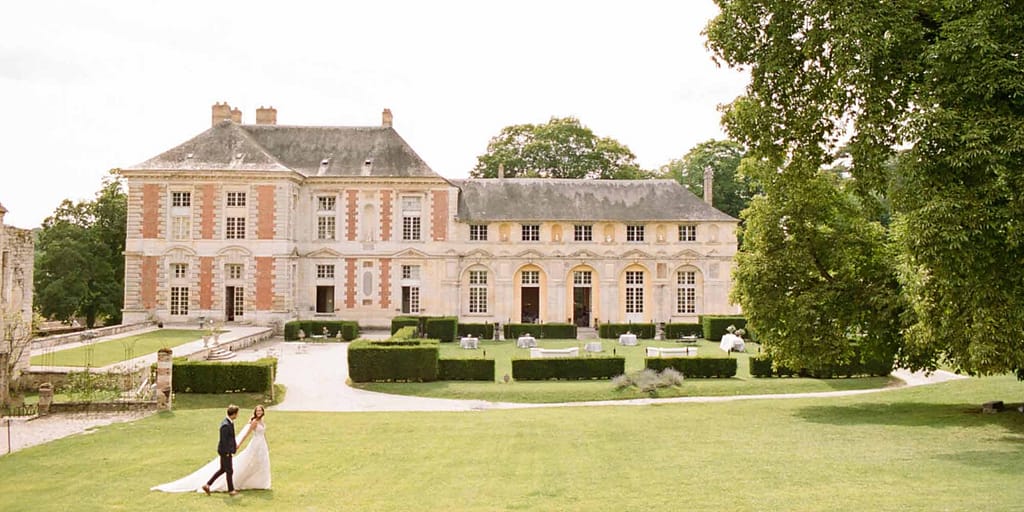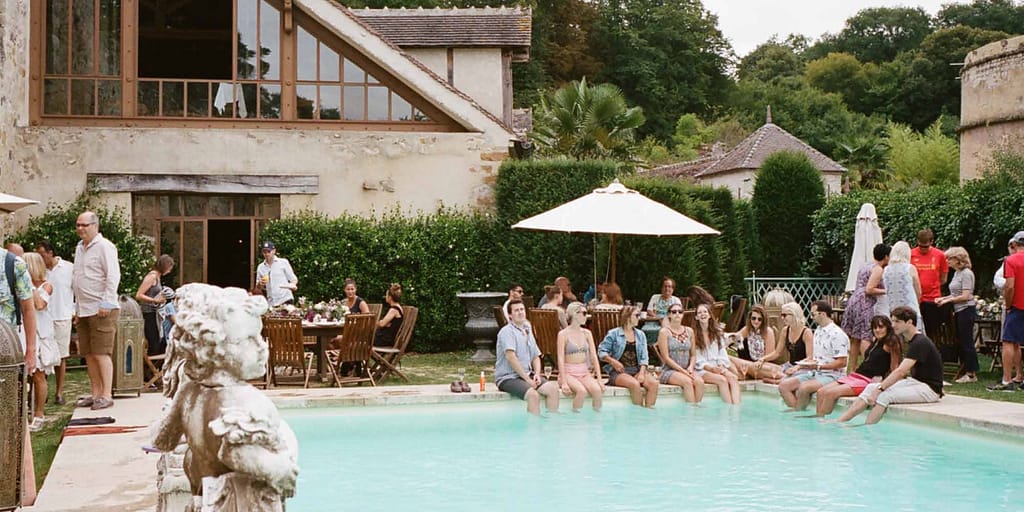 Dive into the enchanting world of Chateau de Vallery! It's not just any Renaissance chateau, but a magical journey through time, offering wedding experiences like no other, all just a hop, skip, and a jump from Paris! Built by the same genius architect of the Louvre, Pierre Lescot, this place has always been the go-to spot for epic celebrations. Whether you're picturing a lavish Versailles-esque extravaganza in the stunning Grande Gallerie or something more intimate yet equally breathtaking in the unique Music Room, this chateau has got you covered. Special shoutout to the Pigeonnier room, the world-unique dovecote turned bridal suite—it's pure magic!
Step outside, and the gardens are a fairytale setting of their own—imagine saying 'I do' amidst the heavenly scent of roses and jasmine! Plus, there's ample room for up to 250 guests at the local church just a stone's throw away. Whether you're a party enthusiast or a history buff, Chateau de Vallery's romantic spirit, historical allure, and its availability for exclusive 2 to 3-day celebrations make it an idyllic backdrop for extended celebrations near the city of love.
Location: Paris
Accommodates: Up to 250 guests
Sleeps: 56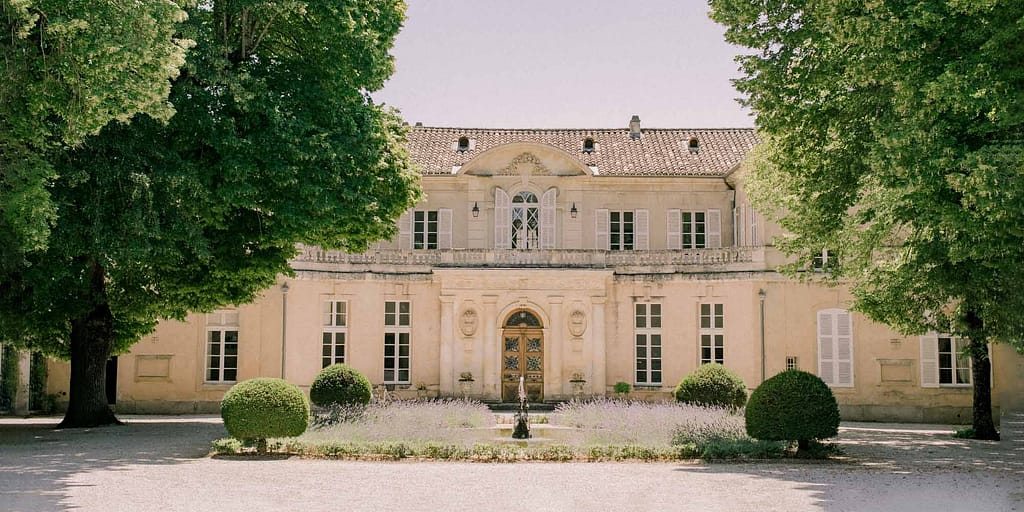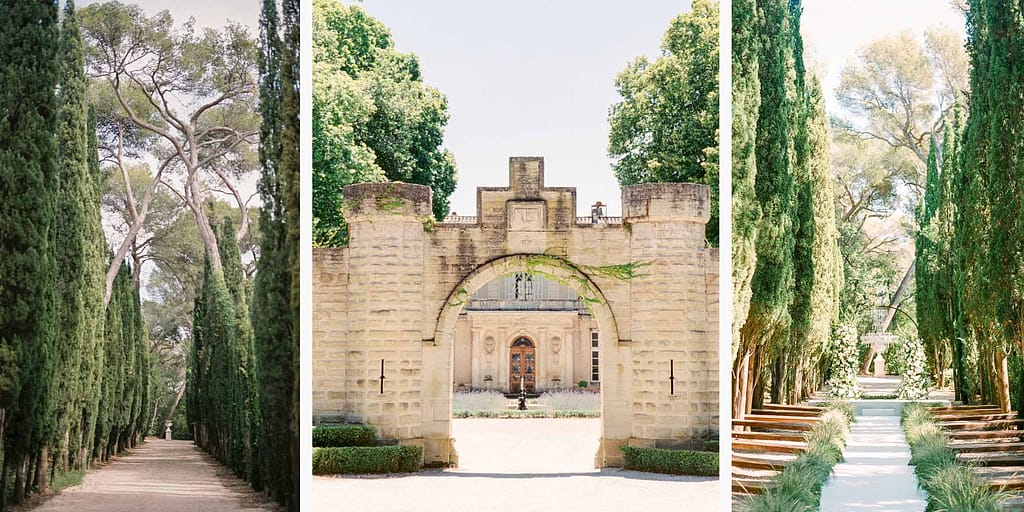 Chateau des Dentelles flawlessly marries refined architecture with untouched nature, serving as a unique French venue tailored for a splendid multi-day wedding experience. Imagine exchanging vows in the enchanting Alley, lined with cypress trees, where time seems to pause. After such serene moments, transport your guests to the sun-drenched southern terrace for some mingling, champagne, and light jazz tunes in the background. And when the stars come out, imagine a courtyard banquet around a glistening fountain, enveloped in the gentle glow of fairy lights, followed by a lively dance session in the chic Art Deco bar area!
The estate's sophisticated accommodation for up to 34 guests, all beautifully designed rooms with breathtaking views. A shoutout to the devoted team at Chateau des Dentelles, they're the wizards behind your dream French wedding! Limited bookings are their signature, so rush to capture your enchanting celebration!
Location: Provence
Accommodates: Up to 120 guests
Sleeps: 34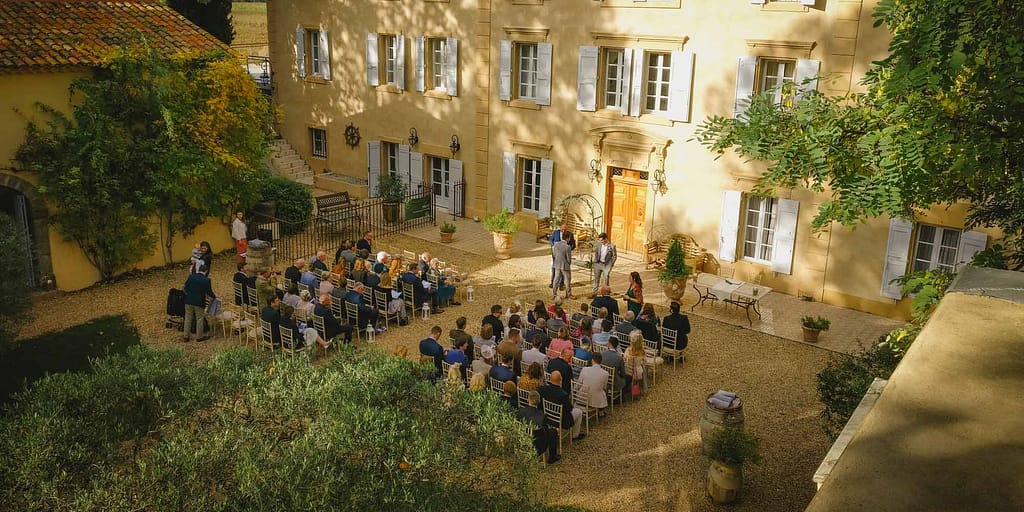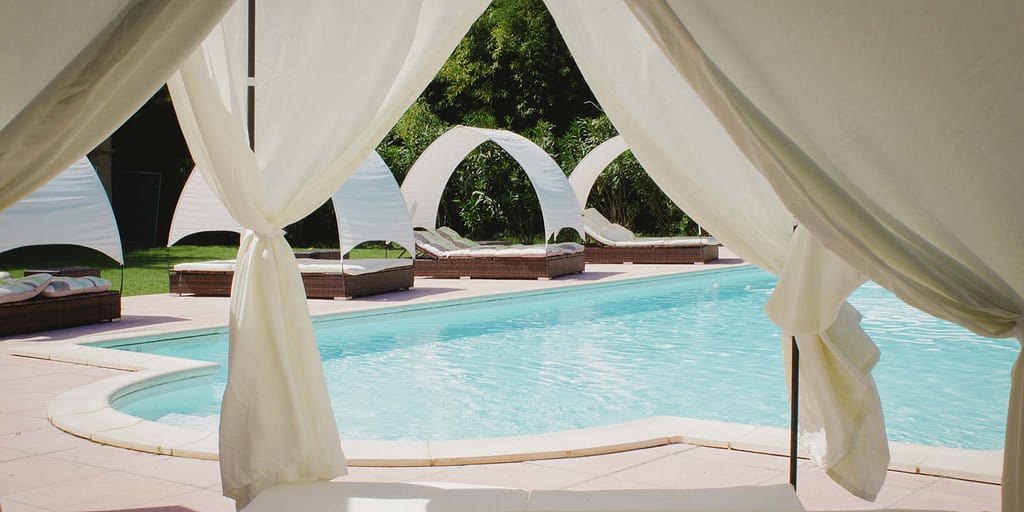 Tucked within lush vineyards, Chateau des Rivières is the epitome of relaxed luxury and Mediterranean allure, flaunting emerald-tiled towers and sun-lit courtyards. This enchanting venue is all about genuine warmth and a homely atmosphere, paired with the exquisite taste of its award-winning wines. Picture your day beginning in sun-soaked courtyards, followed by heartfelt vows near whispering fountains, dining beneath twinkling fairy lights, and unrestrained dance till the first light of dawn. With elegant accommodation options and tranquil spa facilities, Chateau des Rivières ensures your wedding is a harmonious blend of romance and laid-back charm, all amid the joyful clinks of wine glasses.
Location: Aude/Hérault
Accommodates: Up to 300 guests
Sleeps: 67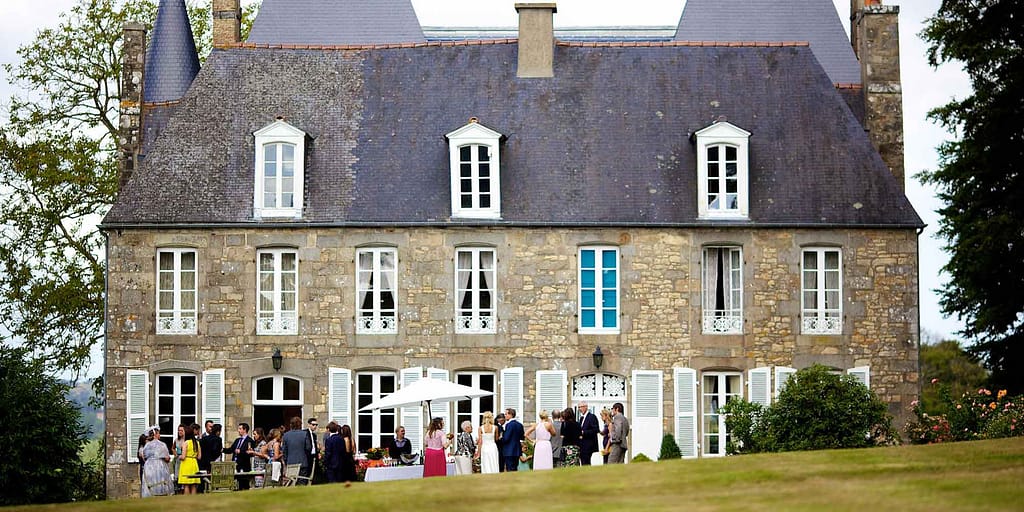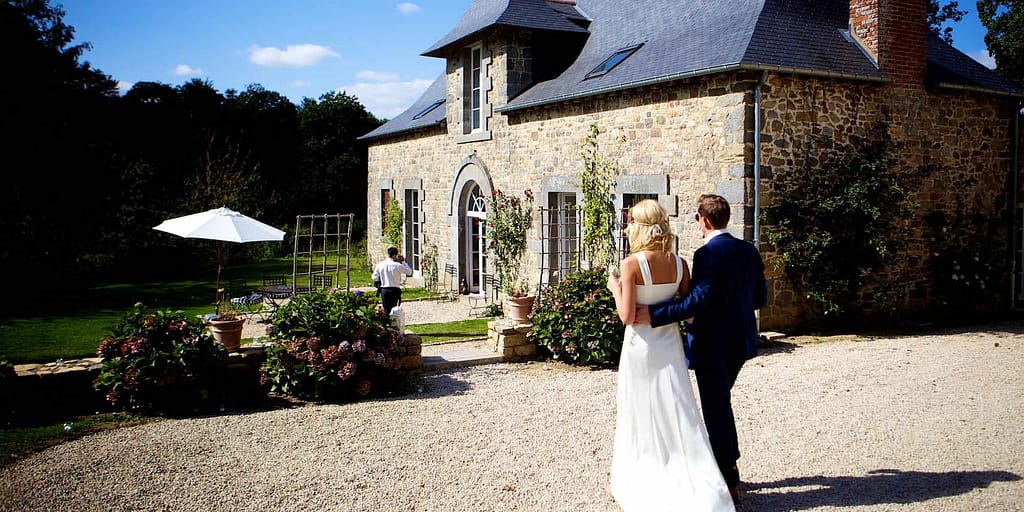 Perched atop a hill near the picturesque village of Combourg, Chateau du Grand Val is an exquisite mix of history and natural beauty, just a short stop away from the serene beaches of Brittany. Imagine waking up to a sun-kissed day, sipping bubbly with your closest pals on a sunny terrace, and exchanging vows surrounded by whispers of ancient trees and the gentle hum of ponds. Spend your evening swirling under crystal chandeliers in a characterful 18th-century cider house and, if you fancy a serene rowboat ride or a quaint chapel to make your moments more romantic, well, they have it all! The lovely owners, fluent in English and with years of experience in hosting weddings, are like your fairy godparents, ensuring every detail is a dream come true, making your day as enchanting and stress-free as possible!
Location: Brittany
Accommodates: Up to 120
Sleeps: 35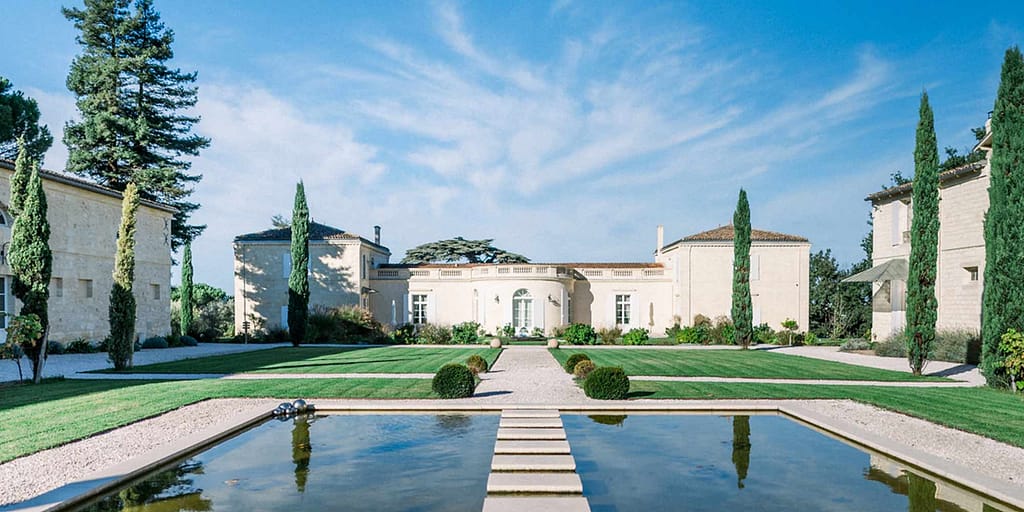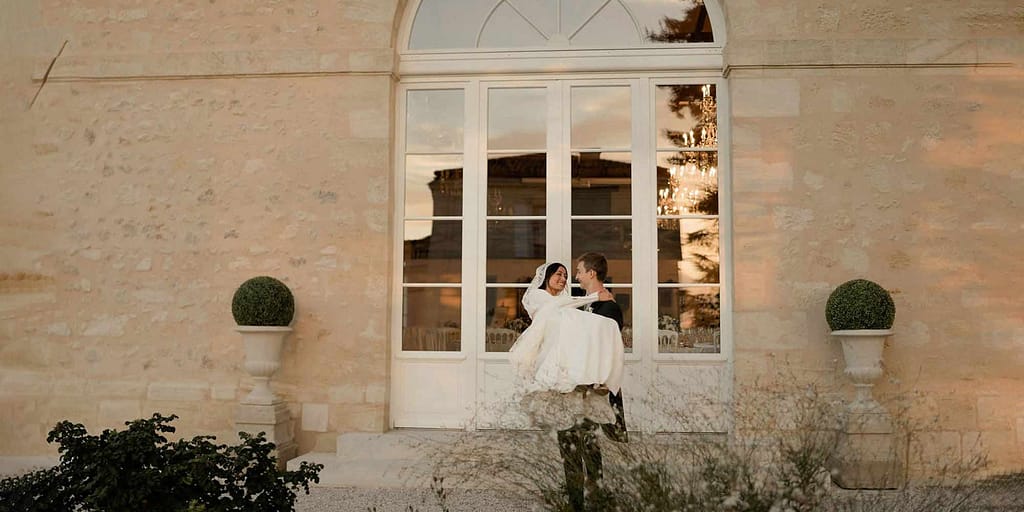 Chateau Gassies, just 10 minutes from Bordeaux, is a venue that radiates splendor and classic beauty, creating a visually stunning backdrop that's bound to leave everyone in awe. This venue stands elegantly amidst a 14-hectare park, offering breath-taking views over Bordeaux and the river Garonne. The charm is immediate—once your feet touch the grounds, the chateau, its symmetrical wings framing a picturesque pond, and the overarching serenity enchant every sense.
The spaces here are diverse and vibrant, from a serene Oak Grove for your ceremonies to the magnificent "Charles X" reception room with its rustic elegance, perfect for an unforgettable wedding dinner as the sun sets over the ancient Cedar tree. The estate offers accommodation with grace and style, activities ranging from tennis to relaxing spa massages, ensuring your wedding is a seamless blend of grandeur and intimate, romantic moments, making it truly an unforgettable experience!
Location: Bordeaux
Accommodates: Up to 150 guests
Sleeps: 43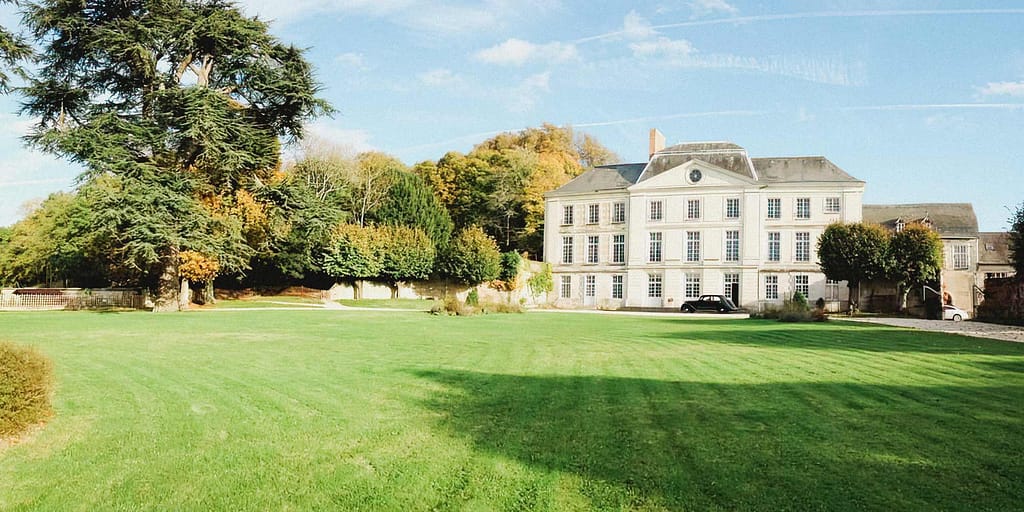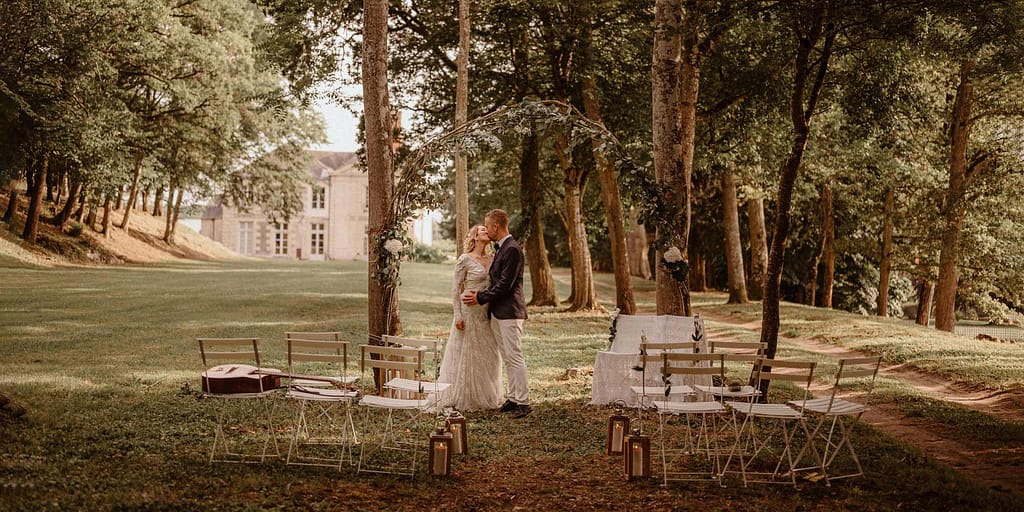 Nestled in the heart of the Loire Valley, just two hours from Paris, Chateau Laborde Saint-Martin awaits to transform your dream wedding into reality. This 17th-century chateau embodies the perfect blend of elegance, hospitality, and sustainability, offering an exceptional French wedding experience. Imagine the grandeur of the "Tapis Vert," a 600-meter tree-lined avenue, serving as your aisle for a breathtaking blessing ceremony. Alternatively, exchange vows under the ancient cypress tree or inside the charming chapel. The romantic Salons can host up to 140 guests for your wedding dinner, or choose an outdoor setting with mesmerising views of the Loire River at sunset.
Dance the night away and rest easy with on-site accommodation for 43 people, eco-friendly practices, and owners dedicated to making your wedding dreams come true. At Chateau Laborde Saint-Martin, sustainability is a way of life, making it a shining example of eco-conscious wedding venues in France. Find out more and experience a video of a wedding at Chateau Laborde.
Location: Loire Valley
Accommodates: Up to 140
Sleeps: 43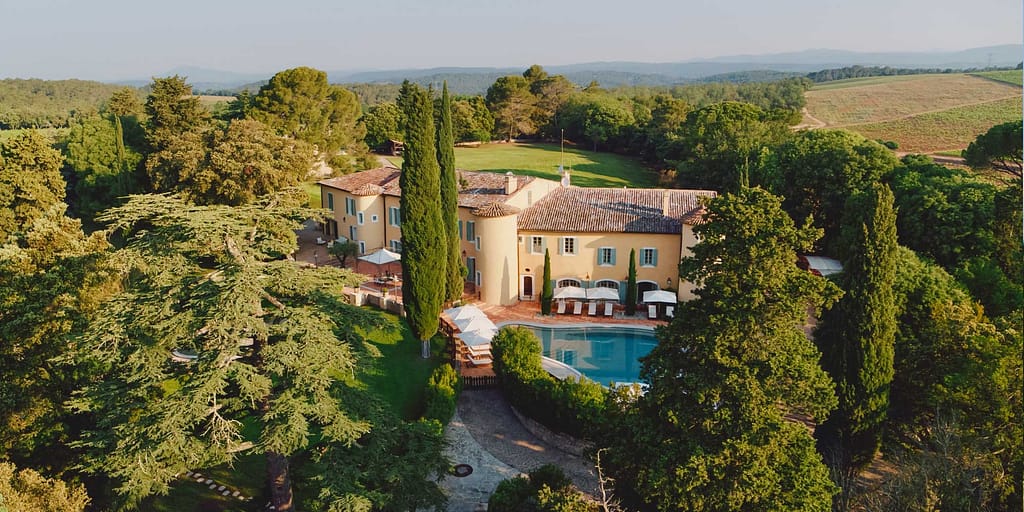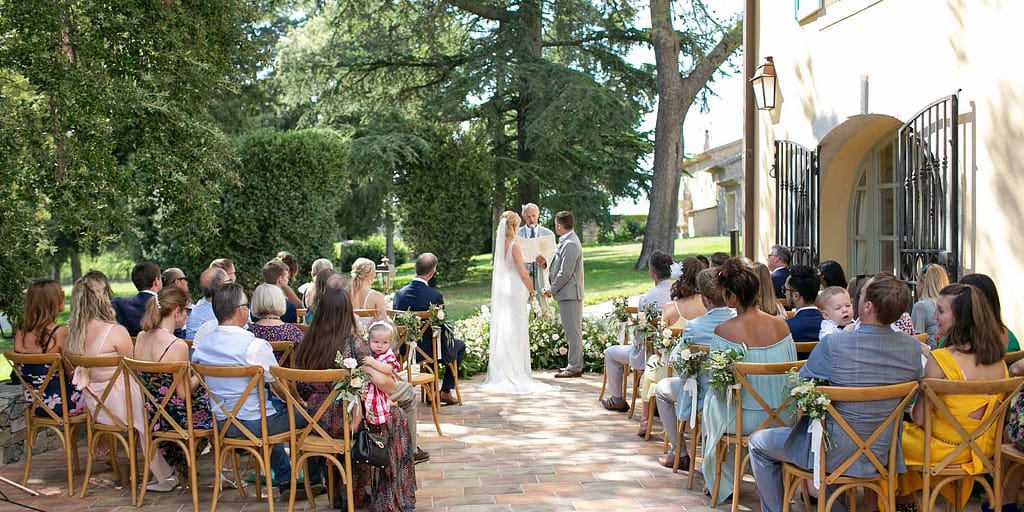 Chateau les Crostes, ensconced amid vineyards and olive groves, embodies the essence of a romantic Provençal wedding in the heart of the South of France. Located just 40 km from the iconic village of St Tropez, this enchanting chateau boasts luminous and spacious rooms that create an inviting, romantic atmosphere. Exchange vows amidst the olive trees' shade or by the dreamy waterlily lake in picturesque outdoor settings. Picture your wedding dinner beneath the stars at long wooden banquet tables, adorned with delicate florals and twinkling lights.
The celebration can continue into the night with no last orders, allowing you to dance until dawn. With 28 on-site sleeping accommodation and a range of amenities, your guests will be well taken care of. Meet the friendly new managers who are dedicated to bringing your wedding vision to life and introducing you to the chateau's award-winning wines. Experience the magic of a romantic wedding at Chateau les Crostes—click here to watch our video.
Location: Provence
Accommodates: Up to 150 guests
Sleeps: 28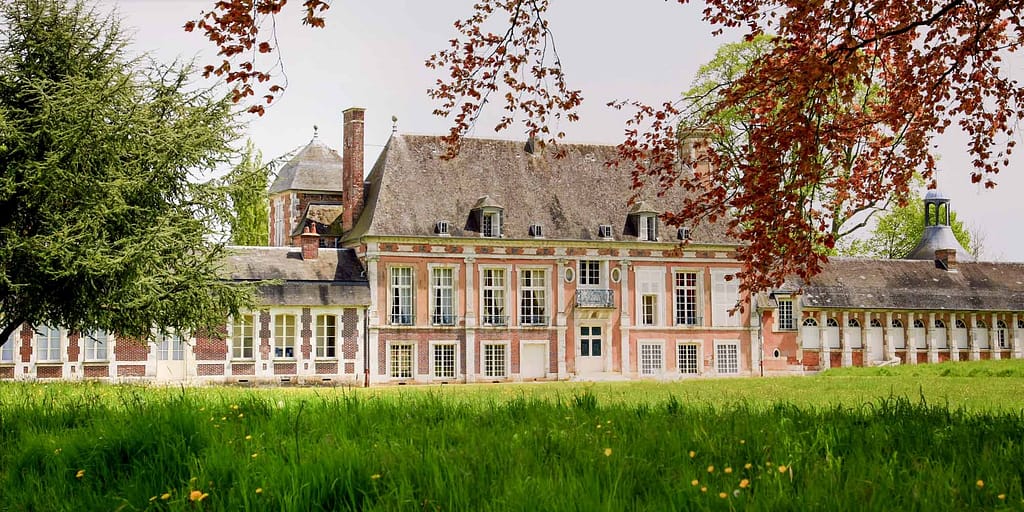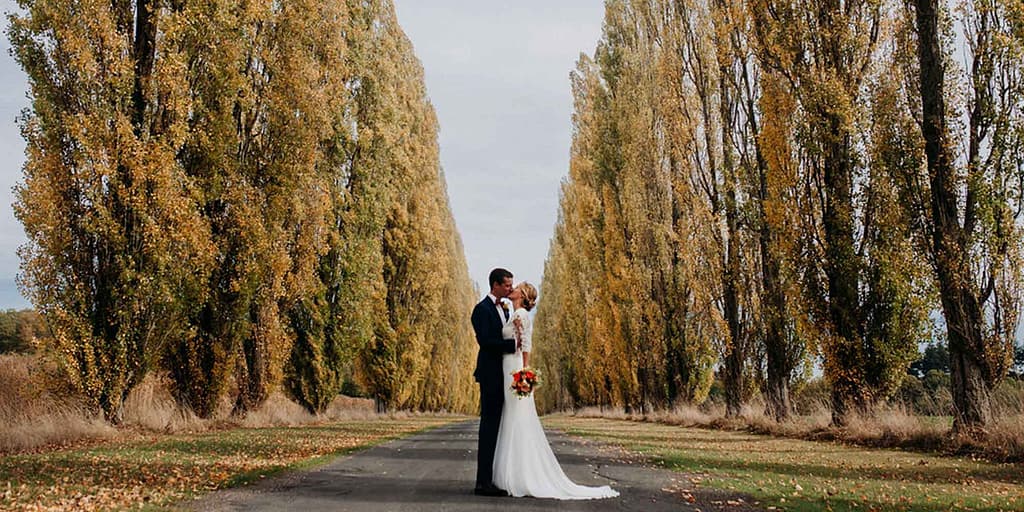 Experience the quintessential "vie de château" at Chateau Mathilde, where opulent decor, stunning bedrooms, and a captivating 22-hectare park come together to create the perfect setting for an unforgettable wedding in Normandy. Whether you envisage a lavish, Versailles-inspired celebration or a boho-chic affair, this chateau offers timeless charm and luxury around every corner. Exchange vows in the serene chapel or picturesque gardens, sip cocktails in the farmhouse courtyard, and relish your wedding feast in "La Charreterie," an exquisite rustic-meets-contemporary venue for up to 80 guests (extendable to 200 with a marquee). With no curfew, your celebration can dance into the night. Accommodating up to 45 guests, Chateau Mathilde's beautifully restored rooms promise both luxury and romance.
Location: Normandy
Accommodates: Up to 200 guests
Sleeps: 45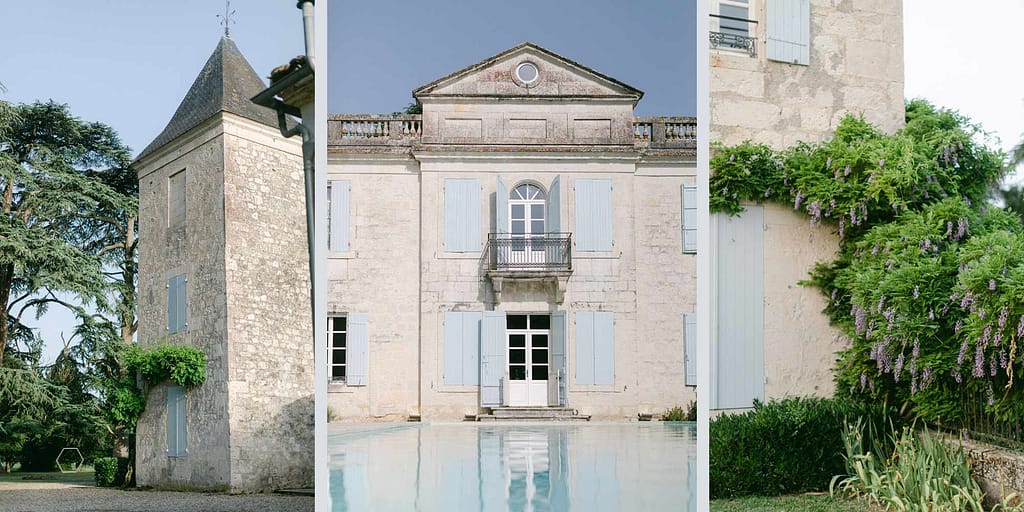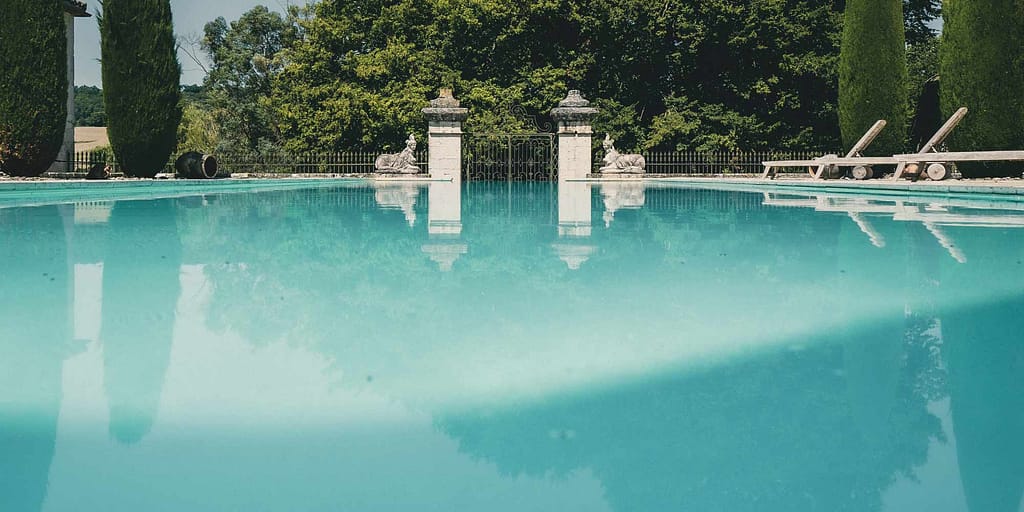 Located between Bordeaux and Toulouse, Chateau Naudou exudes the charm of a classic Italian chateau with its captivating Renaissance architecture. The picture-perfect courtyard, framed by cypress trees and a stunning 19m² turquoise pool, sets the scene for a truly romantic wedding venue. What sets this chateau apart is its exceptional in-house wedding planning service and packages, ensuring your big day is perfectly tailored to your vision. With verdant valleys providing a picturesque backdrop, say your vows on the East side of the chateau, where two towers frame a wisteria-clad facade.
Enjoy a leisurely cocktail hour in the mature parkland, followed by a romantic outdoor wedding meal under the glow of fairy lights. Additionally, an all-weather tennis court and lush orchard await your enjoyment. Food lovers will relish the in-house chef's culinary delights, ensuring a memorable French feast. With a team that has orchestrated over 300 weddings in the last 14 years, your dream wedding becomes a reality at Chateau Naudou. Explore the various packages offered by Chateau Naudou here.
Location: Gers
Accommodates: Up to 100 guests
Sleeps: 26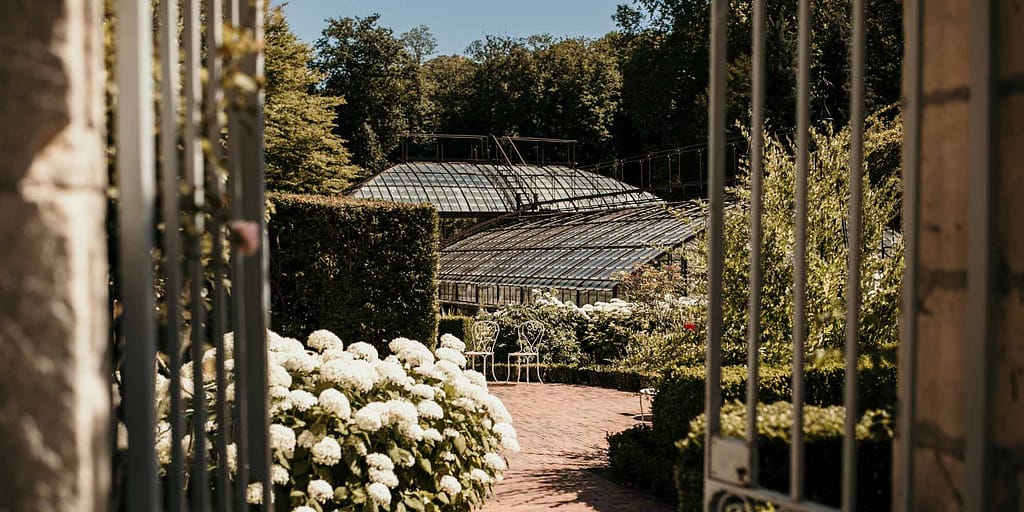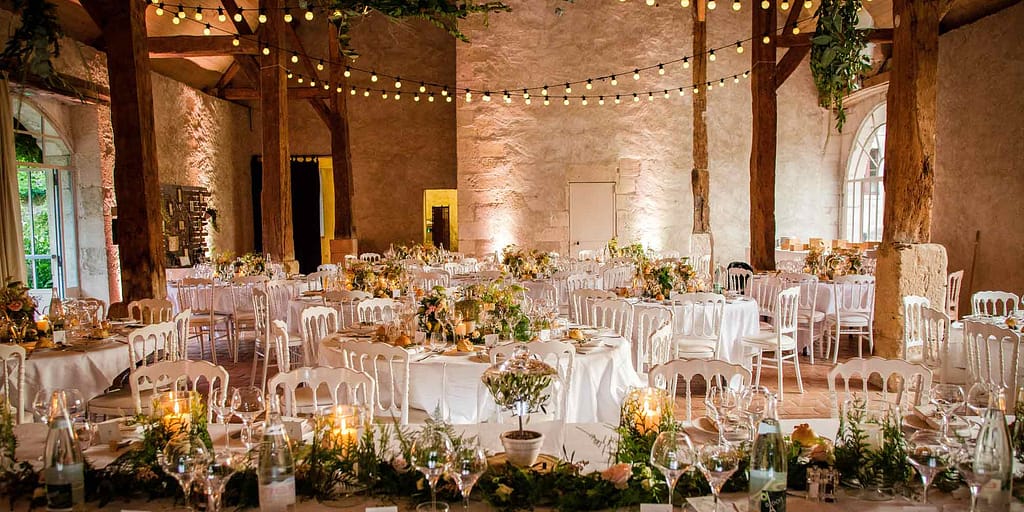 Nestled just 45 minutes from Paris, Domaine de Verderonne is a timeless wedding venue that transports you to a world of romance and rustic elegance. This remarkable estate, a classified "Historic Monument," features architectural treasures spanning the 16th to 18th centuries, all within a pristine natural setting. The venue boasts a captivating barn, an intimate theatre, a picturesque dovecote, and a charming Dutch greenhouse, with the greenhouse standing out as an ideal spot for a boho-chic ceremony. A sumptuous meal in the barn, followed by a magical ball in the Louis XVI theatre, creates an enchanting atmosphere your guests will adore. With accommodation for up to 43 guests, this estate, lovingly managed by its owners, promises an unforgettable wedding experience. (Note: Best suited for weddings with 80+ guests due to spacious reception areas).
Location: Paris
Accommodates: Up to 180
Sleeps: 43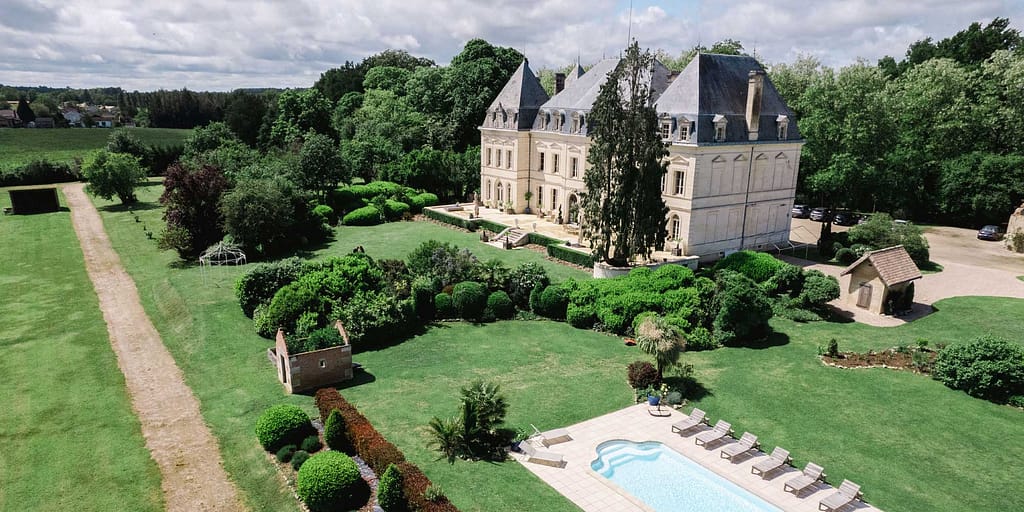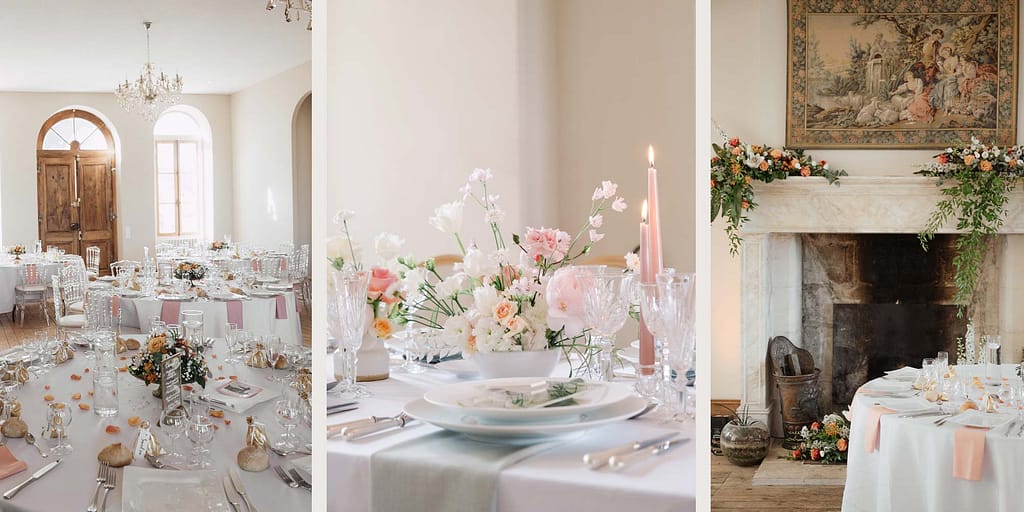 Discover the hidden sanctuary of Chateau Fengari, a breathtaking 19th-century estate nestled in a secret corner of South West France, just moments from Bordeaux. Its twenty-acre estate unfolds around the shimmering beauty of a pristine freshwater lake, offering an idyllic backdrop for your romantic wedding. Exchange vows in the charming gardens or at the nearby church for a touch of tradition. Enjoy a delightful wedding dinner in the elegant dining room or on the terrace, where panoramic views of the lush grounds create a picturesque backdrop.
Extend the celebrations with a post-wedding BBQ by the pool, take a dip in the swimming lake, or challenge your guests to friendly tennis matches on the new court. Retreat to the chateau's inviting and cool white bedrooms, offering accommodation for up to 30 guests. With bilingual wedding planners and a talented chef on staff, Chateau Fengari ensures your special day is nothing short of perfection.
Location: Bordeaux
Accommodates: Up to 150
Sleeps: 30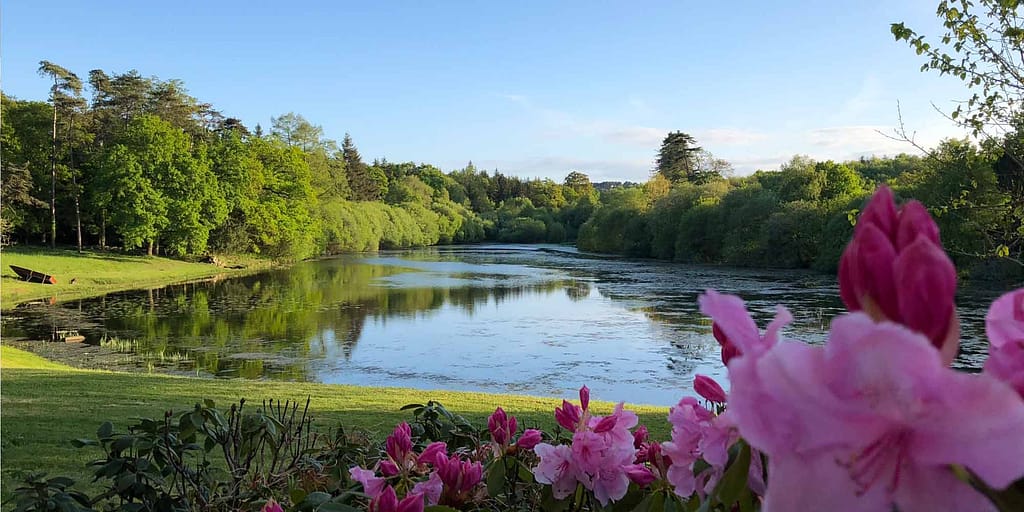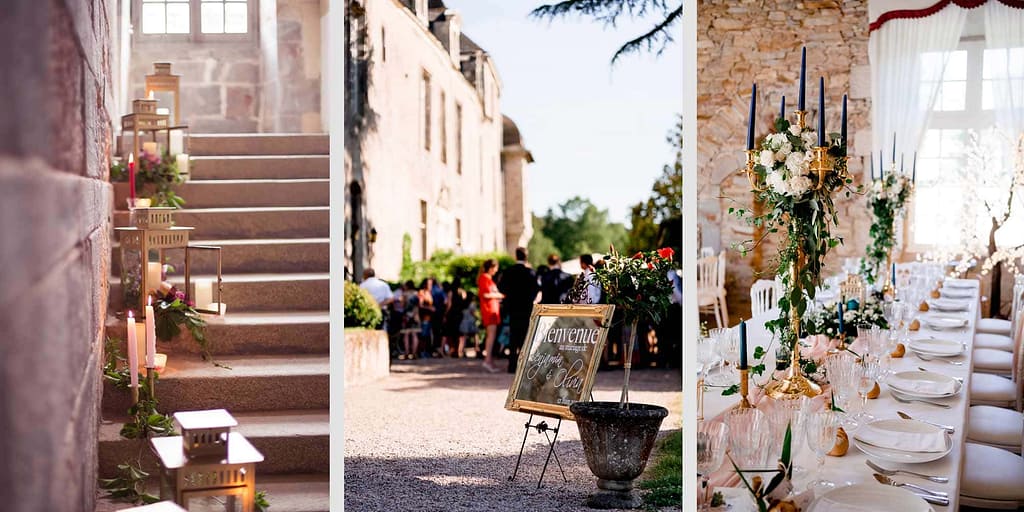 Set in Brittany, Chateau du Pordor offers you another dreamy lakeside backdrop for your wedding day. Picture exchanging vows in a tranquil lakeside clearing, arriving by rowing boat for added flair. Sip champagne on a terrace overlooking the lake during the vin d'honneur, followed by a character-filled reception in a room adorned with exposed stones and wooden beams. Dance the night away, enjoy a fireworks display, and continue the romantic celebration with a delicious brunch or crepe festoon the next day. With accommodation for 26 on-site guests and seasoned owners, your wedding dreams come true at Chateau du Pordor.
Location: Brittany
Accommodates: Up to 120 guests
Sleeps: 26
Whether you dream of exchanging vows by a tranquil lake, amidst blooming gardens, or in elegant reception rooms, our venues offer an array of enchanting options to create your love story's perfect chapter. Explore your heart's desires and choose the backdrop that resonates with your love story, creating cherished memories that will last a lifetime.
What is the Average Cost of a French Chateau Wedding?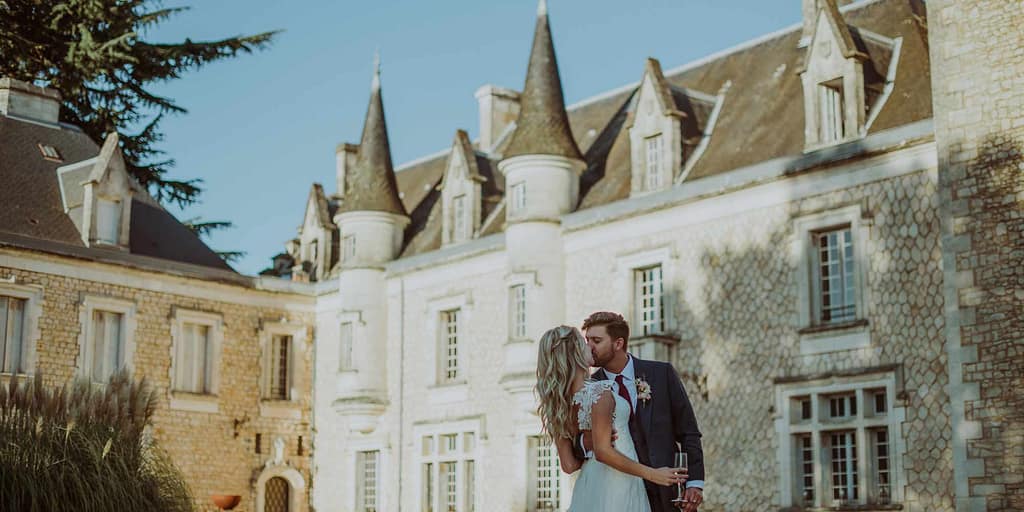 According to SN Travel, the average cost of a French wedding is around £26,000 but prices vary widely depending on the location of the chateau, the number of guests, and the level of luxury and services you desire.
Some of the key expenses to consider when planning your French chateau wedding:
Venue Rental: Renting a chateau through Chateau Bee is where it all begins. Prices can range from around €5,000 to €70,000 for a week-end so prices vary greatly depending on the style of venue and location you're after. Also remember: the prices you see on our site are the best prices out there, we don't add any commission fee on top!
Catering: French cuisine is renowned for its quality, with catering costs being a substantial part of your budget. Be ready to spend between €90 to €200 per person, excluding alcohol.
Photography and Videography: You'll want to capture every moment. Budget between €2,000 to €5,000, with some of our packages including photography and videography services.
Keep in mind, these cost estimates are general figures and can vary depending on your specific preferences and the size of your guest list. However, at Chateau Bee, many of our chateaux offer all-inclusive wedding packages, allowing you to get a full idea of the up-front costs straightway. Don't hesitate to explore our package deals here.
And if you're eyeing a venue that operates on a 'dry hire' basis, without packages, no worries! We've whipped up a handy budget calculator for each chateau. It's like your wedding budget wizard, giving you an estimate of the minimum you'll be spending. Why not calculate the costs of a wedding at Chateau de Bourron for instance.
What Season is Best for a Romantic French Chateau Wedding?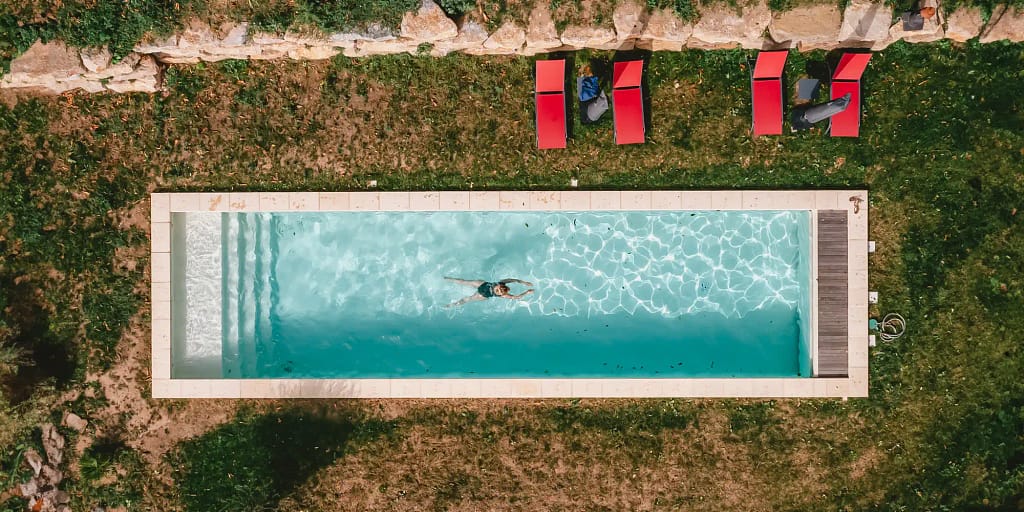 When it comes to choosing the perfect season for your French chateau wedding, consider the magic of spring and summer (May to end of September). June tends to be the most popular month and gets booked before any other month as nature is blooming and you can enjoy then a pleasant weather that it is usually not too warm. July and August are the driest months but also the hottest.
However, to keep costs down, the shoulder seasons of early autumn (October) can offer the charm of venues like Chateau du Pordor and Domaine de Verderonne at more affordable rates.
What Shall I Wear to a Romantic French Chateau Wedding?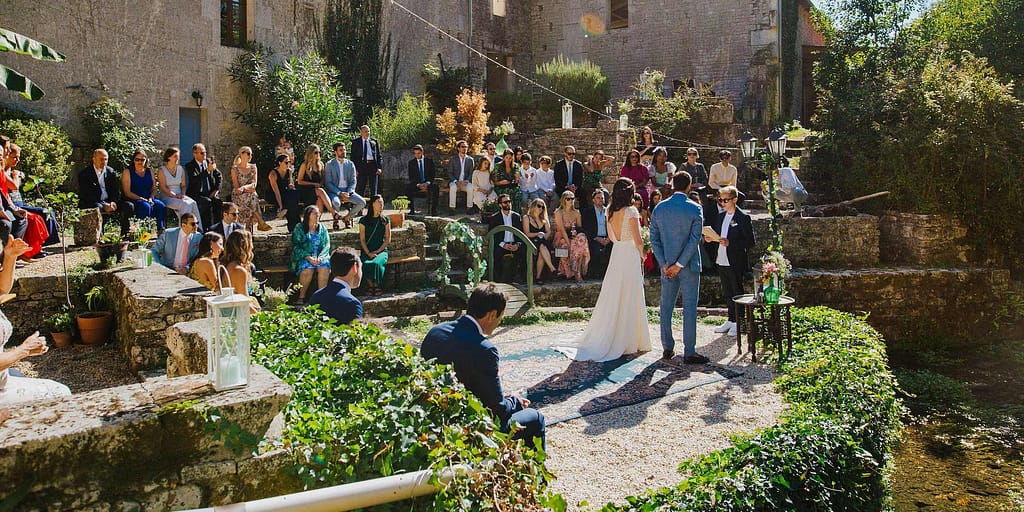 Dressing for a French chateau wedding is a delightful opportunity to blend style with the romantic ambiance of these picturesque settings.
French chateau weddings often take place during the warmer months, making summer wedding guest dresses an excellent choice. We love muted, floaty maxi dresses maybe adorned with floral patterns that harmonise with the chateau's natural surroundings. Given that many chateau celebrations extend outdoors, consider comfortable yet stylish footwear like strappy sandals or block heels.
For men, opt for summer suits in lighter shades such as beige, grey, or pastels. To add a touch of flair, incorporate bright accents on your tie or pocket square, a nod to the sunny climate and the celebratory atmosphere.
Enjoy the celebration and create lasting memories in style!
Can I Legally Get Married in a French Chateau?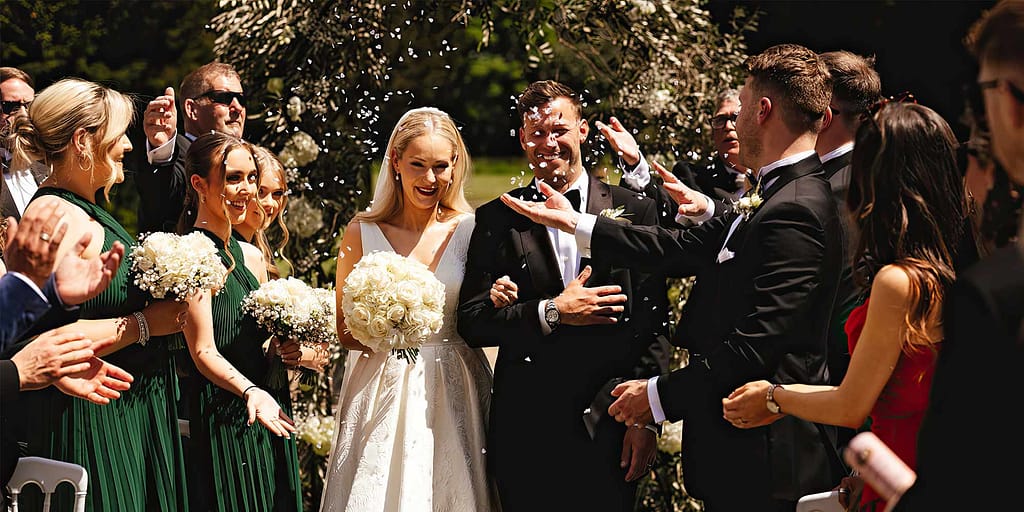 Getting legally married in France, in a French "mairie", can be a bit tricky due to the residency requirement. According to French law, at least one of the marrying individuals must be a resident in France for a minimum of 40 days leading up to the wedding, and this residency has to be in the same town where the marriage will happen. However, there have been a few special cases where individuals with property or family property in France have tied the knot without the residency hassle. But here's the catch – it's totally up to the Mairie (local town hall) to decide, so it's worth giving them a shout to see if you qualify for the exception.
What many of our couples opt for is signing the legal marriage papers at the registrar's office in their home country before having their romantic ceremony in France. Keep in mind though that for most of your guests the "real" wedding will be the one in France.
For more tailored information and pricing, feel free to contact us on 00 44 (0) 1481 234 442, email hello@thechateaubee.com or use our contact form. Contact Chateau Bee and let the enchantment begin!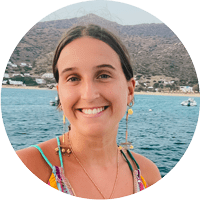 The Top 20 French Chateau Wedding Venues for a Romantic Wedding in France by Bella Dean
Foodie, yogi and travel lover!