Don't be afraid of colour on your wedding day – be bold!
Each year sparks new wedding trends and inspiration and 2020 is no exception. So we caught up with highly regarded wedding planner Josh Tully to ask him about the latest wedding styles. Plus Josh provides tips to 
give you the courage to step out of your comfort zone and go bold!
Over to you Josh…
The venue may be the most beautiful back drop with incredible views and surrounding scenery however don't be afraid of using colour whether it's with your bridesmaid's dresses, table florals or accessories such as napkins. It can really lift the space and compliment the venue.
For years now dusky colours and soft tones have been used and look amazing; they will never age in my opinion however throwing in a deep burgundy, burnt orange or dark green can lift any tablespace or create another element to the overall design.
It can be scary deciding colours when many lighter colours are related to having a romantic style, but in my opinion darker and deeper colours brings it to life by… 'sexing' it up.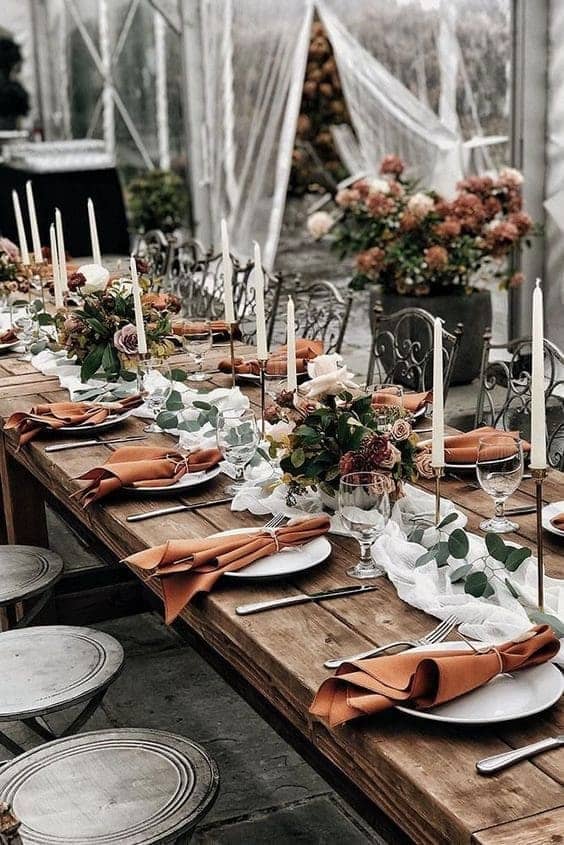 One way to choose the colour palette would be to look at your venue and take inspiration from what is already there – for example we are in the process of planning a wedding in California on a ranch, the main building is a burgundy red; it is too red to take exactly as the colour for the florals but matching a deeper burgundy and bringing burnt oranges through the flowers creates depth, then pulling this through to a rose gold detailing on a candle votive or even the cutlery. These colours against raw woods, natural greens look incredible and really sets your wedding apart.
Key areas using colour.
Flowers – bridal and décor flowers should compliment each other, using the darker colours as a pop within the bridal flowers but then when being used on the table become the main feature.
Napkins – Using a coloured napkin works so well especially if it's a textured cloth, it can lift the setting and then this same colour can be used as a ribbon detail on the bridal florals.
Candle sticks – Using a darker candle stick when you are mixing it with bronze/ rusty golds can look so decadent and give a whole new layer to the day.
Table runners – using a coloured table cloth is an option but for many this can be too much, you have to be confident in using the colour as it's more of a statement but a table runner is a great way to bring in the lighter tones of the palette – for example when using burnt oranges/ burgundy's, a caramel/ light coffee colour runner which is light in weight looks beautiful and again gives the table another dimension.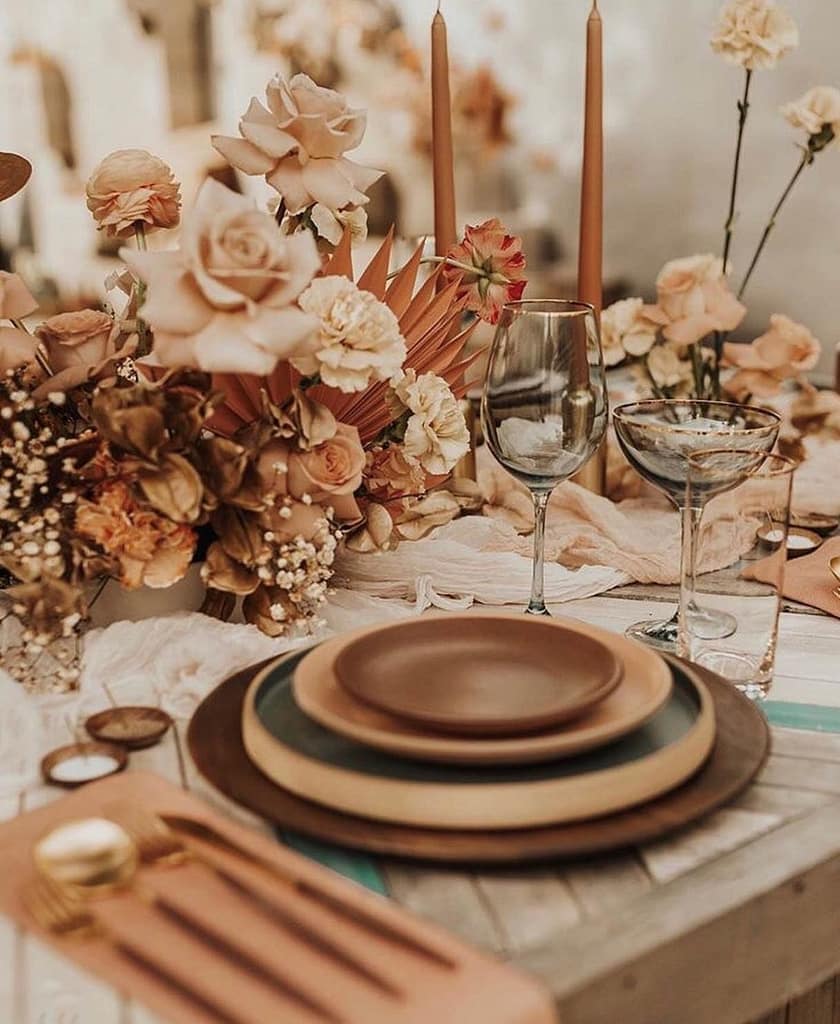 Credit @sydneemariephoto
Bridesmaids dresses – gone are the days when they have to match or that they should be muted – mixing patterns and colours can give the whole wedding a very 'MOHO' vibe  – the detail of the colours on the dresses should be taken from the main colours used across the wedding.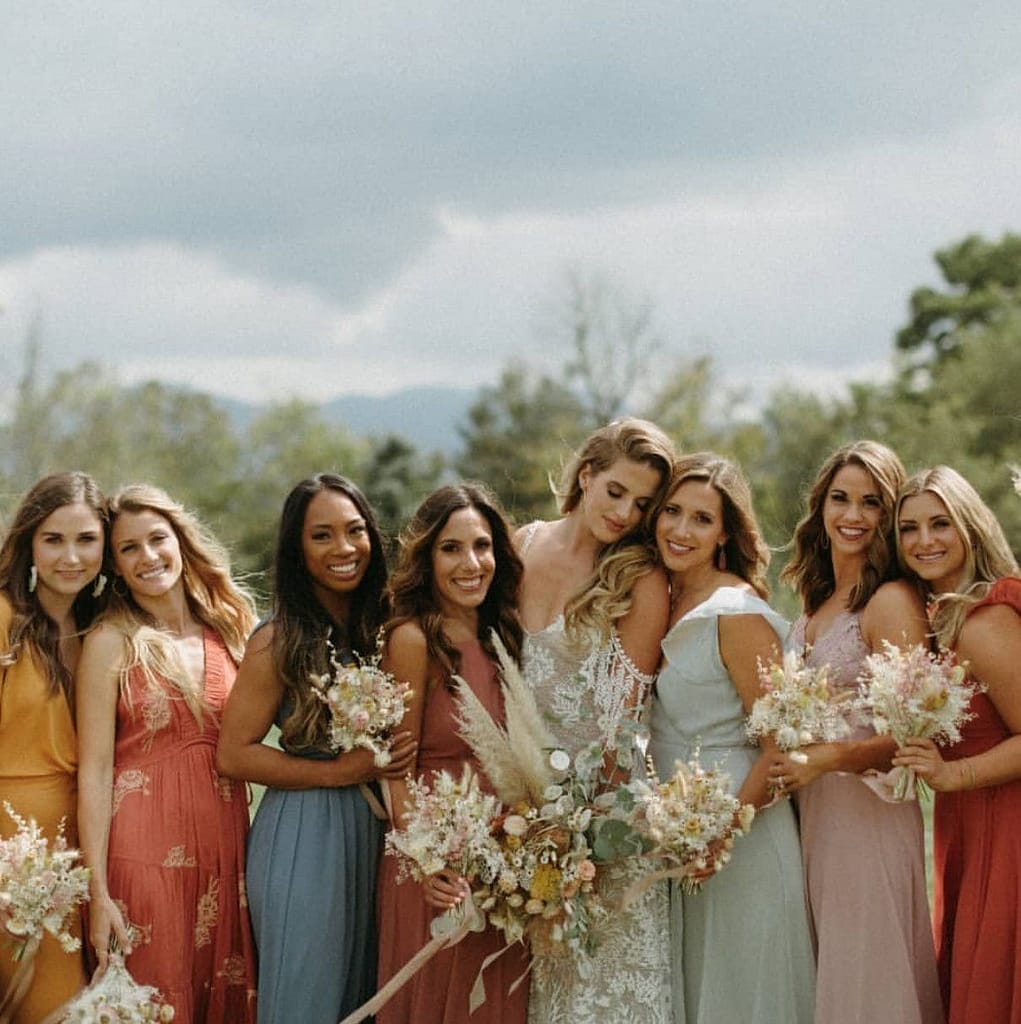 Bold styling in France
In many venues across France majority of the weddings take place al fresco which is the beauty of a destination wedding – this is the perfect backdrop for doing something a little different. For example, if the dinner is taking place in a courtyard with white stones then bringing some darker tones through the table will make it stand out from the surroundings. The space may be within gardens, using the dark woody tones and soft sandy colours work well – staying natural in the key colours but going as dark as the wood from the trees for accent can really work in your favour.
When starting the planning process I will always visit the venue before starting any designing, I take pictures of every possible space and from that I can decide what suits the venue, its always nice to be able to suggest something different for our clients even if they may think its slightly wild at the beginning – I always like to give them styling options to work out what they like and dislike. Some planners choose a theme such as a favourite movie, book or era but for me it's about the colours that are already at the venue and then exploring shades within these.
There is so much inspiration online now for how to use colour, some of my favourite Instagram's that are showing this in a truly beautiful way are:
One last area to bring a different element of styling to your day is with the glassware or plates. You can get some amazing textured plates and coloured glassware – for me personally when playing with colour on the table I like to keep the plates and glassware simple but maybe textured so it's a subtle detail but again works so well in most settings.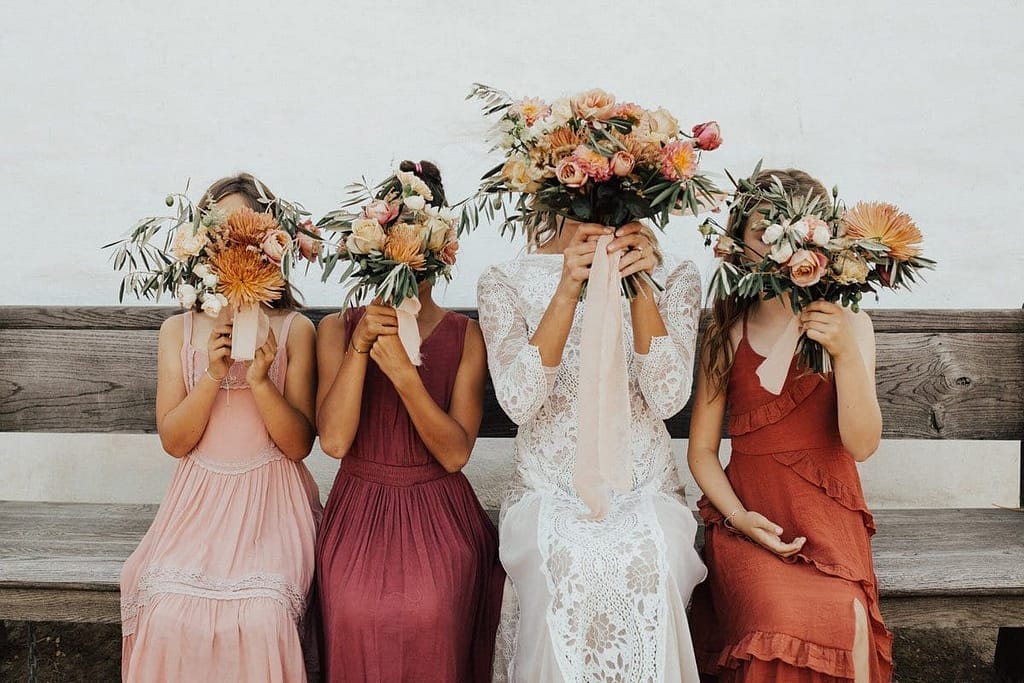 Credit @fleurderye and @heirlumephotography
"MOHO… simply BOHO with a modern twist!"
MOHO wedding style
"MOHO", the wedding industry is always coming up with new names for trends such as boho. Well MOHO means modern twist on boho, essentially everything I have just spoken about – textures, colours and more modern styling such as a tapered candle stick or contemporary fonts on stationery. The style is confident and well considered through every element of the wedding.
I hope you found this blog post interesting and that it has helped you build up the courage to step outside of the traditional wedding style box, be bold!
A bientôt!
Josh
Josh Tully is a Chateau Bee approved wedding planner France. Get in contact with Josh to find out how he can help plan for your big day – josh.a.tully@gmail.com
Click below to find your perfect wedding venue in France…