So if your reading this you've just made the biggest decision of your life… congratulations! Once the dust settles you've got to start planning. Fear not though, with a bit of forward thinking it can be an exciting… fairly stress free experience.
Many couples ask us for a timeline so we thought we'd create one! This one is for a 12 month timeframe.
We continually update it and if you have any suggestions please drop us a line.
Your 12 month wedding planning countdown.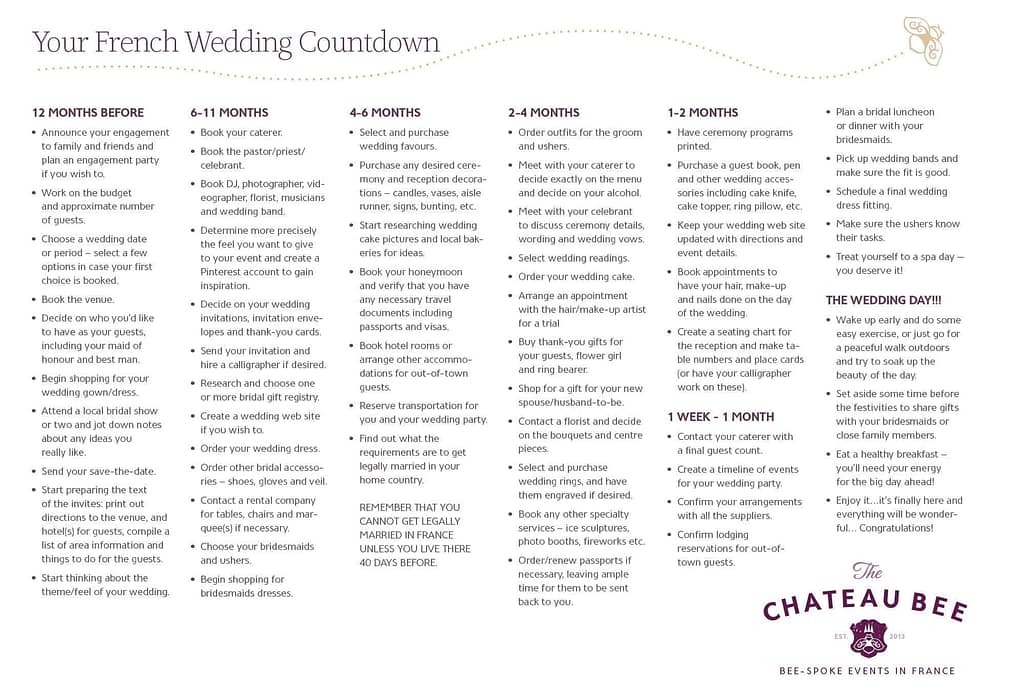 12 months before
• Announce your engagement to family and friends and plan an engagement party 
if you wish to.
• Work on the budget 
and approximate number 
of guests.
• Choose a wedding date or period – select a few options in case your first choice is booked.
• Book the venue (we can help with that!)
• Decide on who you'd like 
to have as your guests, including your maid of 
honour and best man.
• Begin shopping for your wedding gown/dress.
• Attend a local bridal show or two and jot down notes about any ideas you 
really like.
• Send your save-the-date.
• Start preparing the text 
of the invites: print out directions to the venue, and hotel(s) for guests, compile a list of area information and things to do for the guests.
• Start thinking about the theme/feel of your wedding.
6-11 months
• Book your caterer.
• Book the pastor/priest/
celebrant.
• Book DJ, photographer, videographer, florist, musicians and wedding band.
• Determine more precisely the feel you want to give to your event and create a Pinterest account to gain inspiration.
• Decide on your wedding invitations, invitation envelopes and thank-you cards.
• Send your invitation and hire a calligrapher if desired.
• Research and choose one 
or more bridal gift registry.
• Create a wedding web site 
if you wish to.
• Order your wedding dress.
• Order other bridal accessories – shoes, gloves and veil.
• Contact a rental company for tables, chairs and marquee(s) if necessary.
• Choose your bridesmaids and ushers.
• Begin shopping for 
bridesmaids dresses.
4-6 months
• Select and purchase 
wedding favours.
• Purchase any desired ceremony and reception decorations – candles, vases, aisle runner, signs, bunting, etc.
• Start researching wedding cake pictures and local bakeries for ideas.
• Book your honeymoon 
and verify that you have 
any necessary travel 
documents including 
passports and visas.
• Book hotel rooms or arrange other accommodations for out-of-town guests.
• Reserve transportation for you and your wedding party.
• Find out what the 
requirements are to get 
legally married in your home country. (Remember you cannot do the legal part to your marriage unless you live there 40 days before your wedding day. Please contact us for more advice on this.)
2-4 months
• Order outfits for the groom and ushers.
• Meet with your caterer to decide exactly on the menu and decide on your alcohol.
• Meet with your celebrant to discuss ceremony details, wording and wedding vows.
• Select wedding readings.
• Order your wedding cake.
• Arrange an appointment with the hair/make-up artist for a trial
• Buy thank-you gifts for 
your guests, flower girl 
and ring bearer.
• Shop for a gift for your new spouse/husband-to-be.
• Contact a florist and decide on the bouquets and centre pieces.
• Select and purchase 
wedding rings, and have them engraved if desired.
• Book any other specialty services – ice sculptures, photo booths, fireworks etc.
• Order/renew passports if necessary, leaving ample time for them to be sent back to you.
1-2 months
• Have ceremony programs printed.
• Purchase a guest book, pen and other wedding accessories including cake knife, cake topper, ring pillow, etc.
• Keep your wedding web site updated with directions and event details.
• Book appointments to 
have your hair, make-up 
and nails done on the day 
of the wedding.
• Create a seating chart for the reception and make table numbers and place cards (or have your calligrapher work on these).
1 week – 1 month
• Contact your caterer with 
a final guest count.
• Create a timeline of events for your wedding party.
• Confirm your arrangements with all the suppliers.
• Confirm lodging 
reservations for out-of-town guests.
• Plan a bridal luncheon 
or dinner with your 
bridesmaids.
• Pick up wedding bands and make sure the fit is good.
• Schedule a final wedding dress fitting.
• Make sure the ushers know their tasks.
• Treat yourself to a spa day — you deserve it!
Your wedding day!!!
• Wake up early and do some easy exercise, or just go for a peaceful walk outdoors and try to soak up the 
beauty of the day.
• Set aside some time before the festivities to share gifts with your bridesmaids or close family members.
• Eat a healthy breakfast – you'll need your energy 
for the big day ahead!
Congratulations, you've made it! If you want our top tips on how to survive the big day we've written a blog post dedicated completely to that!
Click here to find out more.
Est voila! It goes without saying, the more you plan in advance the more zen you'll both be. It actually can be really fulfilling, so embrace it and have fun!
"Enjoy it…it's finally here and everything will be 'formidable!'… Congratulations!"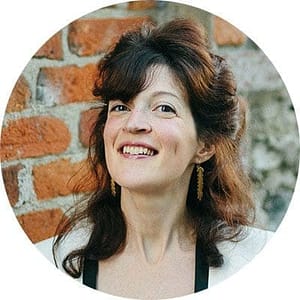 by Ingrid Chavez
Foodie, chateau hunter and founder of the Chateau Bee Selection.