A real woodland wedding in the South of France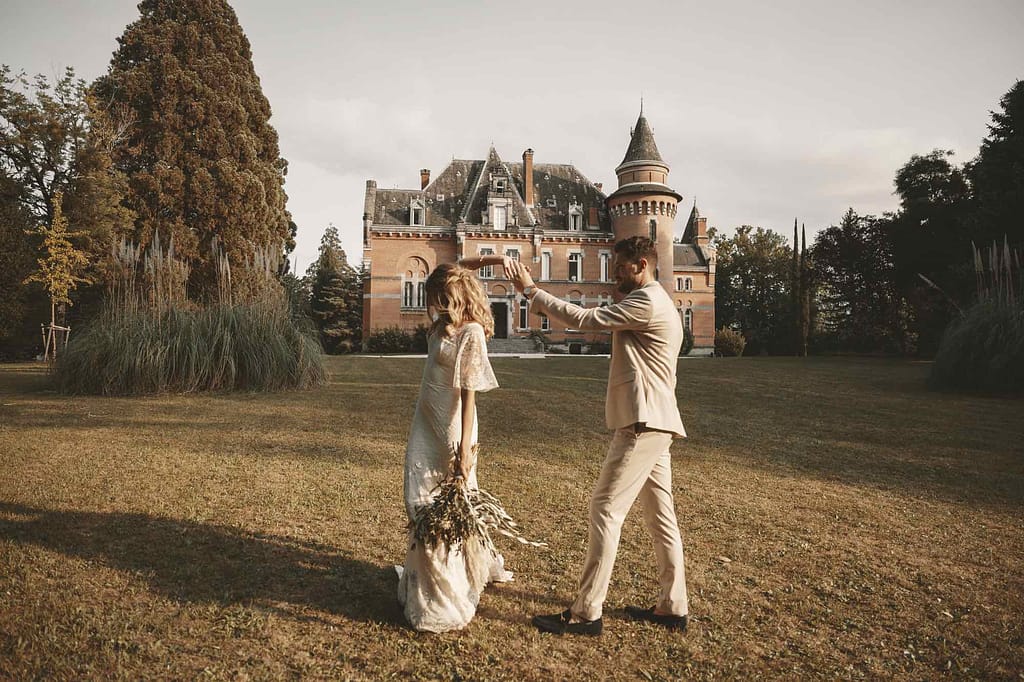 We are so happy to share with you the real wedding of Carly and Ben, that took place in Chateau Lacourt in the South of France. The planning and styling of this French wedding was orchestrated by the talented Clémentine from Award Weddings. The big day was captured on camera by Clementine's husband, Mark. Once again with this duo, the magic happened and it resulted in a delicate, woodland wedding full of personal and elegant touches.
I will hand you over to Clémentine now to walk you through Carly and Ben's wedding…
"After touring several French venues in South West France, Carly & Ben settled on the magnificent Chateau Lacourt in the foothill of the Pyrenees. The day was full of joy with their closest friends and family.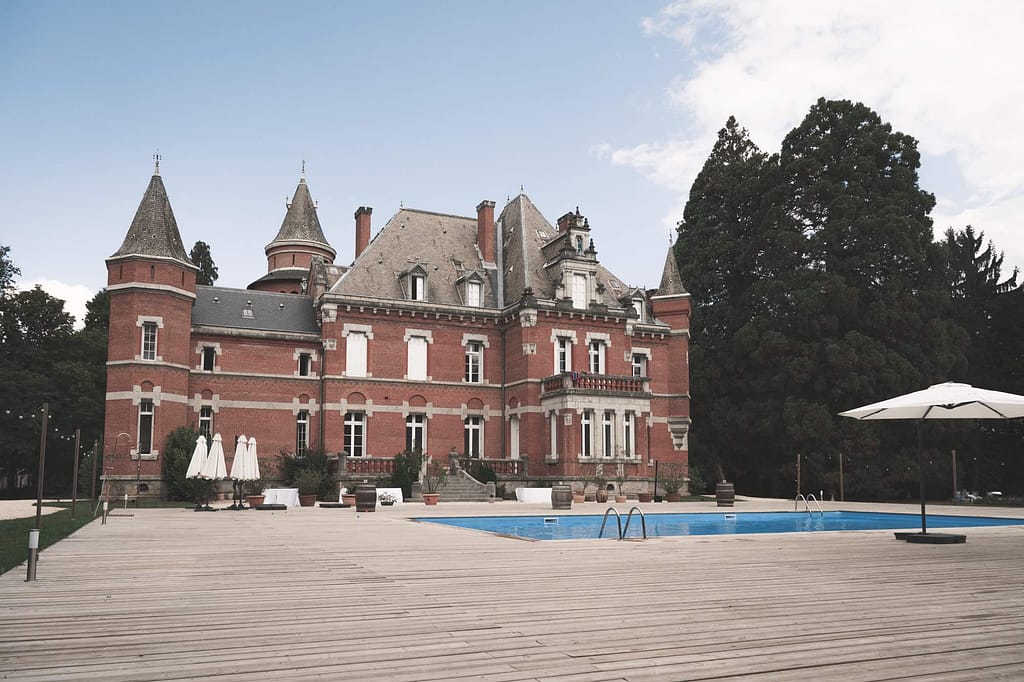 The wedding attire
Carly wore a beautiful tailored made dress by Victoria Sanders Studio, recently awarded best emerging bridal fashion brand. Her hair and make-up were done by Muriel from Marry us in France. Also a celebrant, Muriel has 20 years experience in hair and make-up in the tv industry. Carly had a beautiful natural style with long wavy hair.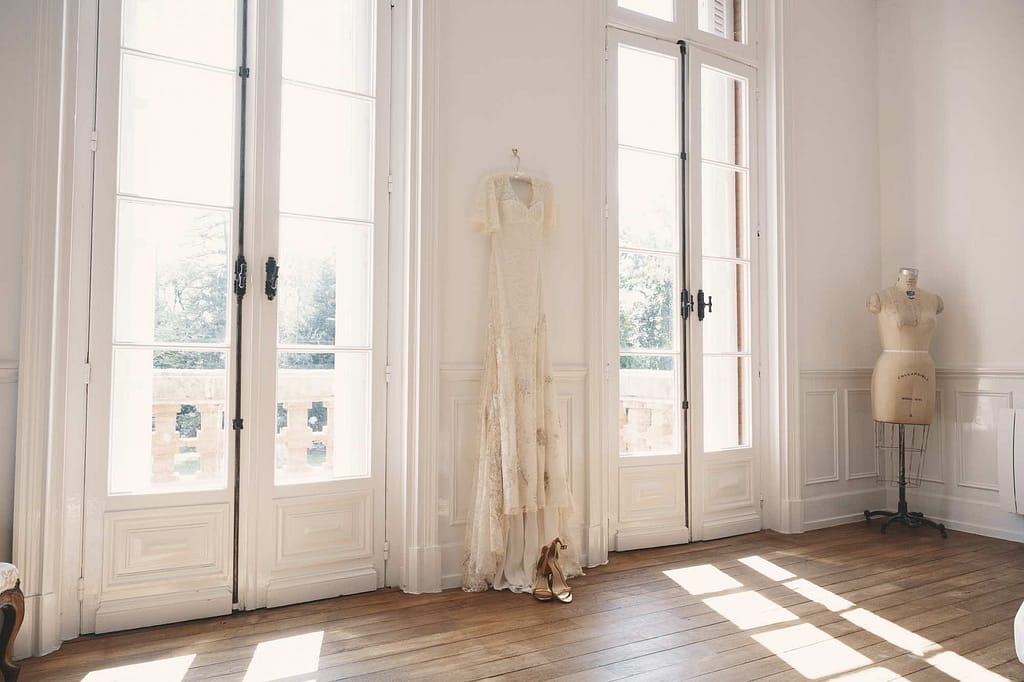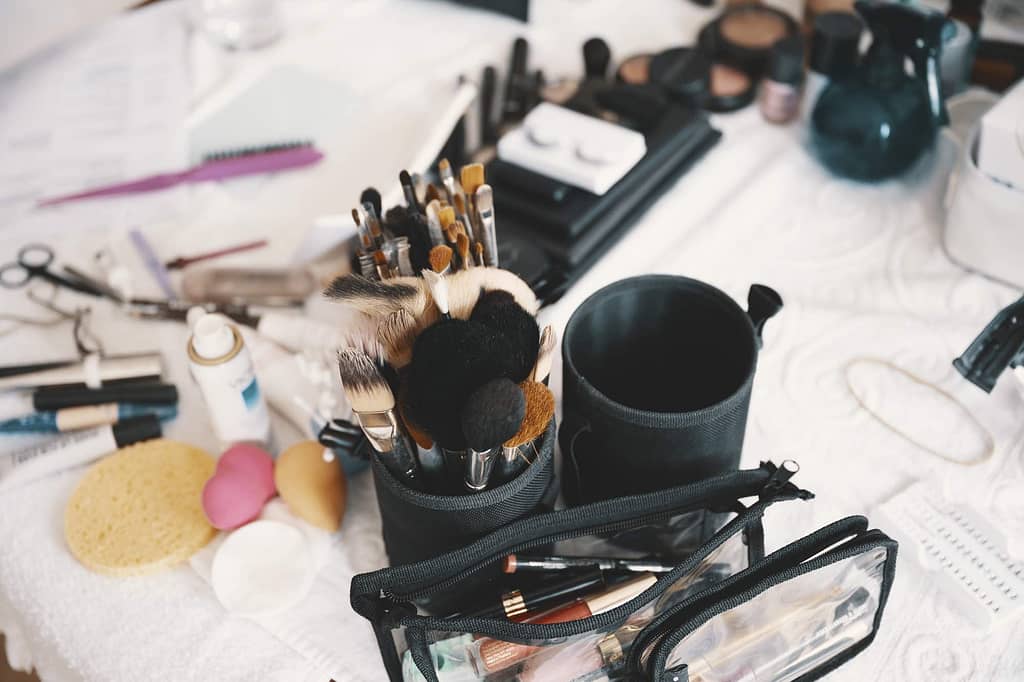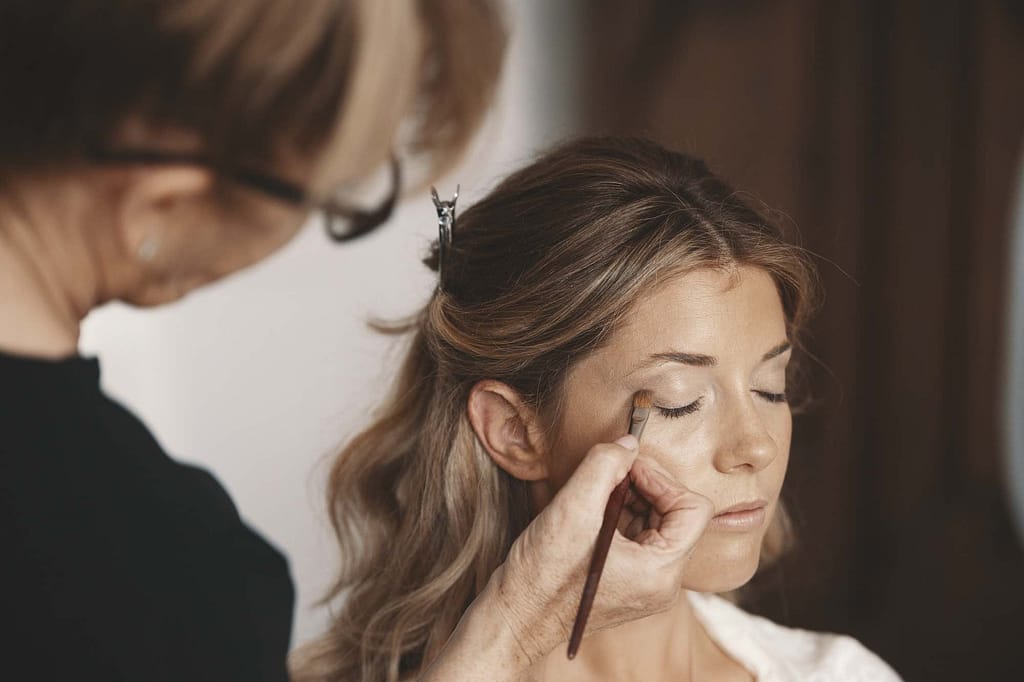 Bridesmaids wore dresses from Monsoon.
Ben wore a tailored made Moss Bros suit, tailored made with their initials embroidered.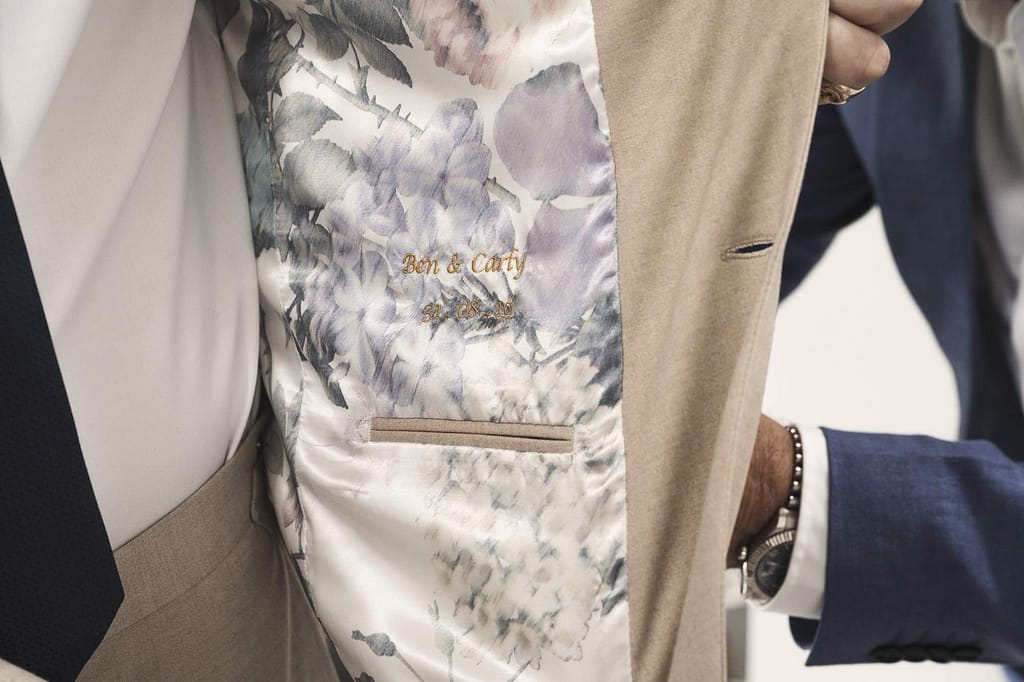 The wedding day
Following a heartfelt wedding ceremony, they enjoyed cocktails and canapés from local French caterer around the pool. They had hired a caricaturist to entertain their guests.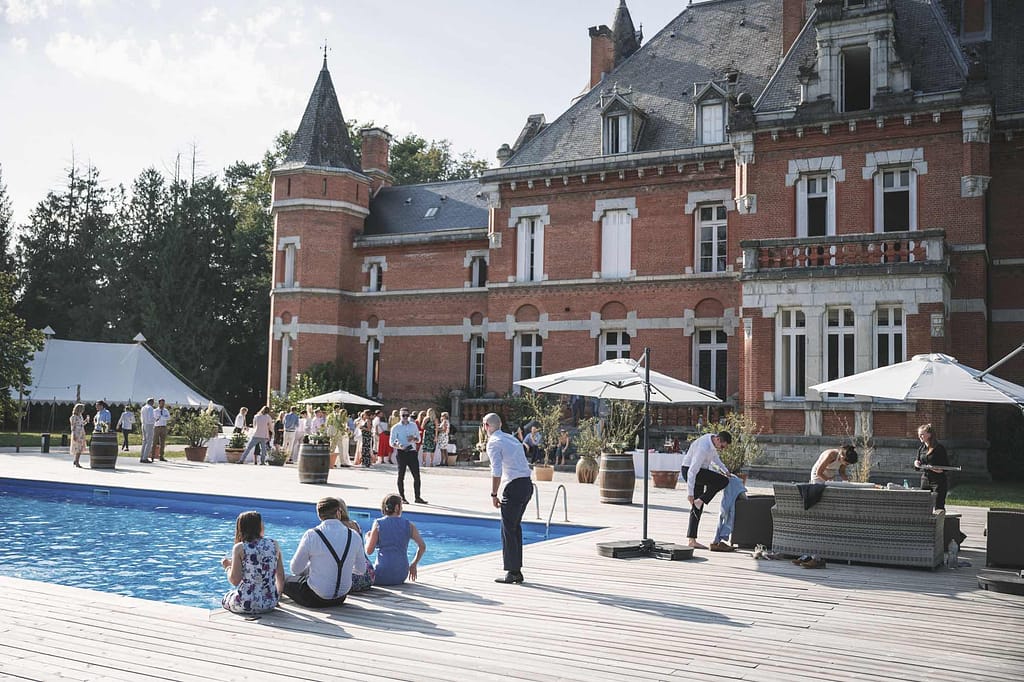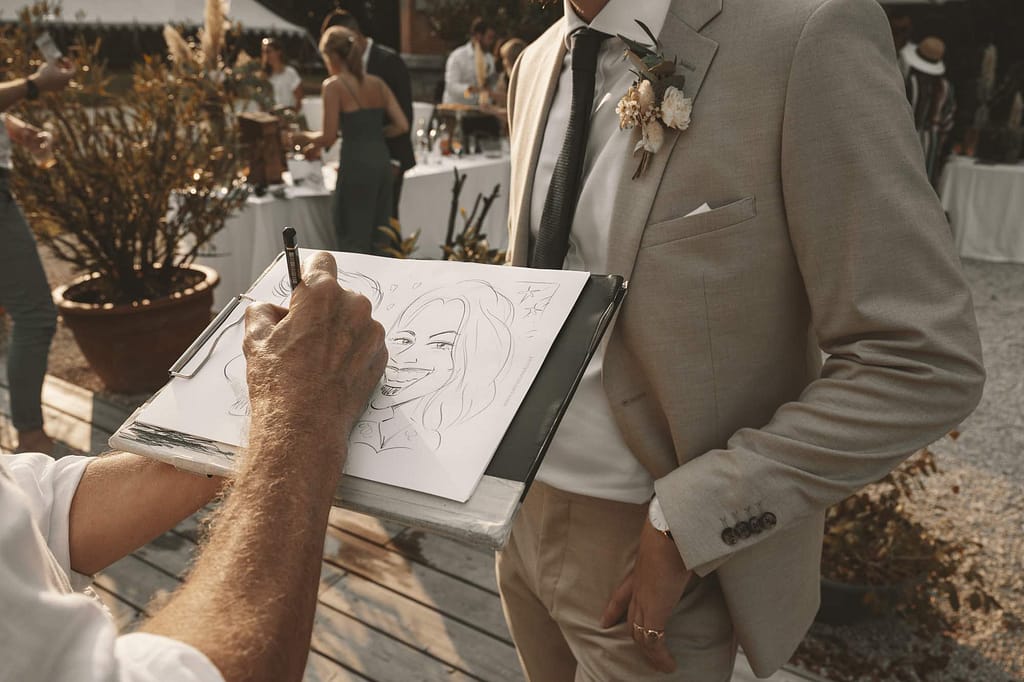 They dined al fresco in a wooded area of the grounds, a family style dinner of shared platters of local food including duck, fish and fresh vegetables. They ended the meal with the traditional French wedding cake: the popular croquembouche!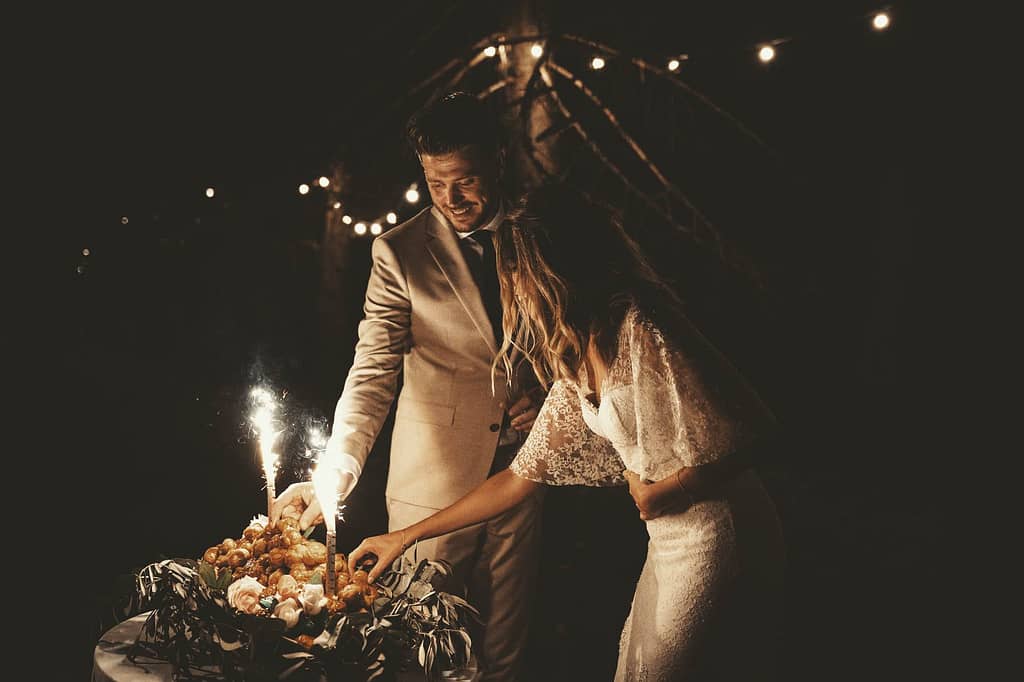 They partied to live music afterwards under the marquee before revealing their secret party place in the chateau cellar.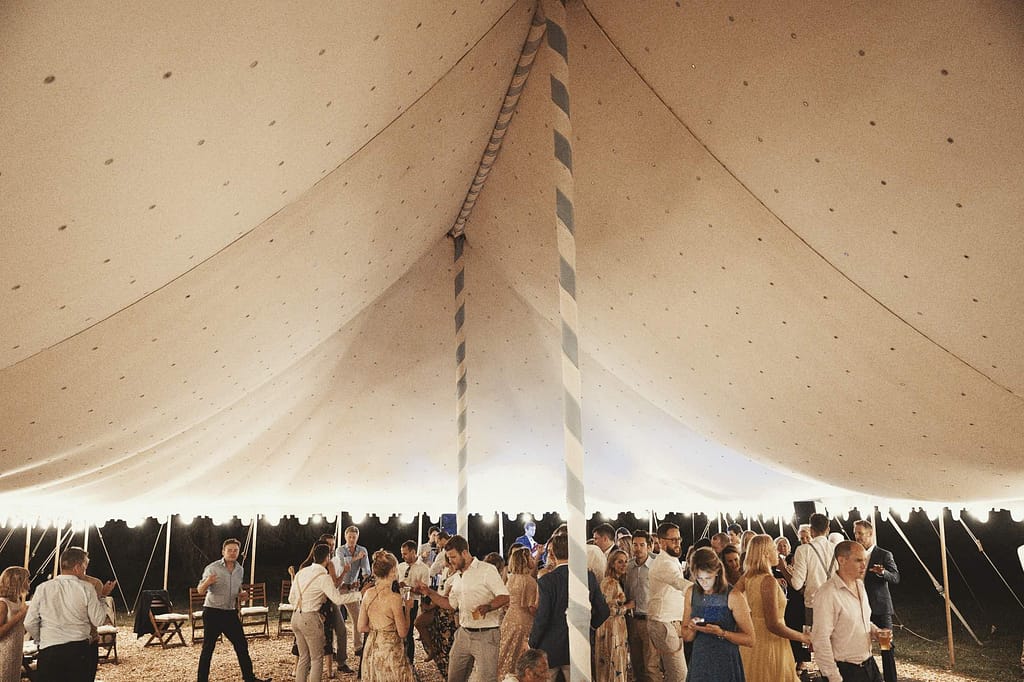 Their French wedding style
Carly loved pampa grass and olive branches so we included lots in the arrangements. Tones were cream, light pink and green. The setting being so beautiful, they wanted to complement it with light touches.
They held their ceremony under a tree with a cream draping for the arch and a garland of foliage. The central aisle was adorned with bouquets of olive branches. And the entrance of the aisle had two gorgeous floor arrangements of pampa grass, olive branches and roses.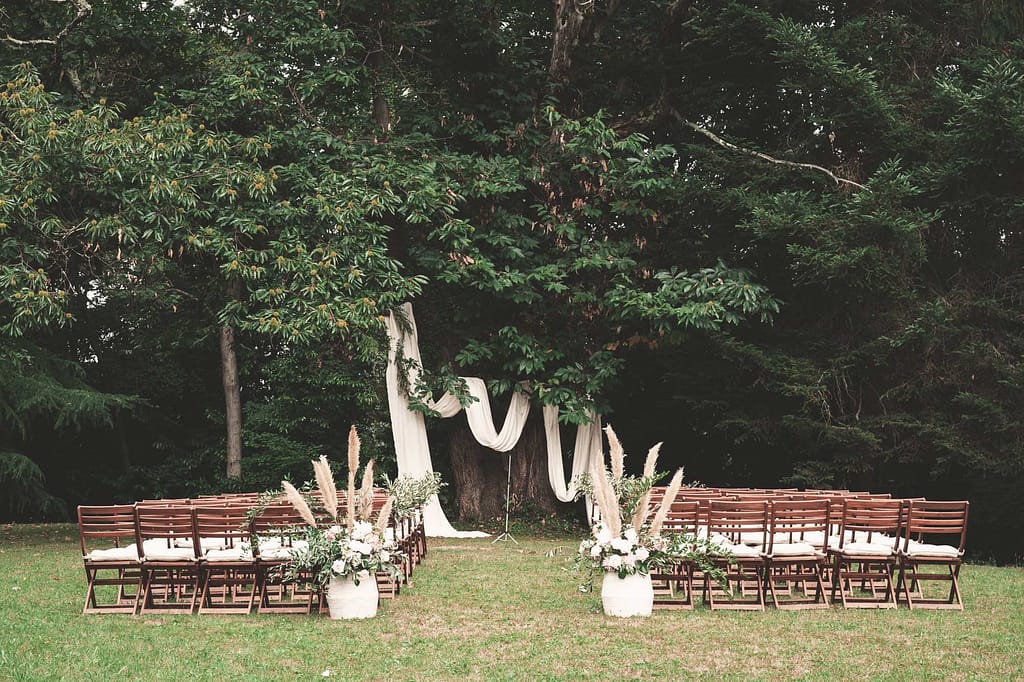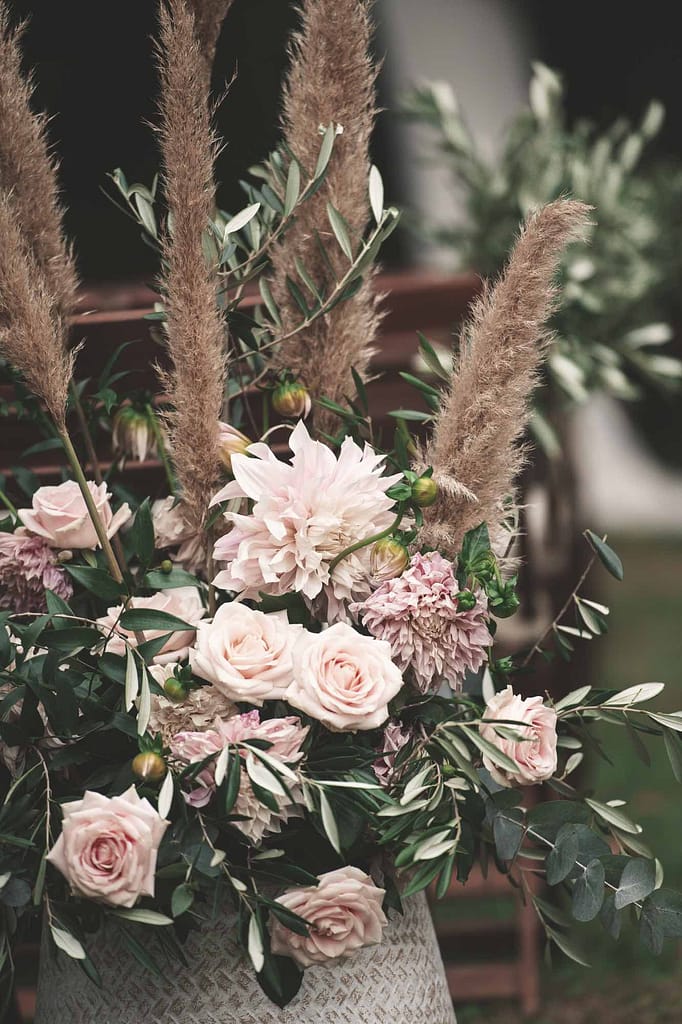 The cocktail was on the other side of the chateau, around the pool. With such a backdrop, you don't need to do too much so we had wine barrels with flower arrangements on them and flowers on buffets.
The dinner was set in the wooded area and two long rows of tables were decorated with foliage and flower garlands trailing across the tables, with glass and brass candlesticks and cream candles.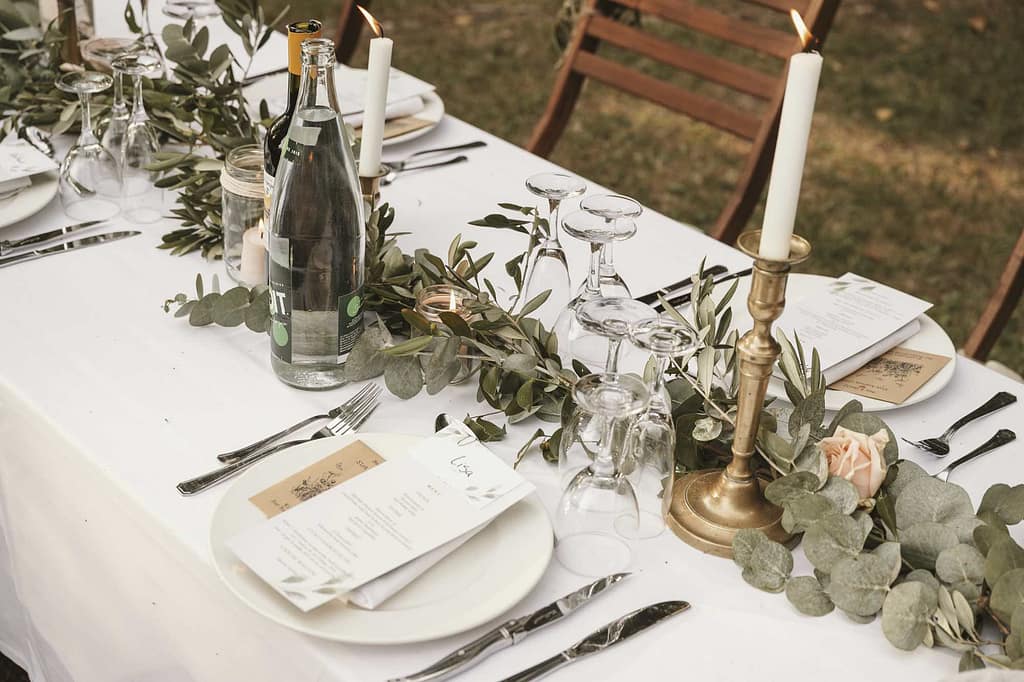 It really was a wonderful day for a wonderful couple!

"a delicate, woodland wedding full of personal and elegant touches in the foothills of the Pyrenees."
Explore Chateau Lacourt
Chateau Lacourt is the perfect location for a woodland wedding South France. Read more about this impressive wedding venue by clicking the link below…
Are you venue hunting?
Are you seeking that perfect French wedding venue in the South of France? Find our list of wedding venues we have visited and approved here…
♥ List of the Wedding Team :
Wedding planner and stylist: Clémentine at Awardweddings www.awardweddings.fr
Venue: Chateau Lacourt at chateaubeeselection.com/venues/chateau-lacourt/
Photography and film : Mark at Awardweddings www.awardweddings.fr with camera man Julien Marchais https://jm-video.fr
Celebrant and Hair and Make-up: Marry Us in France www.marryusinfrance.com
Florist: Les Ideales www.lesideales.fr
Decorations rental : Clémentine at Awardweddings www.awardweddings.fr
Catering: L'auberge d'Antan www.chateaubeauregard.net
Caricaturist:  www.caricatures4u.net
Live band: Popcorn Factory Orchestra https://www.popcornfactory.fr
Bride's dress: https://www.victoriasandersstudio.com
Bride's shoes: Kurt Geiger https://www.kurtgeiger.com
Accessories: Monica Vinader www.monicavinader.com
Bridesmaids dresses: Monsoon www.monsoonlondon.com
Groom's suit: https://www.moss.co.uk
Groom's shoes: Russell and Bromley https://www.russellandbromley.co.uk