Have you ever dreamed of a romantic and intimate elopement to a beautiful French wedding venue, but you're not sure where to start searching? Fortunately for you, we have hand-picked the top 12 French chateau wedding venues with affordable elopement packages for micro weddings!
Elopements and micro-weddings are a new emerging trend in the world of destination weddings as they allow for more funds and attention to be directed towards higher end decorations, eco-friendly alternatives and maybe even some activities around the wedding day!
The Top 12 French Venues for Elopements & Small Wedding Venues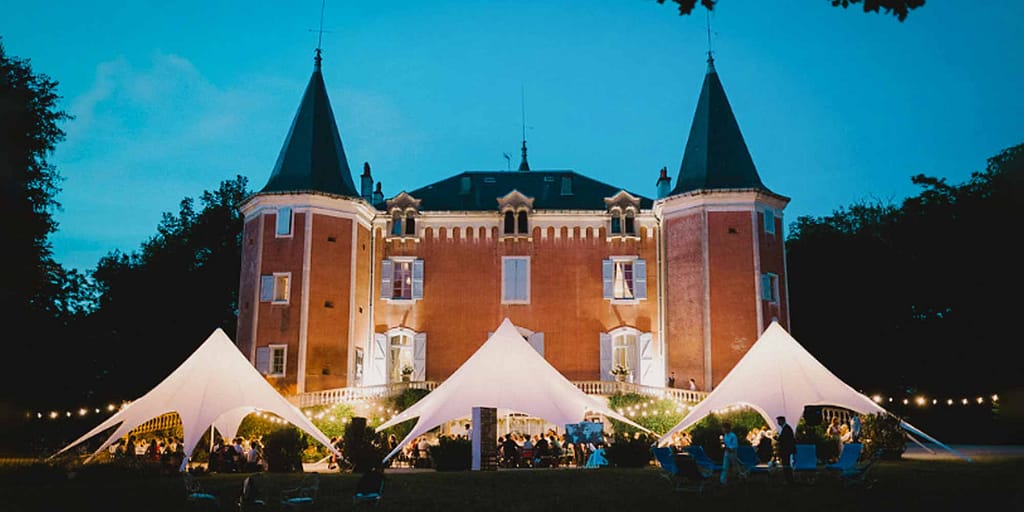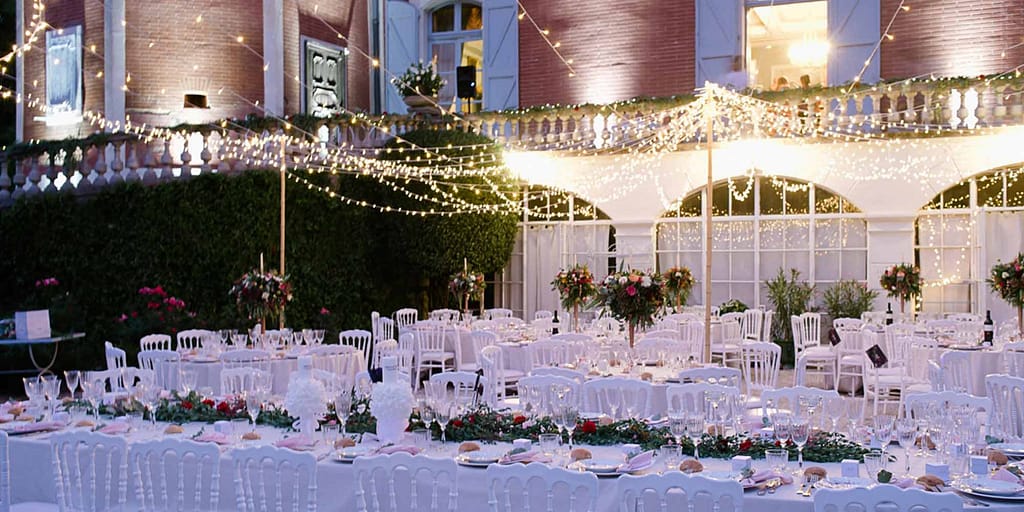 Located near the picturesque city of Toulouse, this beautiful venue sleeps 14 people, making it perfect for an intimate celebration where you can focus on curating a magical celebration with a small group. Steeped in 18 generations of history, this enchanting chateau has elegance and historical richness. With a 6-hectare park and detailed interiors, this chateau provides stunning backdrops for ceremonies and photographs. A dedicated team, with over 35 years of experience, ensures your day, from start to finish is a seamless and memorable one.
Location: Toulouse (50 min), Carcassonne (50 min), Castres (30 min)
Rental price: From €4,000 for 2 nights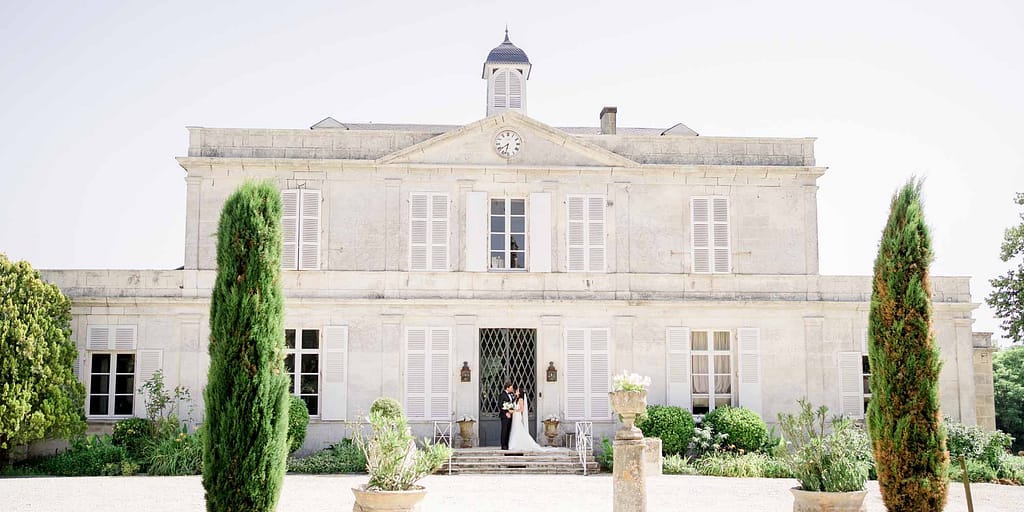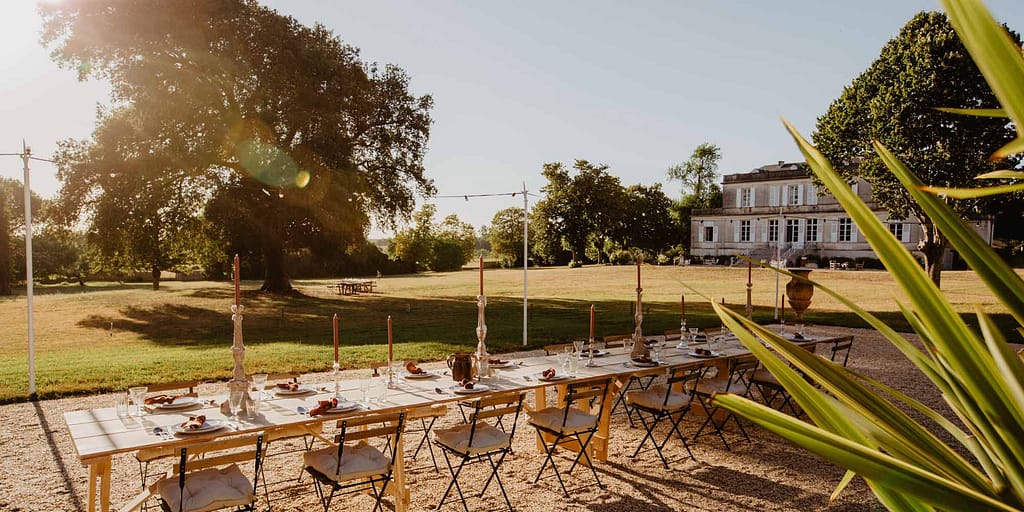 Nestled amidst Cognac vineyards, Chateau de Brives seamlessly blends traditional French charm with modern elegance. This neo-classical chateau is embellished with sophisticated antiques and artworks, offering a warm, stylish ambiance. The venue provides ample choices for ceremonies, whether in the local village church or the tranquil estate park, and features spaces like the bright terrace or the charming stone barn for receptions. The chateau sleeps 18 on site with additional accommodation nearby. Owners Sarah and George, supported by an experienced wedding planner, ensure meticulous attention to every detail, making it an ideal pick for couples desiring a venue with a heartfelt, intimate feel.
Location: Bordeaux (70 min), La Rochelle (70 min)
Rental price: From £11,000 for 3 nights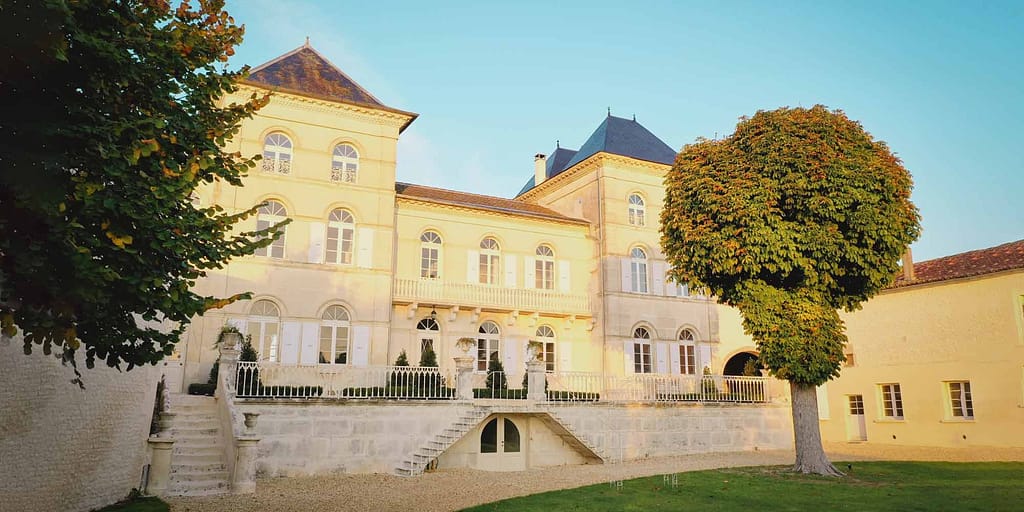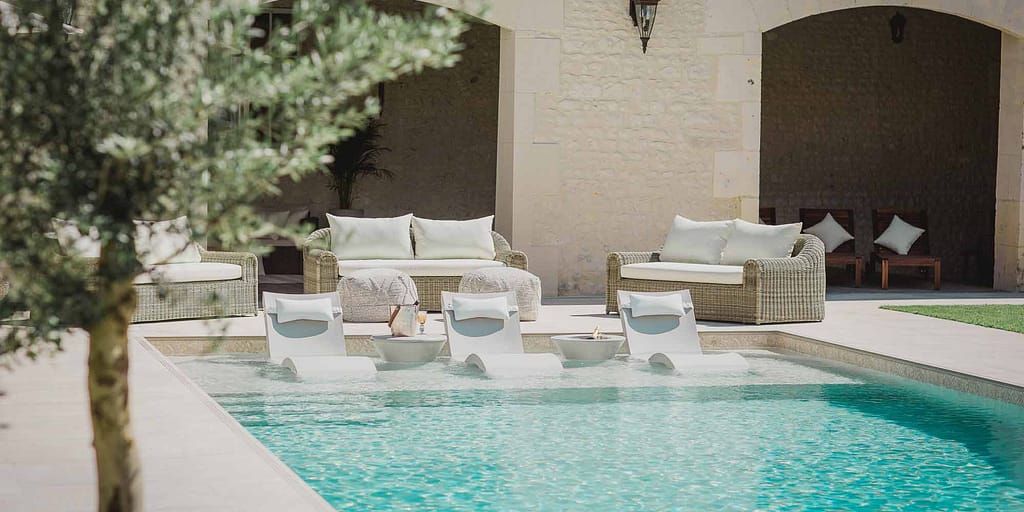 No 3 The Chateau is a venue perfect for those looking to elope or plan a small, intimate wedding. Just like Chateau de Brives, this venue is located in the sunny Charente amidst scenic Champagne Cognac vineyards, offering a variety of light-filled spaces to host your celebration. After a meticulous restoration, the chateau boasts the enchanting Pigeonnier, the grand Chai barn adorned with chandeliers, and a stunning pool area. The chateau can sleep 12, with luxurious suites, making it an ideal choice for a luxurious wedding with a close-knit group.
Location: La Rochelle (1h20), Bordeaux (1h30), Poitiers (1h30)
Rental price: From £12,000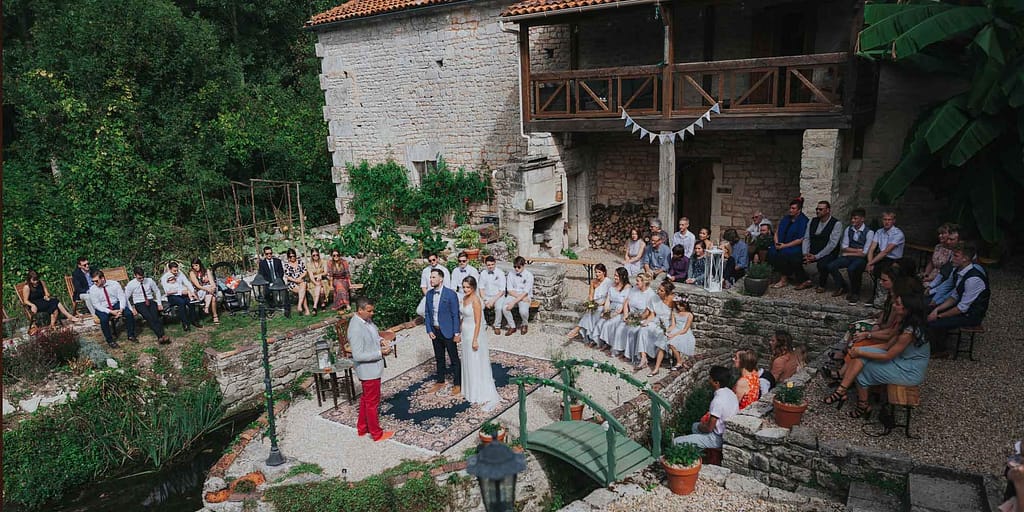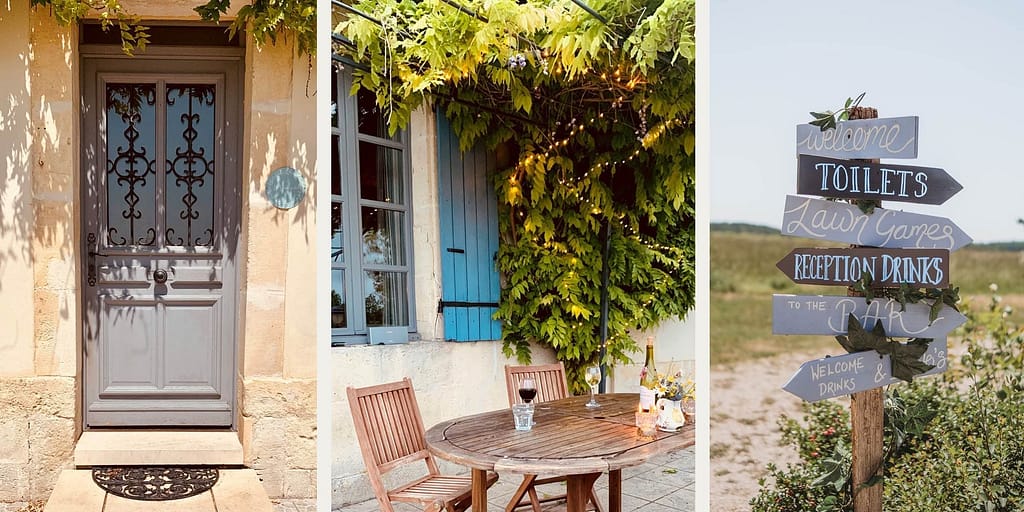 Delve into the charm of Beau Moulin, a quintessential French sanctuary that exemplifies magical and intimate wedding experiences. The historic watermill, cloaked in traditional Charentaise architecture and blue shutters, opens up to reveal a secret riverside garden—perfect for tranquil "I do's". Guests can delight in the expansive 11-acre park and soak in the sun on the terrace, enjoying panoramic views over the Cognac vineyards while the characterful Charentaise barn is a sublime setting for celebrations under fairy lights. With accommodation in charming cottages and inclusive, authentic décor packages, Beau Moulin simplifies the realisation of your dream rustic chic French wedding, with the supportive and experienced owners at your side.
Location: La Rochelle (1hr20), Bordeaux (1hr30), Poitiers (1hr30), Limoges (1hr50)
Price of the package: Inclusive package from €14,440 for a week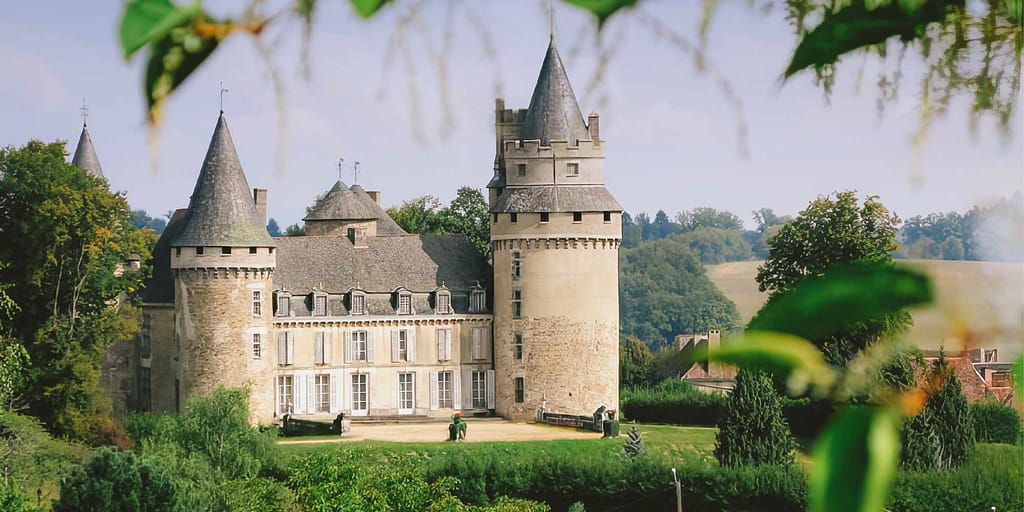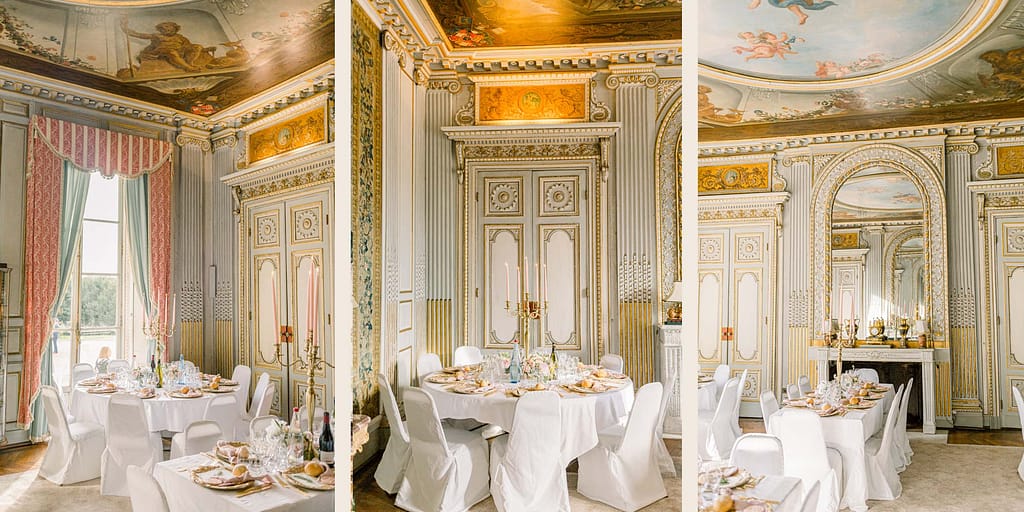 Just 40 minutes from Limoges, this venue is a fairy tale come to life, steeped in nearly a millennium of history, complete with its own moat and drawbridge. Explore luxury interiors that reveal a rich collection of design, architecture, art and furnishings, displaying nearly 1,000 years of family history. Offering a multitude of charming options for small to medium-sized weddings and intimate elopements, be it in the consecrated chapel or the lush lawn overlooking the French countryside. The Italian Renaissance courtyard and salons offer timeless settings for dinners under twinkling lights, seating up to 80 guests, with the venue's unique craft beer adding a special touch to the experience. Boasting luxurious accommodation for 10 and supported by a devoted and passionate team, this venue promises an unforgettable wedding experience steeped in history and elegance.
Location: Limoges airport (50 min), Limoges train station (40 min), Bordeaux (2h30)
Rental price: From €13,000 for 2 nights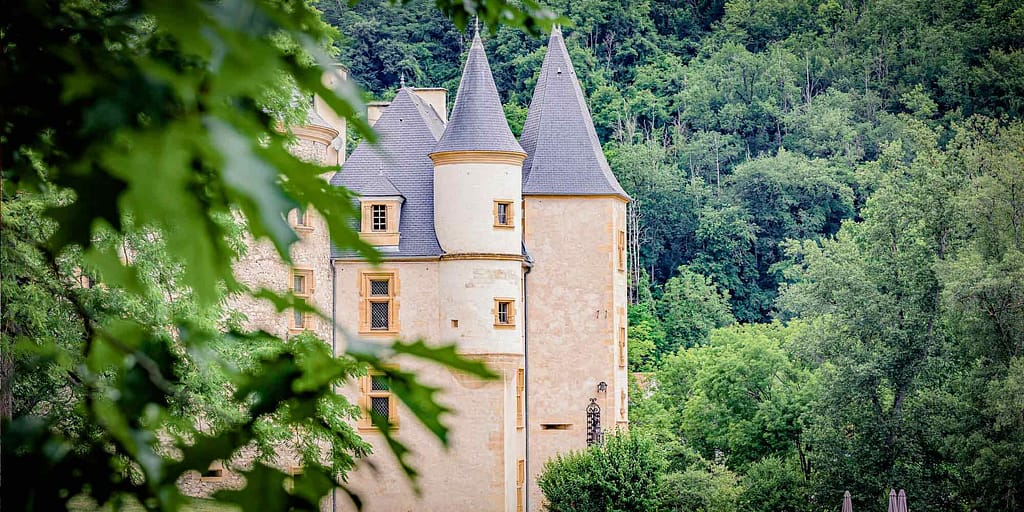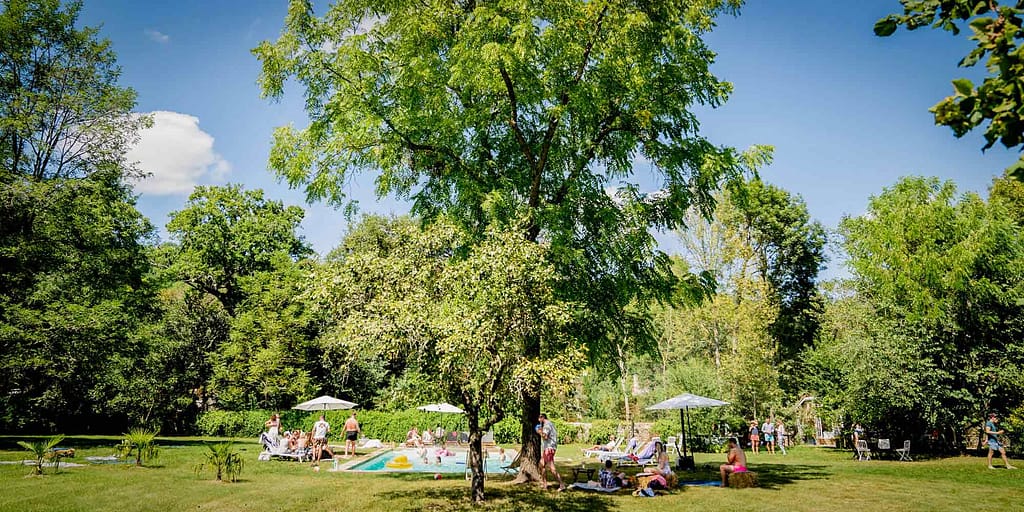 Chateau de Montpezat, situated in the foothills of the Pyrenees, offers a magical and quiet setting at the foothills of the Pyrenees mountains, perfect for your romantic and intimate elopement! Located just 45 minutes from Toulouse airport, this refined chateau sits in a lush, private 45-hectare forest in a region renowned for its exquisite cuisine and wines. With meticulously renovated spaces and a range of flexible, relaxed options for both ceremonies and celebrations, guests can experience utmost comfort in 7 luxurious suites while a dedicated coordinator and acclaimed chef ensure a seamless, memorable experience.
Location: Toulouse (45 min)
Rental price: From 9,900€ for 3 nights, 4 days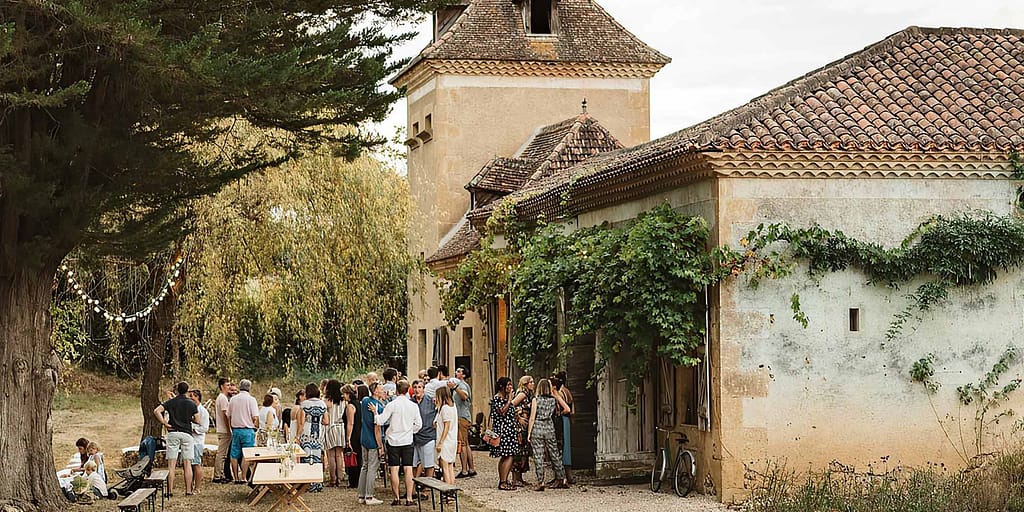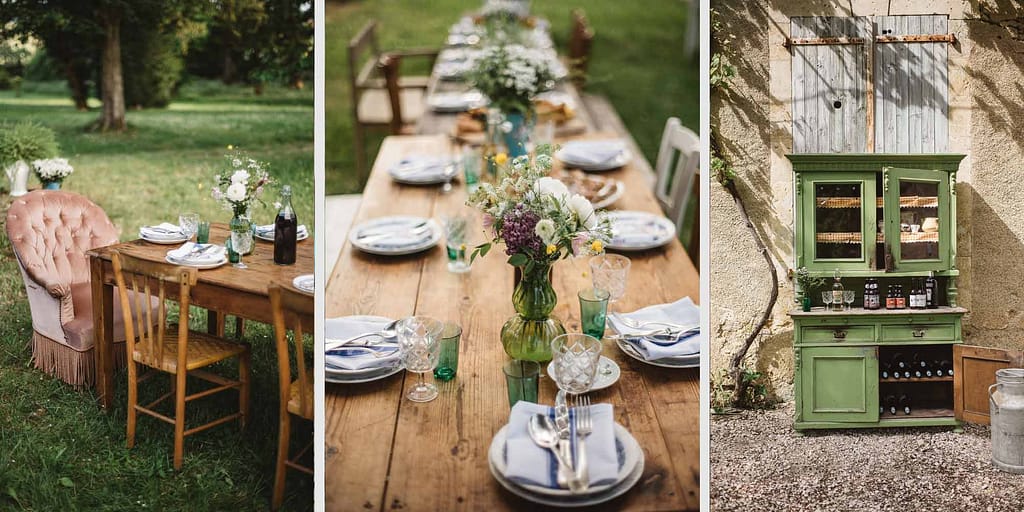 Nestled in the culinary rich region of Gers, near Toulouse, Chateau Labarthe offers a serene and stylish sanctuary for a laid-back, rustic romantic wedding, showcasing views of the Pyrenees. This 17th-century charm-filled chateau features blue pastel French shutters, luxurious designer interiors, and five acres of RHS-designed wild gardens, housing a quaint chapel, perfect for blessings. Whether dining under a festoon-lit canopy or within the rustic party barn, guests are immersed in rustic elegance. With luxurious accommodation for up to 20 guests and the convenience of in-house planning and catering teams, every detail at Chateau Labarthe is meticulously executed, allowing couples to fully immerse in the magic and romance of their special celebration amidst the picturesque landscapes of the sun-soaked South of France.
Location: Toulouse (1hr)
Price: From €11,950 for 3 nights; includes complete wedding planning service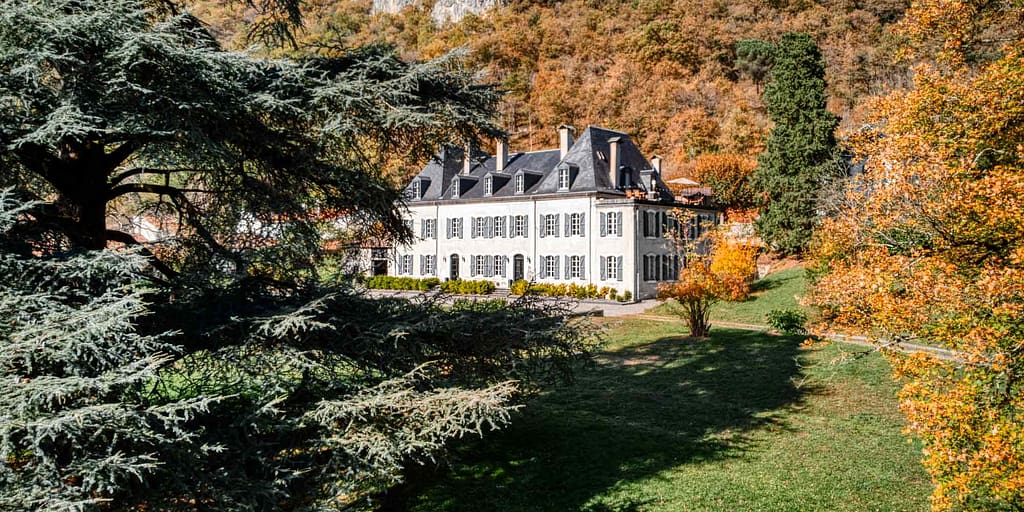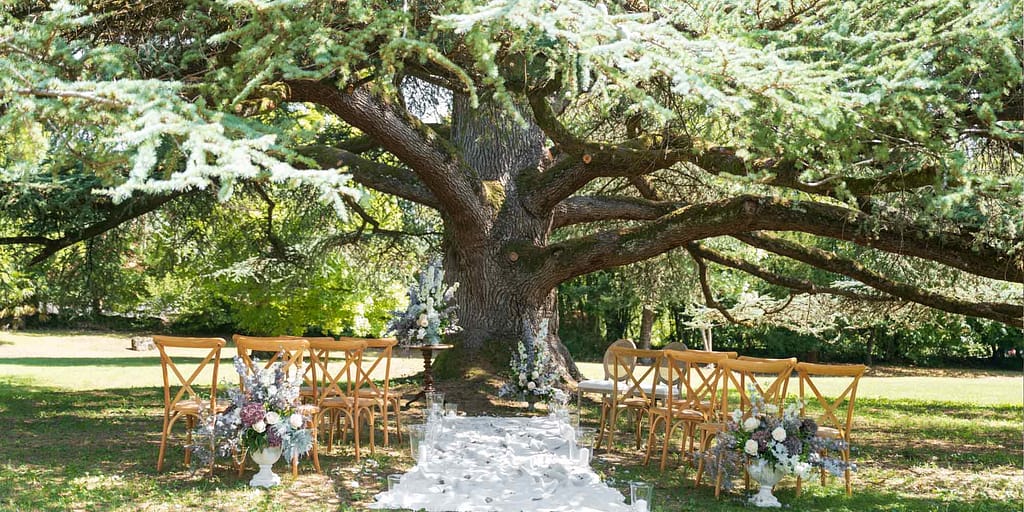 Just an hour from Toulouse and at the foothills of the Pyrenees, Chateau Le Haut offers panoramic views that create a spectacular wedding backdrop in the South of France. Dating back to the 17th-century, this venue embodies the art of French living, offering a tranquil yet lavish experience for guests seeking authentic French elegance. Whether you're exchanging vows in the serene chapel or against the splendid backdrop of the Pyrenees mountains in the park, the surroundings ensure every moment is unforgettable. The close proximity to the Spanish border introduces a delightful fusion of French and Spanish cuisines. The chateau's nine luxurious bedrooms seamlessly blend original art, antique furniture, and modern comforts, accommodating up to 18 guests. For an intimate and lavish wedding experience, Chateau Le Haut awaits.
Why not take a virtual tour of this secluded Chateau?
Location: Toulouse (60 min)
Rental price: From €8,500 for 3 days, 2 nights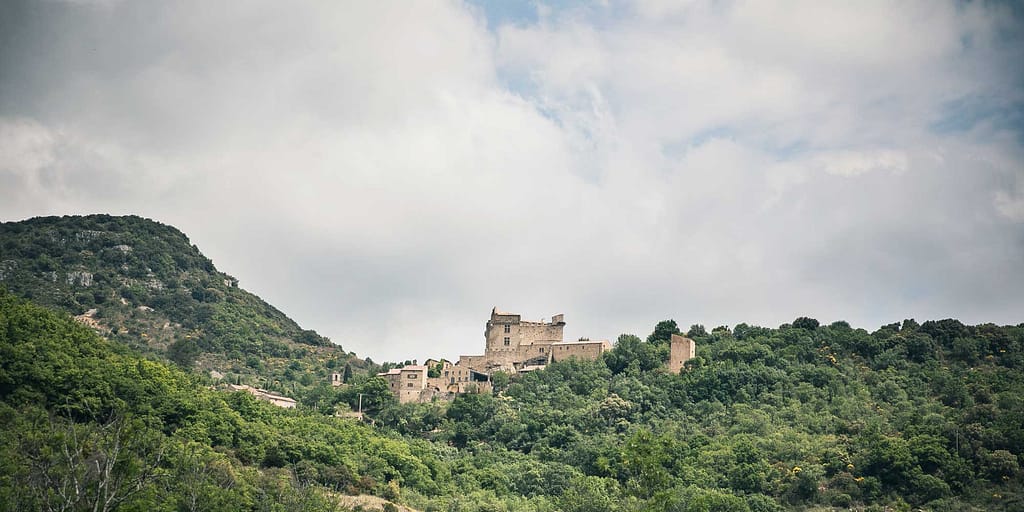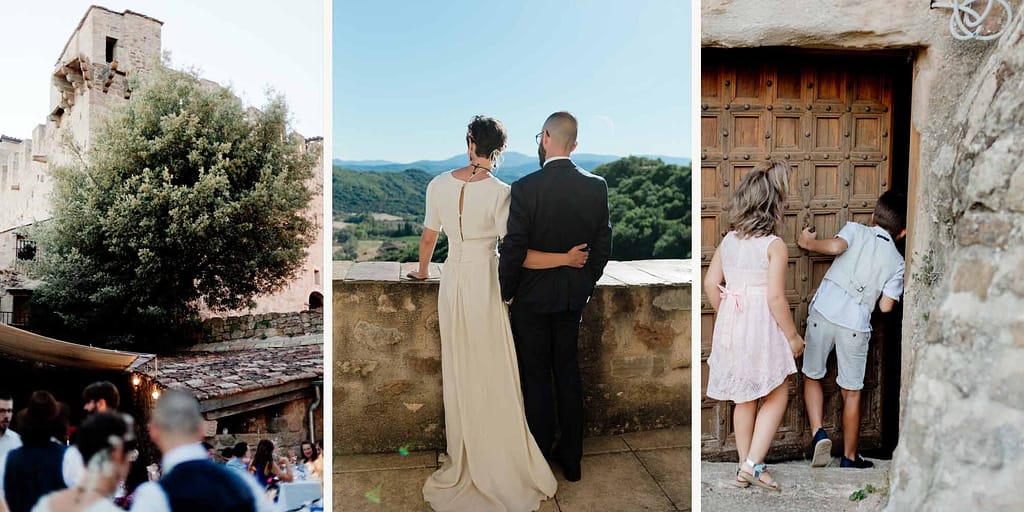 Chateau Lefort stands as a blend of historic elegance and intimate charm, nestled in the unspoiled volcanic area of l'Escandorgue in South France. This authentic medieval castle, classified as a "monument historique," reveals imposing fortified walls and 12th-century façade, contrasted by the vibrant patchwork of red soil and lush vegetation of the rolling hills surrounding it. Despite its majestic presence, the chateau retains a warm, homely atmosphere, offering a stunning "cour d'honneur" for blessings or a nearby church for ceremonies. Varied accommodation for up to 15 guests, including cottages and a tower with panoramic valley views are available. Chateau Lefort is the perfect venue for couples looking to get married in a unique, secluded venue in a region of France off the beaten track.
Location: Montpellier (1hr)
Rental price: From €3,850 for 2 days, 1 night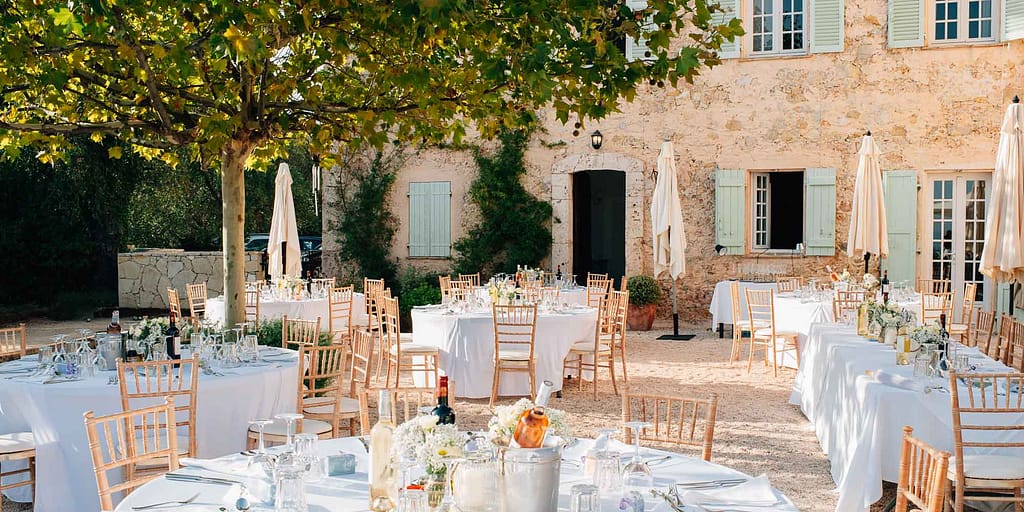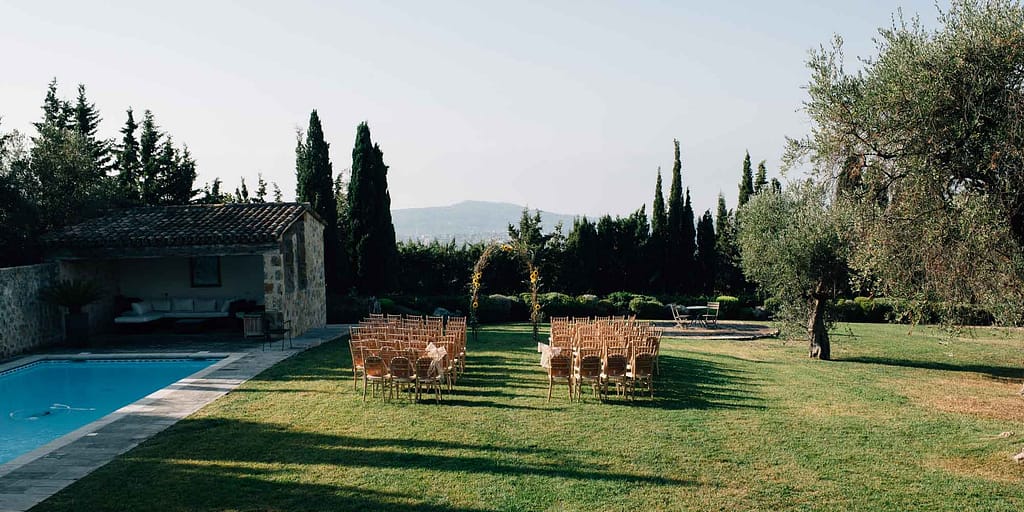 Picture a serene wedding at La Ferme, a charming 18th-century bastide, located in the aromatic hills of Grasse on the French Riviera. This intimate mansion, characterised by its pastel green shutters and panoramic views, offers a picturesque backdrop for your personal and intimate elopement. With ceremonies among olive trees and dinners under the stars, the venue resonates with a chic yet relaxed ambiance. La Ferme, accommodates up to 18 guests, with additional accommodation available nearby at a discounted price. For those seeking a secluded and intimate Riviera wedding, La Ferme stands out as a charming and uniquely personal choice.
Location: Nice (38 min)
Rental price: From €15,000 for 3 nights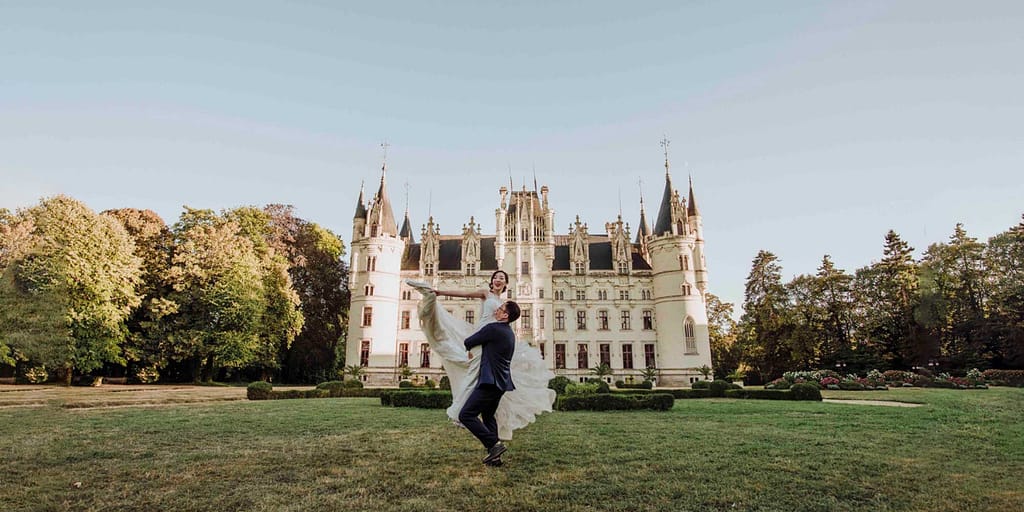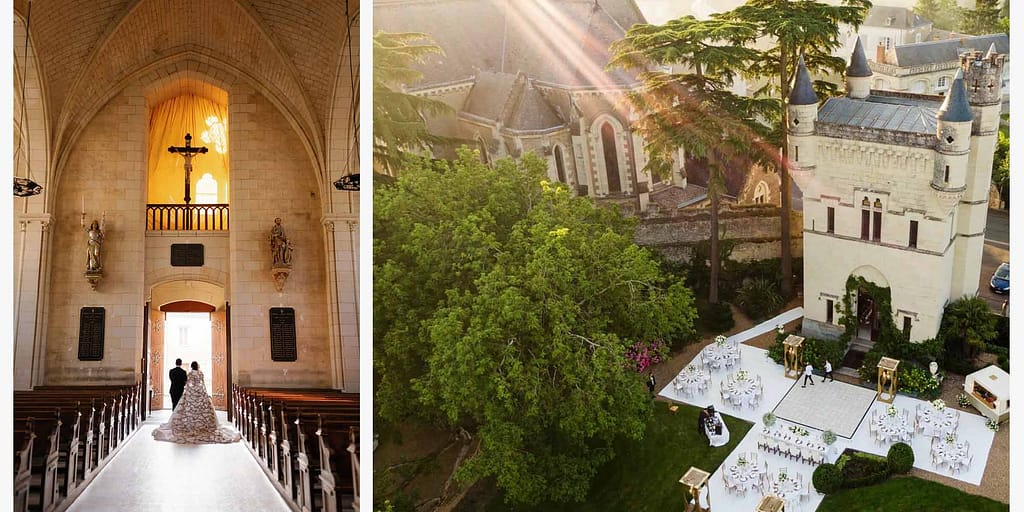 Located in the picturesque Loire Valley, Chateau Challain is a realm of enchantment and luxury, renowned as a premier wedding destination in France. This magical venue, with its intricate wood carvings and opulent décor, embodies a fairy tale charm reminiscent of Beauty and the Beast. With 365 windows, 52 fireplaces, and 12 turrets, every aspect of the chateau brims with symbolic elegance. The owner, Cynthia, acts as a fairy godmother, bringing every wish to life and offering exclusive elopement packages from €8000. Couples can experience unparalleled romance in the sumptuous reception room or the neighbouring church, all amidst the chateau's unique and whimsical eccentricities. Chateau Challain is truly a sanctuary where fairy tales unfold, ideal for those seeking an intimate elopement with luxury and magic.
Location: Nantes (50 min)
Price of the elopement package: From €8,000 for an inclusive elopement package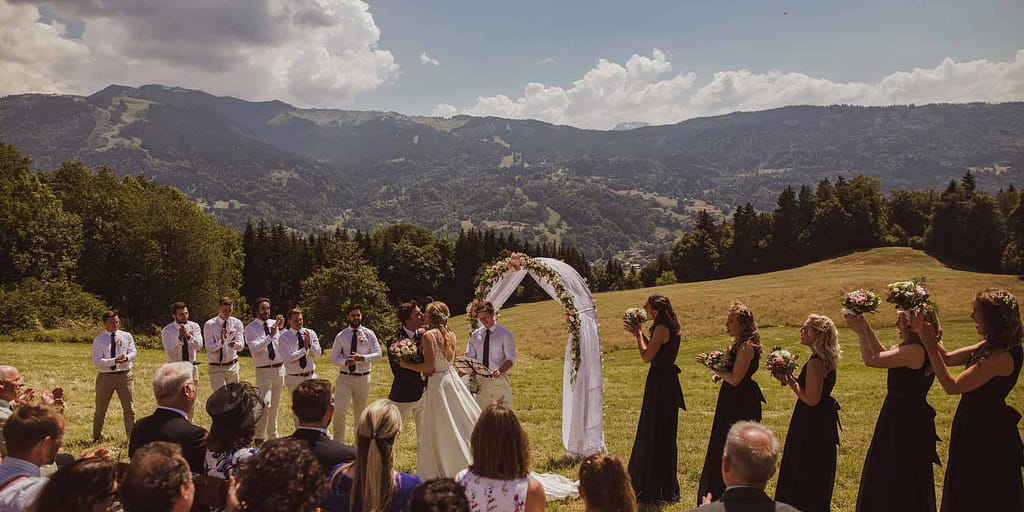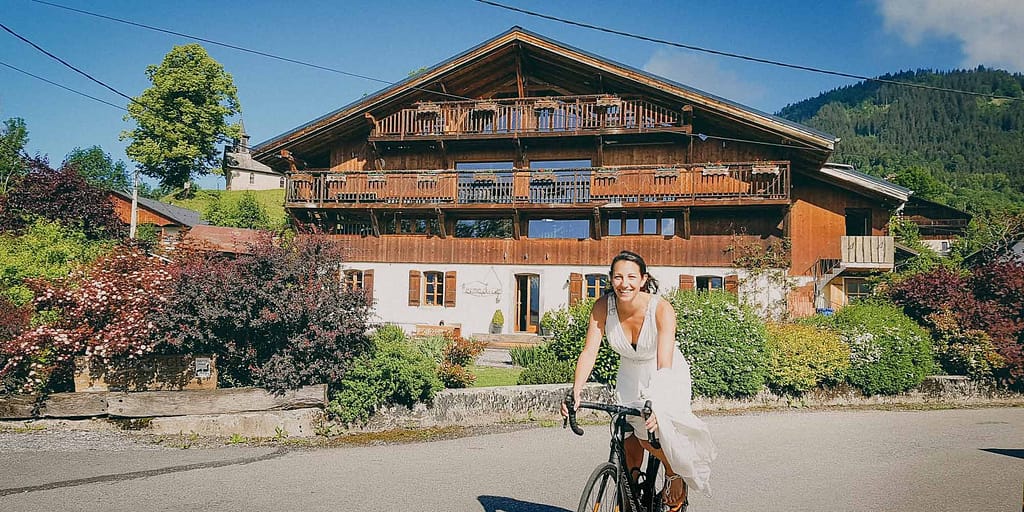 Envision a wedding perched on top of the world, with the Alps providing a breathtaking backdrop, the hills resonating with the melody of cowbells in summer, and a pristine snowy wonderland in winter. This is the beauty offered by Beau-Ciel, a 5-star luxury chalet near Chamonix, just an hour from Geneva. This 650-year-old reimagined barn is a cosy, luxurious abode, marked by thoughtful attention to detail and personalised services by the owners. Whether you desire a ceremony in a quaint church or amidst the flower-filled meadows, Beau-Ciel accommodates with Alpine vistas. The venue offers intimate indoor dinners for small gatherings or marquee celebrations for up to 50 people. Guests can enjoy decorated ensuite bedrooms and exhilarating activities, from skiing to summer picnics. With in-house wedding planning and tailored culinary experiences by the in-house chef, Beau-Ciel promises a seamless, enchanting elopement, nestled in the Alps.
Location: Geneva (1hr)
Price: From €4,100 for a week rental
Whether you are picturing an intimate gathering in the rustic elegance of Beau Ciel or a luxurious celebration in the fairy tale environment of Chateau Challain, every venue we've spotlighted crafts a one-of-a-kind, memorable experience, perfectly suited for your charming elopement.
How Much will your Elopement Cost?
Eloping to one of these exquisite French chateaus can vary widely in cost, depending on several factors, such as the number of guests, the season, and any additional services or amenities you may desire, such as catering, decorations, and accommodation. However, there are things you can do to keep the costs down!
Cost-Saving Tips for Intimate French Elopements
Embarking on a journey to say 'I do' amidst the charming ambiance of the Chateau Bee handpicked venues is nothing short of a dream. To maintain the enchantment whilst being mindful of the budget, consider the following tips to cut down your costs:
Elope Off Peak: Consider marrying in off-season months like October to April or on a weekday to receive lower rates.
Consider a DIY wedding approach: To reduce expenses, you might consider enlisting the help of friends, for instance for the floral arrangements or to officiate the ceremony.
Reduce costs and your carbon footprint by reusing: Why not incorporate vintage crockery into your wedding? Instead of purchasing, repurpose pre-loved items and save on expenses!
Invite Intimately: The exclusive nature of the venues below lend themselves to a more select guest list.
Ask for the help from the experts: at Chateau Bee we select and inspect all our venues. We request complete transparency from owners in their offerings. This ensures you won't encounter any unpleasant surprises related to hidden fees in the future.
Rethink Refreshments: A selectively stocked bar with quality options can be more cost-effective and in keeping with an elegant theme. Plus in France you can visit local wine cellars known as 'cavistes,' where you'll have the opportunity to taste wines and find some great deals!
If you want bespoke information and pricing details for an intimate elopement, don't hesitate to reach out to us at 00 44 (0) 1481 234 442 or drop an email to hello@thechateaubee.com, or simply use our contact form. We travel throughout France, visiting chateaux and various wedding venues, meticulously selecting only the most exceptional ones to add to our collection.
Intimate I Do's: Discover France's Top 12 Venues for Elopements and Small Weddings by Isabella Dean
Foodie, yogi and travel lover!