Handpicked LGBT+ friendly French wedding venues
All of our French wedding venues, from Normandy to South of France, pride themselves as being LGBT friendly and welcoming of same-sex weddings. You can be assured you and your guests will certainly be given a warm "bienvenue".
We personally visit all the wedding venues that contact us and showcase only the "crème de la crème". All you have to worry about is which one is best suited to your dream vision!
Affiliated partner to the G Wedding Directory
We are very pleased to say that the Chateau Bee is an affiliated partner of the G Wedding Directory. The ultimate guide for lesbian, gay, bi & transgender couples wishing to get married.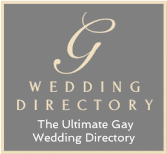 Click here to explore the regions of France individually.
To refine your search with your criteria, click here.
If you feel your require some help navigating our site, please contact us here and we will be happy to help.